Bihar: Prashant Kishor calls Congress unity yatra confusing
Election strategist said his padyatra would be a total foot march, conducted non-stop for 3,000km across Bihar and could take around a year to end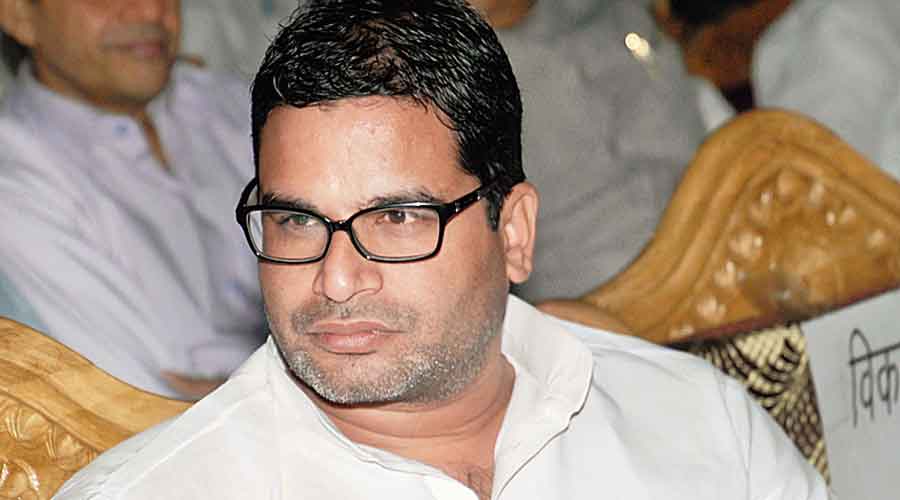 Prashant Kishor.
File photo
---
Patna
|
Published 20.05.22, 03:50 AM
|
---
Poll consultant Prashant Kishor asserted that the Congress's Kanyakumari to Kashmir Bharat Jodo Yatra was a confusing enterprise in comparison to his 3,000km padyatra in Bihar despite the common factor that both would be launched on Mahatma Gandhi's birth anniversary on October 2 this year.
"The Congress is a very big party and I stand nowhere before it. But it is not clear about the yatra it has announced. It will start from Kanyakumari, but there is no word about who will lead it or how it will be conducted," Kishor told The Telegraph.
"Whether the Congress yatra will be a single one or will be simultaneously conducted by separate groups in different states, whether it will be a foot march or will be done through vehicles or a mix of both. It is very confusing," Kishor added.
The election strategist said his padyatra would be a total foot march, conducted non-stop for 3,000km across Bihar and could take around a year to end. It will start from the Gandhi Ashram in West Champaran district — the place from where Mahatma Gandhi launched his satyagraha in 1917. 
"I will walk on foot for a year continuously, meet and talk with people all along the route. I guess I will be able to walk around seven or eight kilometres a day. I will rest, eat, sleep, bathe, and live on the way. I will not return to Patna at night like other politicians do during their so-called yatras," Kishor added.
The poll consultant's negotiations with the Congress to join and revive its fortunes broke down in April. He declined the offer to join the party's empowered action group and take responsibility for the elections.
Kishor is overwhelmed by the response from people from different walks of life in his bid to enter grassroots politics from his native state Bihar and asserted that it indicated their deep desire for a political change.
He is at present meeting people at the residence of 15th Finance Commission chairman and former Lok Sabha member N.K. Singh and his brother Pappu Singh in Patna, explaining his plans and taking inputs from them. In a couple of days he will embark on a tour of all 38 districts to meet everybody who has invited him to his or her native place.
"When I decided to work for the people and came to Patna, I had plans to meet around 16,000 to 17,000 political and non-political people. Now the numbers have grown to over 60,000 in just a fortnight. They are from all over the state. I will meet them at their native places," Kishor told this newspaper.
A large number of the people are serving and retired judges, civil servants, lawyers, businessmen, youths, students and others. They want to know about his plans and also how he will execute it.
Groups of engineers and bank employees from Bihar working across the country and abroad have also got in touch and requested him to address them over the internet, and also suggest ways through which they could serve their state. 
"I will visit every district in Bihar over the next four months before embarking on the padyatra from October 2. My team is charting the course for my movement. I would try to visit the people at their homes and learn about their problems and aspirations," Kishor added.
Asked about his interactions with people, the election strategist, who previously offered his services to various national and regional parties in Lok Sabha and Assembly elections, said that he has been telling them that any single person or party cannot claim to change Bihar.
"Everybody I met agree that despite the specialties of the reigns of Rashtriya Janata Dal (RJD) chief Lalu Prasad or chief minister Nitish Kumar Bihar is at the lowest rung of development among all the states in the country and is plagued by poverty, backwardness, hunger, unemployment, migration, poor health services and education facilities. They all agree that the path towards development will be different from the ones taken by Lalu and Nitish," Kishor said.
Kishor is currently working with a slogan 'sahi log, sahi soch and saamoohik prayas' (right people, right thinking and collective efforts), which will bring 'suraaj' (good governance).
"I am prodding people to think whether 'suraaj' is the Bharatiya Janata Party's model of governance in Gujarat, Arvind Kejriwal's model in Delhi, K. Chandrashekar Rao's in Telangana or Nitish in Bihar and whether they have come true on the touchstone of their aspirations," he said.
The poll strategist who has vowed to devote his life to Bihar asserted that there was no need for anybody to lead the people in the state.
"What we need is collective effort like the Congress did in pre-Independence India. Whoever wanted to contribute to the freedom movement joined it. I am asking people to join me if they agree with me. I am also warning them that the path could be long and arduous. If 1 lakh people will want, we will then form a party," Kishor said.
So is he going to be another Mahatma Gandhi?
Kishor sticks his tongue out and catches his ears. "Gandhi was a phenomenon. He mobilised the entire country and set the ideals for public life, development, welfare of the marginalised, harmony, brotherhood, and peace. I believe in the path shown by him and will try to follow it," he said.