Portrait of police commissioner Rajeev Kumar
Rajeev Kumar is arguably the most talked-about policeman in the country at the moment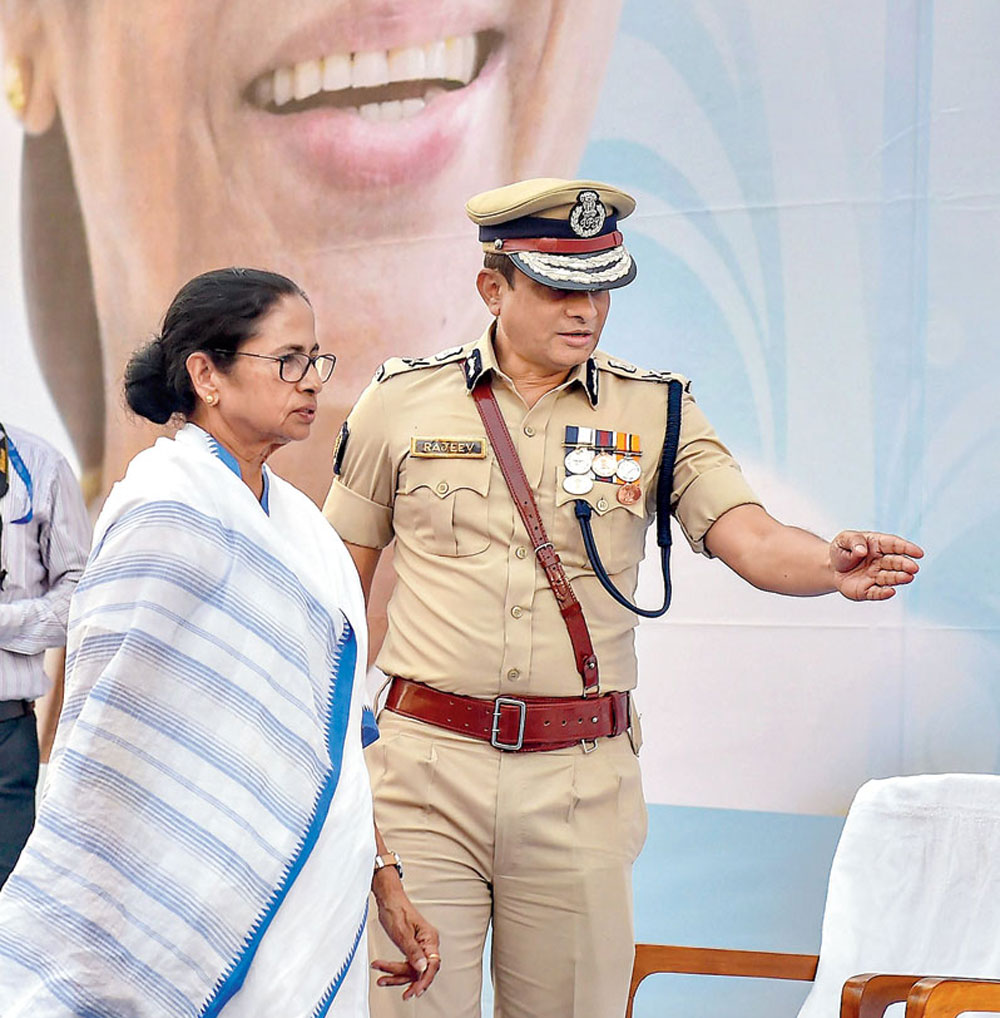 West Bengal Chief Minister Mamata Banerjee with Kolkata Police Commissioner Rajeev Kumar on on February 4, 2019
(PTI)
---
Published 09.02.19, 07:38 PM
|
---
He was shaving hurriedly that disorderly January morning in 2002 when the landline started to ring. His day usually didn't start this early — he was more a creature of the night — but there had been a terror attack on the American Center in Calcutta. Four constables and a security guard were dead; many had been injured. As he towelled his face dry he received the call. "Kumar saab," said the voice at the other end. Rajeev Kumar paused for a second and said, "Yes, Aftab." And the line went dead.
The story goes that underworld don Aftab Ansari was calling from Dubai, but upon being identified thus by Kumar, he panicked and hung up. Ansari's next call was to The Telegraph, whereupon he completed his unfinished task — he identified himself as Farhan Malik, claimed responsibility for the attack and also announced that his group, the guerilla outfit Asif Reza Commando Force, would strike in Delhi and Rajkot next. Says the source who tells me this story, "Read Neeraj Kumar's book [Dial D For Don: Inside Stories of CBI Missions] if you don't believe me. It didn't take Rajeev Kumar any time to recognise his caller. You see, he had been tracking the extortionists from the Khadim case [2001] and he was familiar with the voice of Ansari [who had been the mastermind]. That man knows his criminals all right."
Calcutta police commissioner Rajeev Kumar is possibly the most famous cop in India at the moment and not least because Mamata Banerjee has declared him "the best of the world's best police officers". First, he had a horde of CBI officers getting after him on the night of February 3, then his chief minister went on dharna to protect him, next he became the glue — metaphorically — that brought together a disparate Opposition. The CBI probably wanted to arrest Kumar for alleged destruction of evidence in the chit fund scams but the Supreme Court eventually put a bar on that. Instead, it ordered Kumar off to the cool climes of Shillong to answer questions the CBI might have. The high-voltage Metro Channel fracas over Kumar is now over, though the Centre continues to ask why he was sharing the dharna stage with Mamata Banerjee. "He was taking instructions on security arrangements," the chief minister has dismissively responded.
"Rajeev Kumar might make it his business to know everything, but he is very guarded about his personal life, even the most perfunctory details," says a veteran journalist who has tracked Kumar's career. But under last week's media glare some things had to show up. Now it is known that Kumar is from Chandausi in western UP, one of three siblings, son of a professor. His mother, Munni Devi, told a television channel that her son went to Roorkee, where he studied engineering, worked for a year at HCL during which time he appeared for the civil services and was through on "first attempt". She also declared: "Mera beta galat kaam nahin karega (My son will not do anything wrong)."
There is this anecdote about him from his police academy days. It seems every year the graduating batch has to participate in a cross-country run. In those days it used to be a 11-kilometre course. In 1989, when the rest of his batch was huffing and puffing away on the tracks and in workout sessions by way of prep, Kumar was nowhere to be seen. He was not the sporty kind. On the day of the race, he ran, was the first to make it to the finishing line and, thereafter, threw up and fainted too. Over reaching? Far reaching? Determined? Choose what you will, but symptomatic that is of him.
Nobody who has known or knows Rajeev Kumar in any capacity raises any doubt about his "honesty" or his "brilliant mind", and yet all praise seems reined in with a "but", and all criticism sounds much like praise. One has to listen carefully to get a sense of the man.
Old-timers bring out stories aplenty. How Kumar went about the 2001 Khadim case. Owner of the footwear brand Parthapratim Roy Burman was abducted from Tiljala in east Calcutta. Kumar, who was ADG CID at the time, is said to have moved into his office with toothbrush and paste. Before the week was up, he had traced the abduction to a Dubai-based gang. How he produced the prime accused in the Khagragarh blast miraculously and made the announcement in a no-fuss three-minute presser. A 2014 report in The Telegraph titled "Police find balm in Burdwan trophy" reads: "Bidhannagar police today arrested the Jamaat-ul-Mujahideen Bangladesh's alleged point man [Sajid] in Bengal and trumpeted the success, trying to shake off the twin stigmas of incompetence and lack of cooperation with central agencies." Kumar was at the time commissioner of Bidhannagar Police.
There is more. How he cracks the whip on slacking junior colleagues. How he is socially shy. How he is extremely pro-Force and has done much for police welfare. How he keeps a close tab on any criminal who has ever used Calcutta as transit route; and goes out of his way to help special task forces in other parts of India. How his work is spoken of in Delhi's power circles. Some years ago, when the director of security in Bengal and Kumar went to attend an all-states security meet at the MHA, one of the higher-ups apparently quipped, "Rajeev knows everything there is to know."
There is much talk about how promotions notwithstanding — his first posting was officer-in-charge of Durgapur police station and thereafter he was SP, Birbhum; deputy commissioner, enforcement branch; deputy inspector-general, CID (operations); joint commissioner, Special Task Force; additional commissioner, Calcutta Police; commissioner, Bidhannagar Police; additional director-general, CID and then Calcutta Police Commissioner — Kumar remains hands-on. Newspaper reports from 2005 throw up a story headlined "Crime movie ends 21-year crime run". A straightforward report about how the then deputy inspector-general (operations), CID, Kumar, arrested the notorious criminal Hubba Shyamal at a Salt Lake multiplex. Shyamal had gone to watch Kalyug, Kunal Khemu's debut film on the porn film industry. The backstory: that day Kumar and his team let themselves into the multiplex premises, but nobody knew what Shyamal's latest look was. As cinegoers started to shuffle towards the theatre, Kumar called out, "Shyamalda." And the cops got their man — Hubba Shyamal had, in reflex, turned to identify his caller and been spotted by the web of cops. And the time when Chhatradhar Mahato, the face of the Lalgarh movement backed by Maoists, was nabbed in 2009, there was a Team A of undercover policemen parading as journalists and Kumar, dressed in a lungi, was part of Team B — the back-up team, just in case there was a glitch.
There are several urban legends about Kumar's obsession with surveillance. How he set up a Special Task Force with handpicked officers. How since his takeover as the top cop of the city, he spends hours at the Special Branch office on Lord Sinha Road listening to recordings of phone intercepts. Says one who knows, "More than law enforcer he is the investigator. His thrust is on apprehending cyber-hacking, phishing and so on." It is all too well known how Mamata Banerjee herself was at the receiving end of his surveillance skills during the Left Front rule. When Kumar went to Israel to attend a police commissioners' conference, it was said only in half jest that he might have picked up a tip or two from Mossad, the Israeli intelligence agency.
When it comes to his own self though, Kumar is cautious. He is said to make VoIP calls (Internet telephony) even to fellow officers to remain untraceable. He also likes to be squeaky clean and has not spared officers close to him if at any point it has been found that his position was being wrongly utilised. But according to those in the know, Kumar does not derive his power from fear psychosis and whip-cracking alone. One source says, "He is a very charming man, besides being ruggedly handsome. But it is criminals who swoon over him more than the women." When Ajmal Kasab was arrested in Mumbai after the 26/11 blasts, two officers from Calcutta also went to question him. Kasab apparently asked after Rajeev Kumar. Loyalists cite other feathers in his cap — he is that cop boss who can manage Muharram processions and Dashami immersions on the same day and smoothly too.
But not everyone is a Kumar fan, at least not all of the time. When he served under the Left Front government, Mamata Banerjee christened him the phone-tapper. When she became CM, she kept him on only after being assured that he was all about the work. And now, when she has turned mentor-protector, he has made an enemy of the BJP. It was actually brewing since the 2016 Assembly elections. Kumar was removed from the police commissioner's post by the Election Commission after Opposition parties accused him of a Trinamul bias. His detractors now say that he often takes a half day off and vanishes; apparently, to hone his connections.
Nearly everyone is careful when settling on a permutation and combination of words to critique him. Others will just point to what has already been reported with a smile and knit and purl of the eyebrows. A report in The Telegraph from 2014 titled "Police beat ED to Sens' locker" reads: "Bengal police have gone to the extraordinary extent of securing a court order to scuttle the third bid by the Centre-run Enforcement Directorate (ED) to open a bank locker of Piyali Sen, the arrested wife of Saradha chief Sudipta Sen. Bidhannagar Police literally burned midnight lights to break open the locker at the United Bank of India (UBI) branch in Salt Lake and empty the contents." Once again, this was during Kumar's tenure as Bidhannagar top cop.
One source talks in disapproving terms about the metamorphosis of an IPS officer into an extension of the government. He says, "It is said he enjoys Cabinet rank." Others talk about his dogged focus on settling scores. He doesn't like criticism of the police force. And then there is that undeniable swagger. An erstwhile colleague recalls how in a closed door meeting he once declared, "I am the Amitabh Bachchan of Bengal police."
Will he let pass the Centre's recent affront? No one can say. In the past, apparently at every possibility of ouster, he has threatened to take a sabbatical and finish his PhD in mathematics, possibly prime numbers, on which he is working under the supervision of Mahan Maharaj of Ramakrishna Math and Mission.
In Kumar's office hang two portraits — one of Albert Einstein and the other of Rabindranath Tagore. In 1930, the two giants had met in Caputh, Germany. Their conversations have been captured in the book, Einstein Lived Here, by Abraham Pais. It seems, Einstein said to Tagore: "You are aware of the struggle of creatures that spring forth out of need and dark desires. You seek salvation in quiet contemplation and in the workings of beauty." And Tagore said of him: "Einstein is an excellent interrogator… and by his questions I could measure the trend of his own thinking."
Which one does Rajeev Kumar lean to more?