PM Narendra Modi holds 50km roadshow in Ahmedabad
With almost all assessments indicating a BJP return in a state it has ruled for the past 25 years, speculation has veered towards the possible margin of victory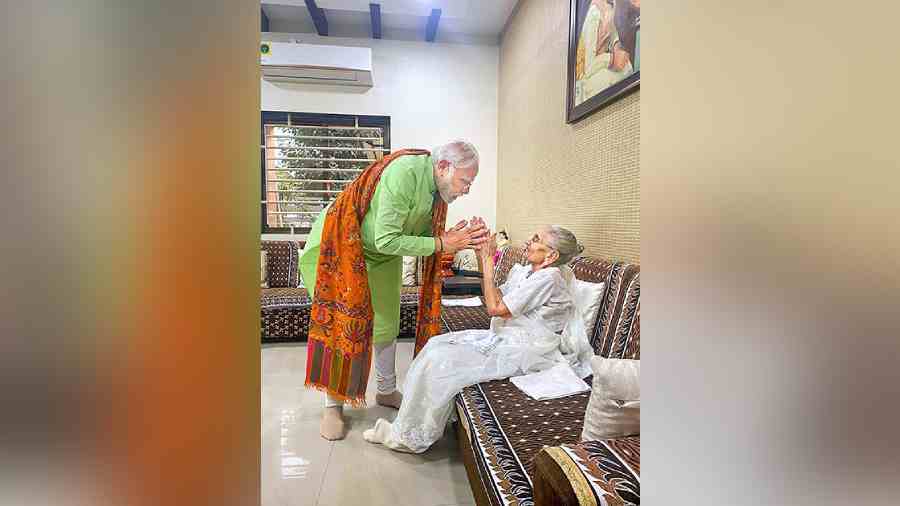 Modi meets his mother Hiraba in Gandhinagar on Sunday.
PTI
---
Ahmedabad
|
Published 05.12.22, 04:11 AM
|
---
Caught in a traffic hold-up near a Bus Rapid Transit corridor in Ahmedabad, driver Jay Singh stepped out of his car, with the ignition on. He wanted a closer look at Prime Minister Narendra Modi, who was holding an "unprecedented" 50km road show, canvassing votes for the BJP in the Assembly elections. 
Jay, 21, was a child when he had last seen Modi, then chief minister, so closely in 2012. Last Thursday, he was even more excited to have again got so near Modi, now Prime Minister. He shot a video as proof, to show his friends and family.
When his excitement subsided, however, Jay wondered: "Modiji ko itna mehnat kyon karna pad raha hai (Why is Modi having to work so hard)? Gujarat toh Modiji ka ghar hai; BJP ka ghar hai (After all, Gujarat is Modi's home, the BJP's citadel)."
After the final votes are cast on Monday in 93 of the 182 constituencies and the results are declared on Thursday, Jay may find the answer to his question: Did the Prime Minister really need to toil so heavily on home turf ? With almost all assessments indicating a BJP return in a state it has ruled for the past 25 years, speculation has veered towards the possible margin of victory.
Especially in the light of the heavy canvassing by Modi that young Jay found so perplexing. Modi wrapped up his campaign on Thursday, as votes were being cast in the first phase, with the mega roadshow in Ahmedabad.
The BJP described it as the longest ever by Modi or any other Prime Minister, and therefore "unprecedented". Modi's second longest roadshow (25km) had come in Surat city days earlier. He had held several smaller ones in other cities of Gujarat just before the announcement of the poll dates. In addition, he addressed 31 election rallies.
Modi had put in an almost equally heavy shift in 2017, addressing 34 rallies. The results bore out his reading of the situation: the BJP won just 99 of the 182 seats, its lowest tally since 1995. This year, Modi's rally count was lower by three but the roadshows were numerous and far longer.
Although Modiji works hard in every election, the scale of the campaigning is based on internal surveys carried out by the party," a BJP leader said.
"Modiji's unprecedented effort in Gujarat this time was aimed at ensuring that the victory margin is bigger, rather than smaller, than last time."
Although the BJP had won only 99 seats last time, its tally had soon risen to 112 with several Congress MLAs defecting and getting re-elected in the by-elections on BJP tickets.
Modi's test is, therefore, to cross the figure of 112.
Union home minister Amit Shah, who is micro-managing the BJP's Gujarat poll effort, has denied that the Aam Aadmi Party has turned the contest triangular this time. But party insiders said Modi's vigorous campaigning owed much to the new entrant.
That Modi's roadshows, meant to exploit his personal popularity, were focused on cities like Ahmedabad and Surat appeared unusual given that urban centres are considered the BJP's natural strongholds. But the AAP has caused a lot of excitement in Surat, and pockets of support for the party have been reported from Ahmedabad and Rajkot.
The AAP's promise of "freebies" appears to have attracted the urban poor.
"Many people in my slum are talking about (Arvind) Kejriwal," Hemant, 27, a voter from Maninagar constituency who works at an Ahmedabad eatery, said. He added that his family had backed the BJP through several elections but might now vote for the AAP.
Modi's marathon roadshow in Ahmedabad appeared intended to get people like Hemant to change their minds and remain with the BJP.
While the BJP's seats tally had dipped in 2017, its vote share had increased to 49.05 per cent from the 47.85 per cent it had polled in 2012, when Modi was still chief minister.
Party managers believe that if they can hold on to the 49.05 per cent vote share, they can win more seats compared with 2017 given the likely split in anti-incumbency votes between the Congress and the AAP. BJP leaders acknowledged, however, that internal surveys showing the AAP eating into the BJP's votes, too, had made the top leadership restless.
Modi will be seen to have succeeded if he can ensure that the AAP hurts only the Congress, reducing its vote share from the 2017 figure of 41.44 per cent.
"We are sure that the extensive campaigning by Modiji, who represents Gujarati self-esteem, will ensure that our voters stick with us," a BJP source said.