Plea for probe into Justice Loya's death
The petition claimed 'new evidence' has emerged in the case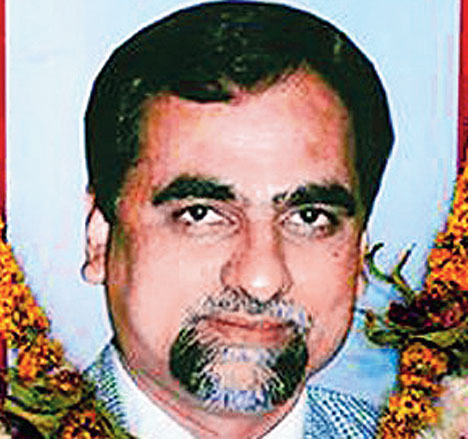 ---
Mumbai
|
Published 06.12.18, 11:00 PM
|
---
A Mumbai-based social worker has filed a criminal writ petition before Bombay High Court seeking a court-monitored probe by a special investigation team having three CBI officers from non-BJP and non-NDA-ruled states into the death of Judge B.H. Loya.
The petition filed by Sanjay Bhalerao also sought the constitution of a seven-judge bench to hear the plea.
"There is a ground for fresh appeal as new evidence has emerged that did not come up before the Supreme Court when it had heard the case," said Nitin Satpute, the counsel for the petitioner, who has also made the apex court a party to the case.
"Letters from the Maharashtra government's department of law on reservation of rooms for Judge Loya, the statement of the receptionist at Nagpur's Ravi Bhawan, where Judge Loya was staying before his death, had not been disclosed before the apex court," Satpute said.
Citing these references, the petition states: "It is a clear example of possibility of… influence and pressure and hence prayer needs to be granted."
Judge Loya died on December 1, 2014, of a heart attack, according to a post-mortem conducted in Nagpur.
Loya had been presiding over the trial of the 2005 Sohrabuddin Sheikh fake encounter case. One of the main accused was BJP national president Amit Shah, who was then the Gujarat home minister. Within two weeks of Loya's death, Shah was discharged along with senior police officers from the Gujarat and Rajasthan cadres.
The petition has also demanded the transfer of the Bombay High Court judges related to the case and departmental proceedings against Judge M.B. Gosavi, who gave a clean chit to Shah. The petition has called for the withdrawal of the judicial powers of the judges and public prosecutors whose names have come up in the Loya case "to mitigate any fear among the witnesses".
On April 19, a three-member bench of the Supreme Court had dismissed a PIL seeking a probe into the death of Judge Loya. The review petition filed against the order was dismissed in July.
Two weeks ago a Nagpur resident had moved the Nagpur bench of Bombay High Court seeking its intervention for the safe custody of all evidence related to Judge Loya's death. He had alleged that Judge Loya died of radioactive isotope poisoning.