Phantom of bribe? Not for Richie Raj
An upcoming Congress politician did not find anything questionable in Nagaraj, a successful businessman, buying an expensive car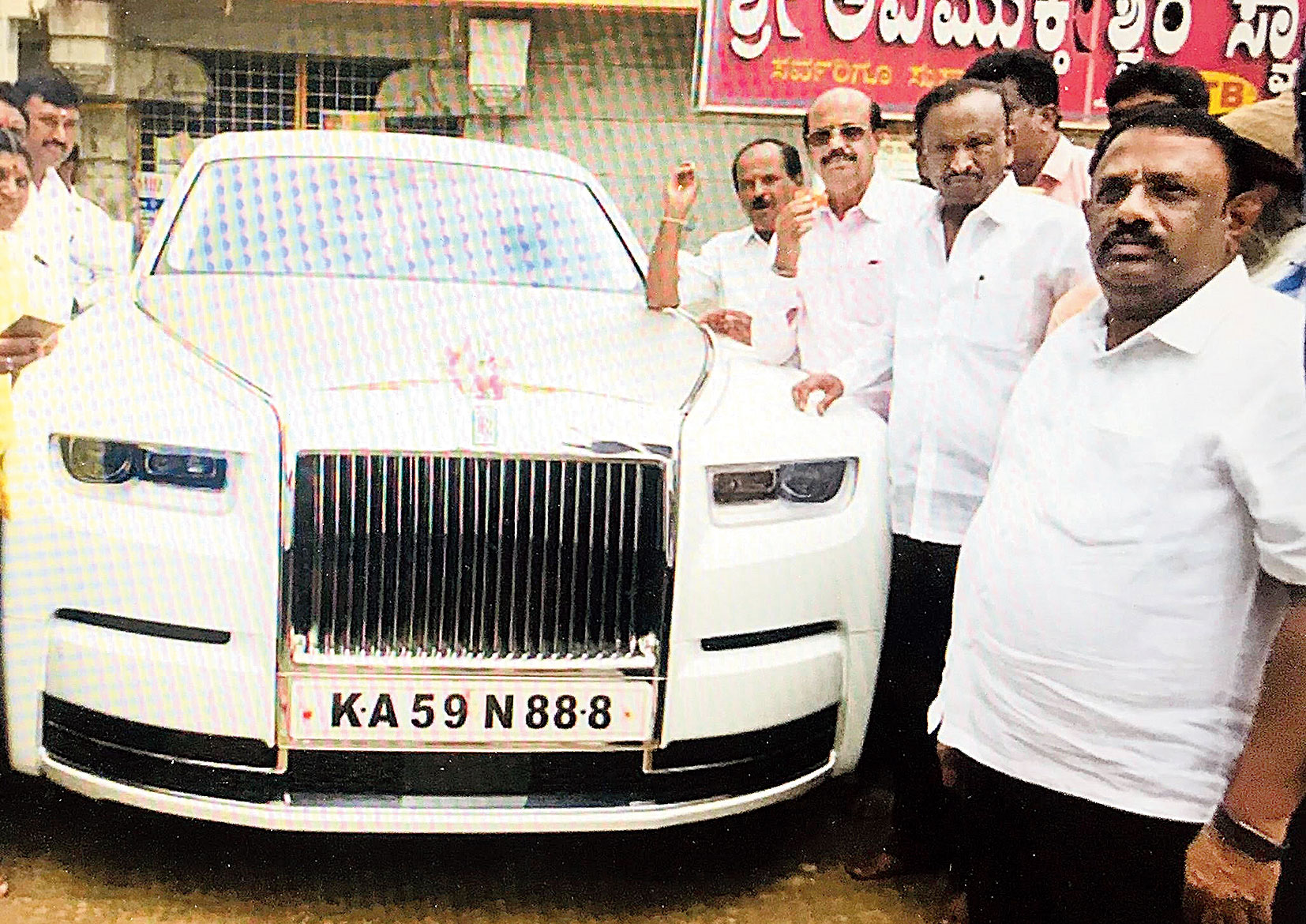 MTB Nagaraj (first from right touching the car) with his Rolls-Royce Phantom VIII outside the Sree Avimukteshwara Temple at Hoskote near Bangalore recently
(Screengrab)
---
Bangalore
|
Published 17.08.19, 09:05 PM
|
---
Karnataka politics is grappling with a phantom, a Rolls-Royce Phantom VIII.
One of the 17 rebel MLAs who brought the Congress-JDS government down last month has bought the car, giving some of his erstwhile party colleagues a chance to re-insinuate the BJP had bribed the dissidents.
Former Congress lawmaker M.T.B. Nagaraj, now disqualified from the Assembly and sacked by the party, is estimated to have spent about Rs 11 crore on the luxury limousine, one of the most expensive cars sold in India.
Nagaraj could not be contacted by this newspaper despite several attempts but several politicians, including some from the Congress, pointed out that he is one of the richest leaders in the state and he doesn't need any bribe to buy an expensive car.
Part-time Congress politician Nivedith Alva, son of party veteran Margaret Alva, recently took an innuendo-laden dig at Nagaraj, whom the Association of Democratic Reforms had once declared the richest MLA in the country.
"He was already a millionaire -– but now fresh from his holiday in Mumbai, for where he took off by a personal flight (remember), recently disqualified @INCKarnataka MLA @MTBNagaraj (centre right of photo) poses with this new Rolls Royce Phantom," Alva tweeted, posting a picture of Nagaraj with his new car.
The rebel MLAs had resigned in batches during the first fortnight of July and most of them, including Nagaraj, had flown to Mumbai on chartered flights — including at least one belonging to a BJP parliamentarian's company.
While the BJP denied encouraging or bribing the rebels, its government in Maharashtra prevented Congress-JDS leaders from meeting them at the hotel they had been sequestered in. The then Speaker disqualified all the rebels after the government collapsed — a decision they have challenged in the Supreme Court.
An upcoming Congress politician, Rizwan Arshad, however, did not find anything questionable in Nagaraj, a successful businessman, buying an expensive car.
"He has the money to buy one or more Rolls-Royces. But it's a fact that he sold out to the BJP," Arshad told The Telegraph on Saturday. "Some of the rebels took money to support the BJP while a few others are said to have been intimidated by the central agencies."
Nagaraj, 68, was originally "N. Nagaraj" but came to be known as "M.T.B. Nagaraj" after his company, Manjunath Table Bricks, which earned him his fortune. The Class VIII-pass Nagaraj also runs a successful real estate business through his MTB Estates & Properties.
In his poll affidavit last year, Nagaraj had said he was worth Rs 1,015 crore and owned seven cars, including a Mercedes-Benz and a Toyota Prado. He said his wife owned a Porsche Cayenne Turbo.
According to the Parivahan Sewa website of the road transport and highways ministry, the Phantom was registered in the name of MTB Estates and Properties on August 9 in Bangalore.
Almost immediately afterwards, Nagaraj visited the Sree Avimukteshwara Temple in his hometown Hoskote, on Bangalore's fringes, and the residence of BJP chief minister B.S. Yediyurappa in the Phantom.