People may be silent, but they will want to be counted: Tejashwi Yadav
Our narrative is the narrative of the Constitution and of saving it, not a narrative of fear and hate, says Lalu's son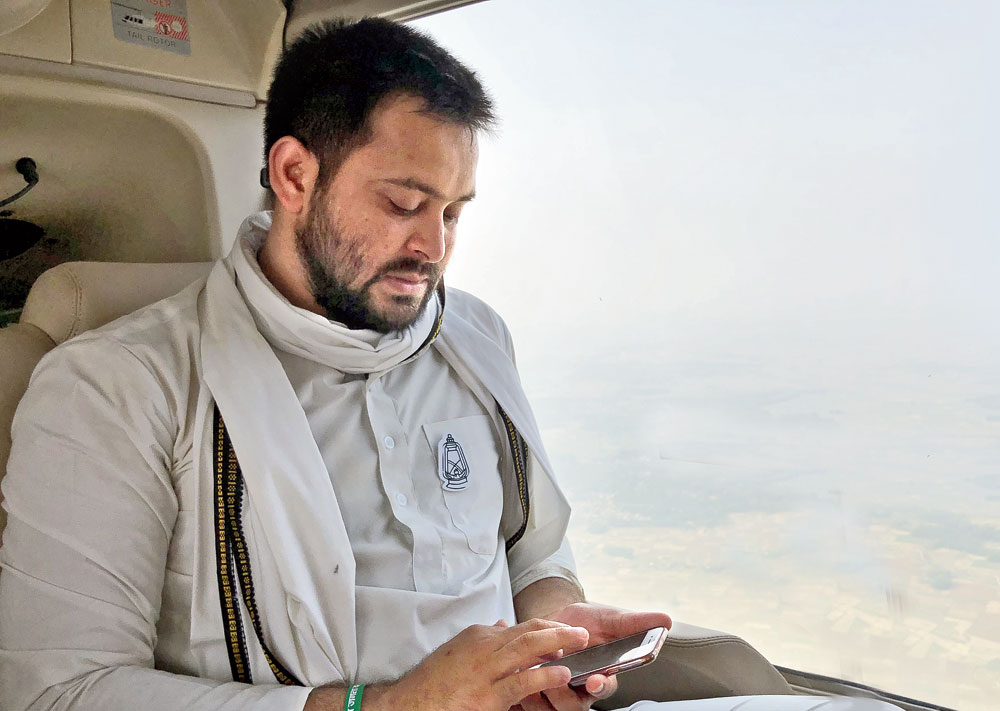 Tejashwi Prasad Yadav maps out the next stop on the campaign trail across Bihar in a chopper.
Picture by Sankarshan Thakur
---
Jehanabad
|
Published 01.05.19, 01:50 AM
|
---
He is riveted on Tejashwi, who spends more time reaching the podium and heading back — having to plough through a raucous throng — than he spends getting jostled at the lectern. Tejashwi makes his points directly and succinctly and this is broadly what he'd tell his audiences all day:
The return of Modi raj will endanger the Constitution and India's plurality
The return of Modi raj will endanger reservations for the underprivileged and government job prospects
Prohibition is a trick Nitish Kumar has played to fill his coffers with bootlegging cash
There's a deep conspiracy to keep Lalu Prasad imprisoned and isolated during elections and that conspiracy needs to be defeated
Lakhisarai is repeated chopperstop upon chopperstop. The same exhort to the crowds, and pretty much the same crowds: alive, rippling, exuding almost a sense of common purpose and relief that there is someone up on stage to amplify a counter-narrative to the Modi juggernaut.
We fly off — bump along in 3,000-feet turbulence, rather — to three destinations north of the great river — Ujiarpur (state BJP chief Nityanand Rai versus RLSP chief Upendra Kushwaha), Darbhanga (Gopalji Thakur of the BJP versus RJD veteran Abdul Bari Siddiqui), Simri (a rural outback on the Kosi riverbank, part of Darbhanga). We end the day at Jehanabad (Surendra Yadav of the RJD versus Chandreshwar Prasad of the JDU) back south of the Ganga.
The Jehanabad crowd is the biggest and the most vigorous of the day; it seduces Tejashwi into staying so long on stage that the chopper pilot sends word he's leaving without his charge for the day; it's getting dark, he must get to Patna before night closes in. Tejashwi will have to do the home run by road. "Not that I mind," he says, at the end of the day, "These people had been waiting in the heat all day, couldn't leave just because I had to catch the chopper."
The Telegraph: Is this going to be a repeat of 2014? Modi is everywhere. And he has Nitish on his side
Tejashwi Yadav: Look, it's a battle and we are in it. We have far fewer resources, the administration is trying every trick in the book to impede us, even chopper landing permissions are a problem. But we are fighting back hard. People may be silent now, but they have votes, each one of them, they will want to be counted, mark my words. People make a mistake when they say we only have Muslims and Yadavs backing us. Don't forget we have added the Kushwaha, Musahar and Nishad vote, they matter in almost all constituencies, we will spring surprises, just watch.
TT: Are you missing your father? You are making a big point of his internment
Tejashwi: Of course. No one can communicate better, nobody has such energy, he oozes energy. We are missing him hugely, and he is being denied bail deliberately. If he and I were campaigning, dividing the work, we would have swept.
TT: Your brother Tej Pratap is in open rebellion, is he hurting you?
Tejashwi: No.
TT: Why could you not contain him, though?
Tejashwi: There are people around him who have ambitions and they provoke him. He will learn soon, he will not be a problem.
TT: Modi has a strong narrative, an ultra-nationalist narrative that many have bought into. What is yours?
Tejashwi: Our narrative is the narrative of the Constitution, of saving the Constitution. Of strong pro-poor, secular politics, of giving everybody their deserved place. Ours is not a narrative of fear and hate. And you can see people respond readily to that narrative. India has been derailed, we have to get it back on track.
TT: Did you take Rahul Gandhi by surprise by endorsing him as Prime Minister at Samastipur? That was your first rally together
Tejashwi: I think I did, yes. Privately he knew my views, of course, but he may not have expected a public declaration from me. I think it was time. There was some chatter that we were not on the same page, that we were not campaigning together. I wanted to put an end to that. Now there is no confusion.
TT: Why did you not support Kanhaiya Kumar in Begusarai, though? Many argue you should have been large-hearted enough if you are serious about strengthening anti-Modi voices.
Tejashwi: But he (Kanhaiya) is contesting against secularism. Our candidate Tanweer Hassan lost Begusarai last time by less than 50,000 votes. Do you expect me to sacrifice him? And the argument for Kanhaiya is he can talk straight to Modi. Who cannot? And why are you campaigning for a man who can talk straight to Modi? Are you assuming he is becoming PM again? I am not assuming that, I want Modi defeated now, in this election.
The palpable pro-Narendra Modi pulse doesn't tell the whole Bihar story, not by a far distance. There's a counter-narrative in play, and a robust one. It's not an extrovert narrative, it doesn't seek to dominate the chatter in town squares and rural crossroads, its decibel is subdued, often by design. But that doesn't mean it doesn't exist.
A good location to get a sense of it is the ringside of the campaign calls of RJD spearhead Tejashwi Yadav. It's one place where the other side to Modi feels bold enough to rear it head and roar; the other would, of course, be the privacy of the ballot booth. The Modi voter is vocal and socially ultra-aggressive; the competition often prefers silence, and speaks only when it can sense the strength and security of numbers.
I spent a day choppering across Bihar, north and south of the Ganga, with Tejashwi. Here are vignettes from that outing and snatches of conversations with the RJD leader.
As we begin spiralling down over Lakhisarai in Munger (Lallan Singh of JDU versus Anant Singh of RJD), we see droves converging on the meeting ground, like bees to a honeycomb. By the time the chopper rotors halt and Tejashwi steps down, a flank of the barricading has collapsed under the press of people lunging for him. The air is rent with dust and "Tejashwi! Tejashwi!!" It's already getting oppressively hot and humid.
There's a visible peppering of Muslims — men, women, their children who are most keen on the helicopter —- and, predictably, a preponderance of those whose names end in Yadav or Rai or Ahir. They make a tight crowd. They make a very noisy and energised crowd. They are the Lalu Prasad kind of crowd, turned out in numbers partly also because Lalu cannot. "Hum log ke neta ko jail mein band kar diya hai, abhi support dikhana aur jaroori hai (They have kept our leader locked up in jail, we need to show our support all the more now)," Lachhman Yadav, a small dairy owner tells me.