Bihar election minus Lalu like a cabaret without Helen
The hopeful among embattled RJD ranks are pinning their hopes on the Lalu magic working even in his absence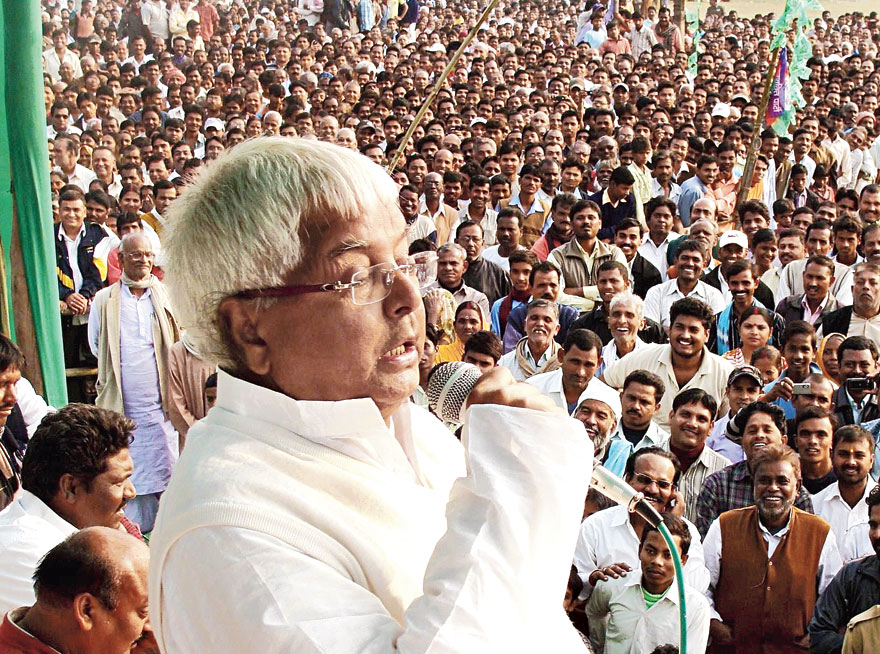 RJD chief Lalu Prasad Yadav
Telegraph file picture
---
Patna
|
Published 24.04.19, 01:57 AM
|
---
This is an election like no other Bihar has seen for generations. Lalu Prasad isn't there. It's a bit like Helen having left the cabaret floor. Cabarets are no cabarets if Helen isn't dancing; Bihar elections aren't quite Bihar elections without Lalu storming the barns.
Over the last three decades, since he arrived almost unheralded as chief minister of Bihar in 1990, Lalu has won elections and he has lost them. He's been raved about and reviled, a celebrated mass hero for many, a damnable villain to others, but always the centre of the election stage — the man to espouse and the man to eschew. Now, for the first time, Bihar's tryst with the polls has its axis missing, banished by judicial verdicts on misdeeds that keep Lalu arraigned and away in Jharkhand. Gone from this campaign like a receded wind. Gone too, it would appear, are the sting and spice he peppered the trail with, all that daring and drama.
But it was far more than electricity and entertainment that Lalu brought to the conduct of a Bihar election. He brought to it values on stage and backstage that must now remain a void. And that absence will willy-nilly come to bear on the outcome. As a senior RJD functionary, visibly a little bereft at the party headquarters in west Patna, told The Telegraph: "He had a presence and voice that nobody could match, but far more important than that was his deep knowledge of the Bihari battleground, a knowledge nobody can claim to match; he knew people in the remotest villages, he knew how to play them, how to play complex equations, he was a master at managing. We in the party are going to miss that Lalu the most, especially during a critical election. There is nobody that comes even close across the political board."
How much Lalu's physical absence from the stage will eventually come to bear on the fortunes of the Mahagathbandhan is yet moot, but everybody seems persuaded he is a loss nobody or nothing can replace. RJD spokesperson and Rajya Sabha member Manoj Jha was blunt when asked: "Lalu Prasadji being the pivot of the RJD as well as the entire Mahagathbandhan, crafted around the idea of social justice and secularism, we are certainly missing the best political communicator we have. However, more than us the people of Bihar are greatly missing him as an entire generation never imagined an election without his presence."
The holes scored by his absence are visible, often gaping. The most insistent of them is the absence of the trademark Lalu energy on the campaign trail itself. Even post multiple surgeries to keep his heart going, Lalu scorched the trail with eight or ten chopperstops each day during the make-or-break campaign of 2015. Nobody is able to keep that score, not even his youthful and younger son, Tejashwi, now thrust into a spearhead role. Rather than put speed on the campaign, Tejashwi took a four-day break last fortnight — two on account of a grounded chopper and two, we are told, because he had a dodgy tummy. It's unimaginable Lalu would succumb to such setbacks mid-campaign. In 2000, when Rabri Devi was chief minister and the RJD was fighting with its back to the wall to retain power, Lalu campaigned incessantly by road and air, with a sore and troubling ulcer in his back.
There are also issues of command and control that Tejashwi hasn't shown himself equal to. There are rebellions in pockets that he has not been able to control or been bothered to — the pyrrhic one by party veteran MAA Fatmi in Madhubani, for instance, and by a lesser leader in Supaul where the Congress' Ranjeet Ranjan has virtually been left to fend for herself. There are also quibbles about the distribution of funds, some of it voiced by seniors like Abdul Bari Siddiqui, who is contesting from Darbhanga.
"Such issues would not arise if Laluji were physically present," said a party functionary close to the first family of the RJD, "Laluji knew where to exercise his authority and where to use persuasion, Tejashwi hasn't learnt or displayed that art."
The hopeful among embattled RJD ranks are pinning their hopes on the Lalu magic working even in his absence — some even believe he will be able to shore up sympathy for "being denied bail despite his ill health" — but that's a far far cry from his persona being on this stage in person. Lalu had once famously said, jab tak samosa mein rahega aaloo, Bihar mein tab tak rahega Lalu. The quote's turned on him, it would seem, but who knows he could yet come back and quip, "But I am not even allowed to be in Bihar, you've sent me to Jharkhand."