Pen-wielding scholar militant shot dead in Kashmir
Mannan had joined the militants in January, abandoning his PhD course in applied geology at Aligarh Muslim University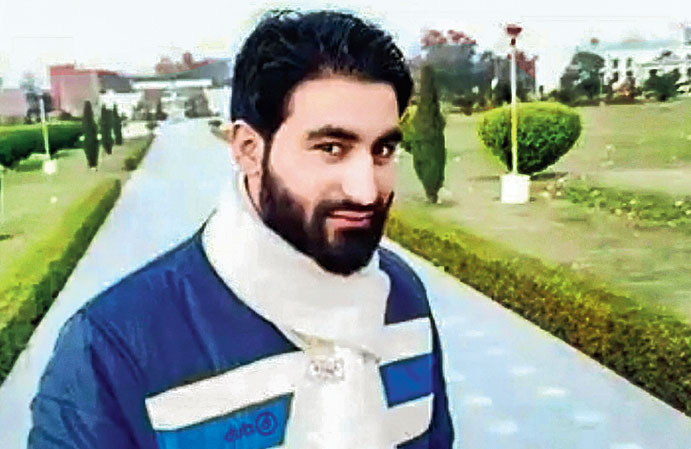 Mannan Wani.
(PTI file picture)
---
Srinagar
|
Published 11.10.18, 10:54 PM
|
---
Security forces on Thursday killed PhD scholar turned militant Mannan Wani, whose pen more than his gun was emerging as a challenge for the government.
Mannan, 26, had joined the militants in January, abandoning his PhD course in applied geology at Aligarh Muslim University. He fell in a gunfight in Handwara, north Kashmir, along with another Hizb militant.
The separatists have called for a shutdown on Friday.
Among those mourning his death was BJP ally turned rival Mehbooba Mufti. "Today a PhD scholar chose death over life and was killed in an encounter. His death is entirely our loss as we are losing young educated boys every day," the former chief minister said.
Mannan's foray into militancy had led to fears that other highly educated young men might follow his lead. Kashmir University assistant professor Mohammad Rafi Bhat, who had a doctorate in sociology, was among dozens who did. Rafi survived only a day as a militant before dying in a gunfight in May.
As a militant, Mannan made his presence felt across the Valley — not through any exploits with the gun but through powerful write-ups.
The police registered an FIR in July against a "responsible news portal", accusing it of circulating "propaganda material" — an allusion to an article by Mannan defending his decision to turn insurgent.
"Our mission is to liberate our land from foreign illegal occupation and thus create an environment of peace and justice wherein every thought and ideology would be discussed and debated and people will be given their right to chose whatever (way) they like," he wrote.
In the article, Mannan discussed the idea that Kashmiri militants find dignity in death.
"We don't feel dignity in death but we do feel dignity in fighting (Indian) occupation, its military might, its oppression, its tyranny, its collaborators and most of all its ego and if/when we die while fighting all this, we do feel dignity in that death," he wrote.
The write-up was taken down from the website but he responded with another, titled "Voice from the hills". In it he claimed his writing had shaken "the world's largest democracy" and recalled his days at "Jawahar Navodia Vidyala" (sic) — which he called an "extension of the Indian occupation" — at a time when his "aspirations were similar to (those of) a true Indian".
He argued that the India of Jawaharlal Nehru and M.K. Gandhi had given Muslims the Sachar report and "the new India is preparing the obituaries of the lynched" which, he said, had among other things motivated him to pick up the gun. The Sachar report contended that the status of Indian Muslims was abysmal.
Mannan claimed that the unequal fight in Kashmir was a victory for Kashmiris.
"His soldiers come in thousands in the bullet-proof vehicles to face one of us, fire from a mile, rocket the bricks, and all of this is our strength, and not theirs. His men are committing suicide; ours are smiling even when laid to the graves," he said.
Mannan belonged to a well-off family in Kupwara. His father Bashir Ahmad is a lecturer and brother Mubashir is a junior engineer.
The AMU website says he was awarded the "best paper presentation award" at an international conference on "water, environment, energy and society" in Bhopal in 2016 for his paper on flood risk assessment using remote sensing and Geographic Information System techniques.
Around 400 delegates from 20 countries, including China, the US and Britain, had participated in the conference.
The police said Thursday's encounter caused no casualties among the security forces.