Outcry in Jammu & Kashmir over 'non-local' voters
Valley politicians allege a move to disempower the local population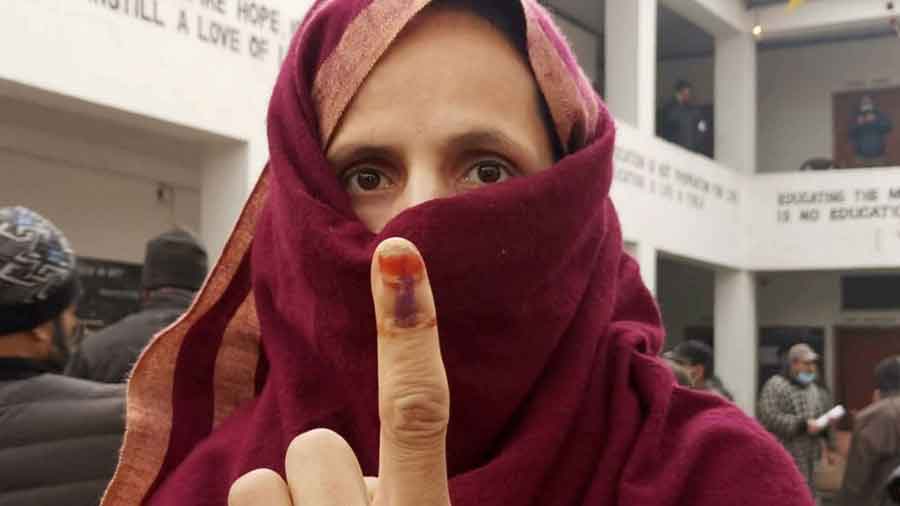 Representational image.
File photo
---
Srinagar
|
Published 18.08.22, 03:22 AM
|
---
Jammu and Kashmir's top election officer on Wednesday said the Union Territory might witness an addition of nearly 25 lakh voters who would include non-local people, among them security personnel, students, businessmen and labourers.
Chief electoral officer Hirdesh Kumar Singh's announcement has triggered an outcry, with Valley politicians alleging a move to disempower the local population. An additional 25 lakh voters would entail a 32.5 per cent increase in the electorate since the last electoral rolls revision in 2019, when Jammu and Kashmir had a voter strength of around 77 lakh.
The move comes months after a delimitation exercise gave six additional Assembly seats to Hindu-majority Jammu and just one to Muslim-majority Kashmir, appearing to bolster the BJP's quest for a Hindu chief minister.
Further, Singh's announcement comes days after the Election Commission deferred the deadline for the final publication of the electoral rolls from October 31 to November 25, seen widely as an attempt to defer the much-awaited Assembly polls to next year.
The erstwhile state has been without an Assembly since 2018, when the BJP withdrew support to Mehbooba Mufti's government. In 2019, Jammu and Kashmir lost its special status and statehood. The Centre has since then repeatedly promised elections in the new Union Territory.Before the changes in Article 370, "there were many other people who could not vote in the Assembly but now they can be included in the voters' list", Singh told a news conference in Jammu.
"…Under the Representation of the People Act, the person (voter) should be ordinarily residing in the UT (Union Territory). Anyone who wants to enlist as voter should ordinary reside here and the decision on it will be taken by the EROs (electoral revision officers)."
He added: "Therefore, to become voters, people don't need to be permanent residents of J&K and they don't need to be domiciled here (either)."Former chief minister Mehbooba Mufti tweeted her outrage: "GOIs decision to defer polls in J&K preceded by egregious gerrymandering tilting the balance in BJPs favour & now allowing non-locals to vote is obviously to influence election results. Real aim is to continue ruling J&K with an iron fist to disempower locals."Former chief minister Omar Abdullah asked why the BJP felt so insecure about "genuine voters of J&K that it needs to import temporary voters to win seats?""None of these things will help the BJP when the people of J&K are given a chance to exercise their franchise," Omar predicted.
Sajad Lone, seen as close to the establishment, called the move dangerous."I don't know what they want to achieve. This is much more than a mischief. Democracy is a relic especially in the context of Kashmir. Please remember 1987. We r yet to come out of that. Don't replay 1987. It will be as disastrous," Lone tweeted.The rigging in the 1987 Assembly elections is widely seen as the precursor to the rise of militancy in the Valley.
The Union government has already introduced far-reaching changes in Jammu and Kashmir since the abrogation of the special status, which are seen as attempts to change the Union Territory's Muslim-majority character.The delimitation has increased Jammu's share of Assembly seats from 37 to 43 and that of Kashmir from 46 to 47. This gives Jammu 47.8 per cent of the seats.
Hindus make up 28.44 per cent and Muslims 68.31 per cent of Jammu and Kashmir's population, according to the 2011 census. The BJP is also trying to woo the Gujjar and Pahari Muslims, who form a significant chunk of voters.Singh said the draft voters' list would be released at every polling station on September 15 while October 25 is the last date for claims and objections."And, by November 25, the final electoral rolls will be released," he said.