Yashwant Sinha files nomination for President's post
TRS leader and Telangana chief minister K. Chandrashekar Rao has supported Opposition candidate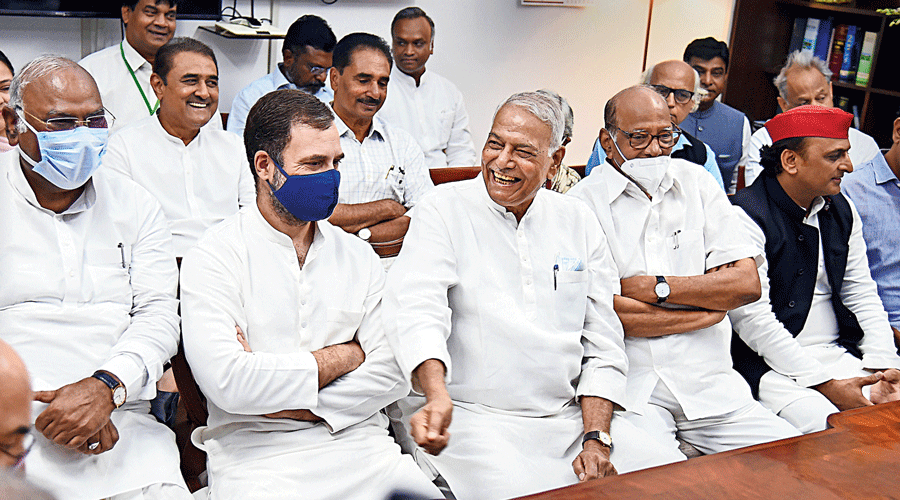 Opposition candidate Yashwant Sinha with Mallikarjun Kharge, Rahul Gandhi, Sharad Pawar and Akhilesh Yadav during the filing of his nomination for the presidential election in Parliament on Monday.
PTI picture
---
New Delhi
|
Published 28.06.22, 01:23 AM
|
---
The joint Opposition candidate Yashwant Sinha on Monday filed nomination for the President's post, asserting that the contest was ideological and the BJP's decision to field a tribal merely signified politics of symbolism.
Top Opposition leaders, including Sharad Pawar, Rahul Gandhi, Sitaram Yechury, Akhilesh Yadav and Farooq Abdullah, were present when Sinha filed his papers.
Others who came out in support of the Opposition candidate included Trinamul's Abhishek Banerjee, RLD's Jayant Sinha, DMK's A. Raja, CPI's D. Raja, RJD's Misa Bharti, TRS leader K.T. Rama Rao and AIMIM's Asaduddin Owaisi.
While 14 parties, including the Shiv Sena, have extended support to Sinha, the Aam Aadmi Party and the Jharkhand Mukti Morcha were absent.
TRS leader and Telangana chief minister K. Chandrashekar Rao has supported the Opposition candidate. Revolutionary Socialist Party's N.K. Premchandran and Indian Union Muslim League's Mohammed Bashir were also present.
A campaign committee was later constituted to assist Sinha, which includes Jairam Ramesh of the Congress, Tiruchi Siva of the DMK, Sukhendu Shekhar Roy of the Trinamul Congress, Yechury of the CPM, Ram Gopal Yadav of the SP, Praful Patel of the NCP, Ranjit Reddy of the TRS, Manoj Jha of the RJD, D. Raja of the CPI and Sudheendra Kulkarni from civil society. A Shiv Sena nominee will be included in the committee.
Rahul Gandhi said after Sinha filed the nomination: "All Opposition parties are unitedly supporting Yashwant Sinha. Of course we are supporting the individual but the real fight is between two ideologies. One ideology of the RSS — anger, hatred —and the other — compassion. All the Opposition parties are standing together."
The Congress was present in full strength, with veterans like Ashok Gehlot and Mallikarjun Kharge accompanying Rahul.
Sinha, who too insisted that the fight was between two kinds of ideology, said the candidature of Droupadi Murmu, a tribal, was part of "politics of symbolism". He said that he would contest the election on the track record of the Modi government with regard to the welfare of backward communities, Scheduled Castes and Scheduled Tribes.
"The current President also belongs to a particular community. Does it mean that the community has benefited?" Sinha asked, referring to Ram Nath Kovind.
Sinha said he would approach BJP MPs and MLAs for support but attacked Modi's policies. He said the BJP under Modi lacked internal democracy while he had been part of a different BJP. He alleged lack of freedom and absolute power in the hands of Modi.
Sinha, who was an important member of the Vajpayee government, is a fierce critic of the Modi regime and believes that the government was dragging India towards the path of destruction.