Online fishing in Kerala's troubled waters
The campaign alleges that donations to the fund last year had been misused for the chief minister's travel abroad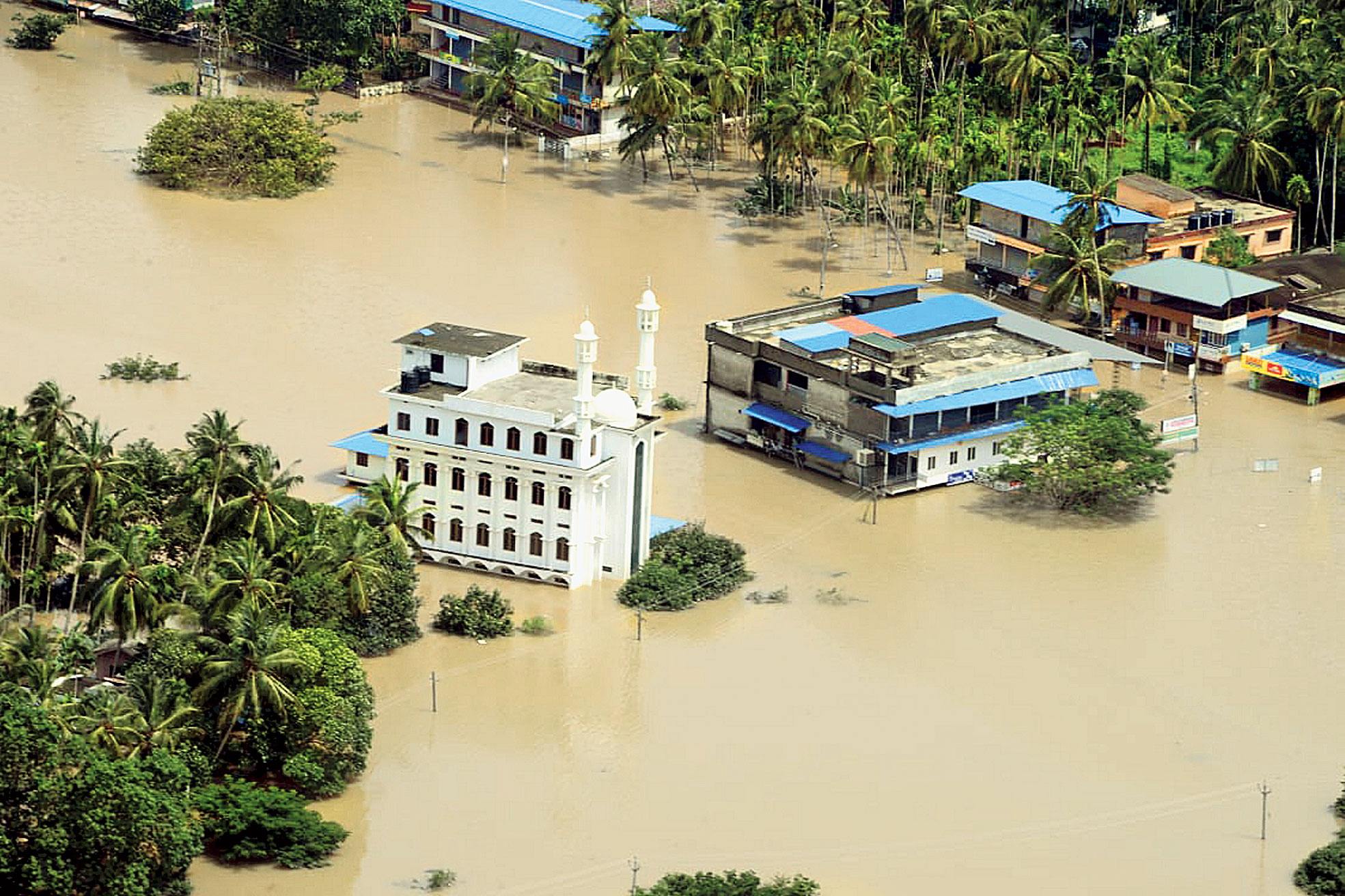 ---
---
The floods engulfed parts of Kerala this time almost in the very week they did so last year but not everything has replayed itself.
A jarring note has been struck by an online campaign discouraging people from donating to the Chief Minister's Disaster Relief Fund, which had last time emerged as a trusted recipient of generosity from across the world.
The campaign essentially alleges that donations to the fund last year, when 480 people died in Kerala in its worst floods in a century, had been misused for the chief minister's travel abroad.
The allegation has gone viral on social media at a time the toll from the deluge and landslides mounted to 71 in the state on Sunday.
One Netizen, a man named Unnikrishnan Vechoor, posted on the Kerala BJP Facebook page: "Your contribution should not be wasted (on) politicians' foreign trip with illiterate wife and gang, that must reach to the needy and poor, contribute to SEVA Bharati only." The Seva Bharathi is a voluntary organisation of the BJP's ideological mentor RSS.
The campaign, coupled with a collector's remark that may have created an impression that help was no longer needed, prompted Kerala chief minister Pinarayi Vijayan on Sunday to urge residents not to listen to rumours but help the flood-affected in whatever way possible.
"Our people should not fall for this campaign that funds in the CMDRF was misused for other purposes. This money in this fund is used only for disaster relief," said Vijayan, a CPM leader.
Vijayan rubbished such allegations and urged people not to hesitate in helping those in dire need of food, water, clothing or shelter. More than two lakh people have been moved to around 1,500 relief camps in the state.
Vijayan had visited the US in September, soon after last year's floods, for treatment. But the trip had been scheduled before the floods and he had postponed the treatment to stay back and manage the crisis.
In May this year, he visited Europe for a 10-day trip with Amsterdam as his first halt on May 9 to study the Dutch-model for flood management. Chief secretary Tom Jose, additional chief secretary, water resources, Viswas Mehta, and V. Venu, principal secretary, disaster management, had accompanied Vijayan.
On May 13 he was in Geneva, where he attended a UN world reconstruction conference. Vijayan reached Paris on May 16 to attend an interaction with Malayalis there and how they could contribute to the reconstruction of Kerala.
He was in London the next day to list the Kerala Infrastructure Investment Fund Board on the London Stock Exchange.
While Vijayan addressed journalists to counter the allegations of misuse, state finance minister T.M. Thomas Isaac took to social media to explain how relief funds were used.
"There are several posts alleging that the CMDRF money is misused for ministers' travels. There is a separate allowance in the budget for the minister's travel and purchase of motor vehicles. There is no need to mix them," he wrote on Facebook.
"The funds that come to the chief minister's disaster relief fund cannot be used for other things. The disaster relief fund has two parts. One is budgetary allocations. The second one is donations made by people….
"The people have contributed Rs 4106 crore until June 20 (this year)," he wrote, adding the money was safe in a separate bank account.
"Every rupee… spent from CMDRF is accounted for and is subject to auditing by the Comptroller (and) Auditor General of India," he added.
On Friday, the collector of Thiruvananthapuram, K. Gopalakrishnan, had said in a video message there was no need for relief material, a claim that may have fed the anti-donation campaign.
"Various district collectors say there is a need for material. But all of them are doing local sourcing. They didn't seek any major help," Gopalakrishnan said in the video message.
"Everyone is concentrating on (the) rescue (mission). So there is no immediate need for anything. Let's wait for some more time," he said.
He had then made an observation that drew a lot of flak from people who were waiting to offer help. "We can't reach the worst-affected areas like Malappuram and Wayanad. So no one can go there. So let's wait for one or two days," the collector said.
Gopalakrishnan has since changed his stand and has been posting messages on his Facebook page seeking immediate help.
Congress leader Rahul Gandhi arrived in his flood-affected Wayanad constituency and began a two-day tour to assess the devastation.
After landing in Kozhikode, he went straight to Kavalapara where 63 people were yet to be accounted for after a massive landslide.
The village in Malappuram district had witnessed one of the worst landslides that wiped out an entire hamlet where nine bodies have been recovered so far.
Rahul then visited several relief camps and attended a damage-assessment meeting called by the district collector.
The former Congress president would be touring the affected areas in Wayanad district on Monday.
The situation in the state has improved but floodwaters are taking time to recede. In its forecast for Monday, the Kerala State Disaster Management Authority lifted red alerts in all districts.
While only Wayanad, Kannur and Kasaragod had a red alert for Sunday, the rainfall is expected to reduce by Tuesday.
Cochin International Airport resumed services on Sunday afternoon.
In neighbouring Karnataka, where 31 people have died, chief minister B.S. Yediyurappa accompanied Union home minister Amit Shah on an aerial tour of the north and coastal districts.
Yediyurappa has sought Rs 3,000 crore as relief from the Centre.
Mom swims with baby
Clutching her two-month-old baby close to her chest, 25-year-old Prajitha swam across a rivulet to escape the worst landslide that had hit Wayanad. Puthumala, 20km from the district headquarters Kalpetta, was hit by a series of landslides on August 8 that flattened houses, uprooted trees and washed away all the signs of an inhabited village.
"We heard a loud noise. Baby was in the cradle. I grabbed my child and ran out of the house. We fell into the water and somehow managed to swim to safety," Prajitha said. PTI