On show: Dior's India inspiration
An exhibition at the Victoria & Albert Museum in London will include a section on India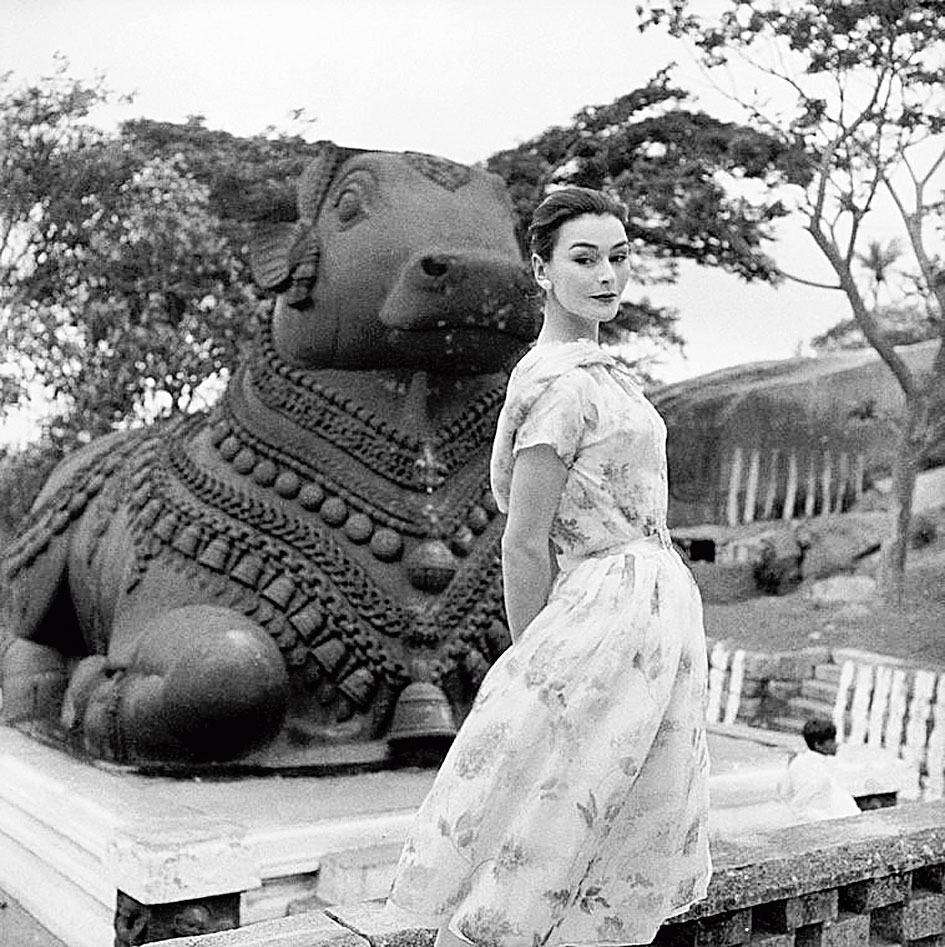 ---
|
London
|
Published 21.10.18, 09:49 PM
---
An exhibition on Christian Dior at the Victoria & Albert Museum in London will include a section on how the iconic French designer and his successors at the House of Dior have been inspired by India.
Several hundred journalists were invited to the V&A to hear details of its major exhibition, Christian Dior: Designer of Dreams, from its curator, Oriole Cullen, who later told The Telegraph: "We are looking at India in one of our sections."
"So many of the creative designers at the House of Dior — Christian Dior himself included — were inspired by India and there are some beautiful photographs by Norman Parkinson for editorial taken in India," Cullen said.
Parkinson, who was one of Britain's best-known photographers, had visited India in 1956 with a team of models to shoot for Vogue. One image was of the model Anne Gunning in Dior in front of the Nandi Bull on Chamundi Hill in Mysore.
Christian Dior died aged 52 in 1957, but the fashion house he founded in 1947 lives on, with dedicated followers among the well heeled all over the world, not least among Indians.
Dior opened a boutique in Delhi in 2006 and in Mumbai in 2010. "I remember being in Mumbai some years ago when the Dior boutique opened and there was a lot of press around that," recalled Cullen. "So it is nice to see it is a two-way thing. Women in India wear Dior but the House of Dior is also inspired by India."
British fashion writers agreed that the actress Priyanka Chopra, for example, "looked ravishing" when she wore a gold Christian Dior gown for the post-wedding evening party hosted by Prince Harry and Meghan Markle.
"That dress was beautiful," agreed Cullen. "The exhibition will have a feature on dresses inspired by Indian textiles and designs from Christian Dior himself to the creative directors who succeeded him at the House of Dior.
"From the daring designs of Yves Saint Laurent to the rational style of Marc Bohan, the flamboyance of Gianfranco Ferré, the exuberance of John Galliano, the minimalism of Raf Simons, and Maria Grazia Chiuri's feminist vision of fashion, the exhibition will show how each successive artistic director has stayed true to Dior's vision of haute couture, while bringing their own creative sensibilities to the House."
Cullen, who looks after the V&A's fashion and textiles collection, probably the biggest in the world, said one of the exhibition's highlights will be a Dior gown worn by the late Princess Margaret, the Queen's younger sister, for her 21st birthday in 1952. The dress will be on loan from the Museum of London.
"I have known the dress for a long time — I used to work at the Museum of London," said Cullen, who said it was Princess Margaret, "the epitome of the royal princess" and one of the prettiest women of her day, who went to Paris in 1949 and sought out Dior.
"She ordered clothes from Christian Dior and remained a customer throughout her life."
The exhibition, to run from February 2 to July 14, 2019, will have 500 objects, including 200 rare haute couture garments. There will also be costume jewellery, hats, shoes, bags, perfume bottles, sketches, fashion photography, film, make-up, illustrations, magazines and Christian Dior's personal possessions.
Cullen emphasised: "In 1947, Christian Dior changed the face of fashion with his 'New Look', which redefined the female silhouette.
"The influence of Christian Dior's design was all-pervasive and helped to define an era. More than seventy years after its founding, the V&A's exhibition will celebrate the enduring influence of the House of Dior."