Omar for revival of J&K prime minister post
The state had its own president and PM till 1965, and continues to have its own constitution and penal code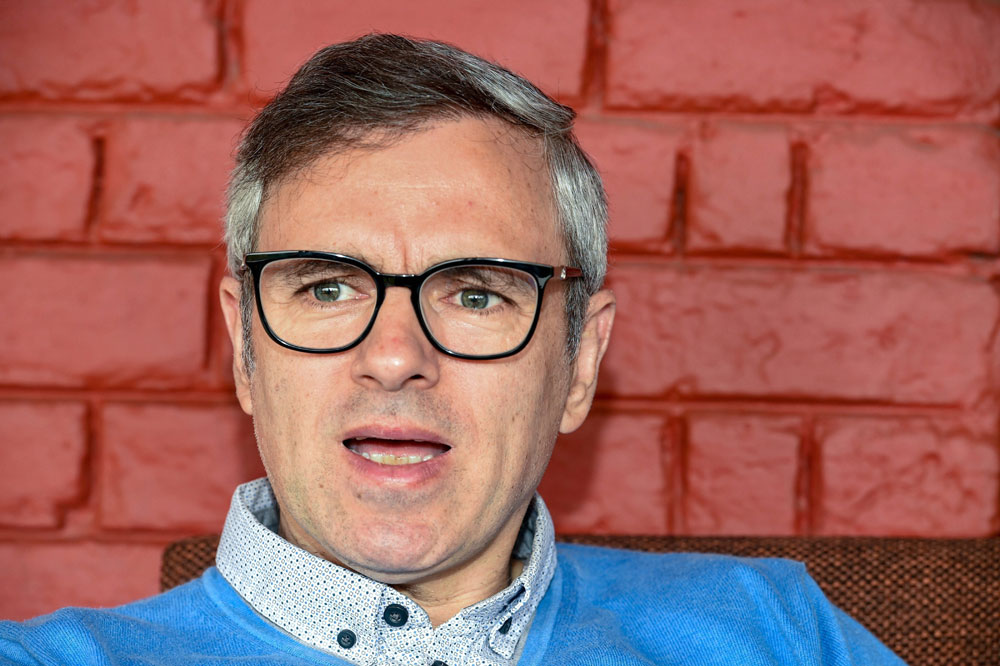 Former Jammu and Kashmir chief minister Omar Abdullah
(PTI)
---
Srinagar
|
Published 01.04.19, 09:35 PM
|
---
Former chief minister Omar Abdullah on Monday vowed to revive the posts of sadr-e-riyasat (president) and prime minister for Jammu and Kashmir, triggering an angry reaction from Prime Minister Narendra Modi.
"Other states joined India without conditions — we put conditions; we didn't join for free," Omar told an election rally in Bandipora, north Kashmir.
"We got certain things inserted into the Constitution to maintain our special identity. We said we would have a separate identity, a separate constitution, our own flag."
He went on: "We had also kept for ourselves a sadr-e-riyasat and a prime minister, which they took away. God willing, we will bring those (posts) back."
The state had its own president and prime minister till 1965, and continues to have its own constitution, flag and penal code because of its special status under Article 370.
Omar's comments seemed to touch a raw nerve in the Prime Minister, who used the remarks to hit out at leaders of the Congress and other Opposition parties, including Bengal chief minister Mamata Banerjee.
"A mahagathbandhan constituent, a most powerful ally of the Congress, Farooq Abdullah's son Omar Abdullah's private company (the National Conference) has given a statement that Kashmir will have a separate prime minister," he told a poll rally in Secunderabad, Telangana.
"Tell me, do you support the demand from the Congress ally? Is it acceptable to anybody in India?"
Modi then turned on the Opposition: "Do you want to continue with it (Omar's party) or break relations with it? This mentality of dividing India has done great damage…. This mentality of the Congress is strengthening anti-national elements."
He asked all Opposition leaders to clarify their stand on Omar's remarks.
"I want to ask all the friends of the mahagathbandhan — Bengal's Didi, you shout a lot, answer. National Conference is your ally. Do you agree with its demand for a separate prime minister (for Jammu and Kashmir)?" he said.
Modi said that as long as he was alive, these "conspiracies" wouldn't succeed.
Omar was reacting to BJP president Amit Shah's remarks on Sunday that by 2020, there would be no Article 35A, which gives permanent residents of Jammu and Kashmir exclusive rights to acquire immovable property in the state or secure government jobs or scholarships there.
He asked why Shah had compared Jammu and Kashmir with other states.
"Show me their flag; do they have their own flag? Show me their constitution; do they have their own constitution? What is our fault if we got certain things after demanding those from you?" he asked.
"We extended the hand of friendship and after 70 years, you are telling us that your decision was wrong."
Omar said that if some people wanted to withdraw the acceptance of the conditions under which the state had acceded to India, they would have to discuss the accession itself. "There are no two ways about it," he said, drawing cheers.
The state's Assembly had in the year 2000 passed an autonomy resolution with two-thirds majority, under then chief minister Farooq Abdullah's guidance, that sought the restoration of the state's pre-1953 status.
The then NDA government had rejected the resolution which, if accepted, would have restricted the jurisdiction of the Election Commission, Supreme Court and the Comptroller and Auditor General over the state, leaving only foreign affairs, defence, currency and communications with the Centre.