Offer of a kidney bridges J&K divide
Manjot Singh Kohli wins hearts after she offers her kidney to friend Aamreen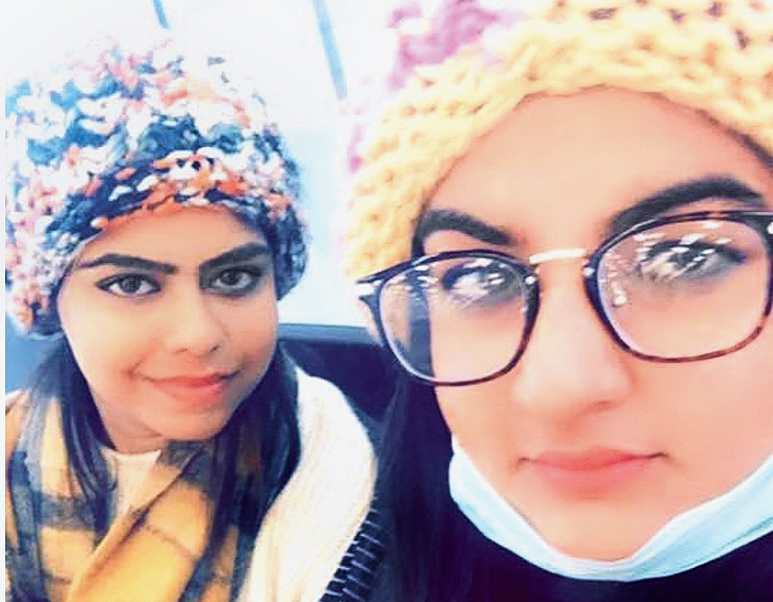 A picture tweeted by Manjot (in glasses) with her friend Samreen
---
Srinagar
|
Published 30.11.18, 10:48 PM
|
---
Jammu girl Manjot Singh Kohli, 23, is set to lose a kidney but has won a lot of hearts.
The Udhampur-based Sikh woman's offer of one of her kidneys to her Muslim friend Samreen, who desperately needs one to survive, has suffused with hope many across the religious and regional divide in Jammu and Kashmir.
Samreen, 22, a resident of Pir Panchal in Jammu, is suffering from renal failure.
Manjot's gesture comes nearly a year after the rape and murder of an eight-year-old Bakerwal Muslim girl in Jammu's Kathua district had stoked communal tensions, which intensified when thousands hit the streets in the region to protest the suspects' arrest.
These developments not only widened the gulf between the Valley and Jammu but also between Jammu's Hindu heartland and its Muslim majority areas of Pir Panchal and the Chenab valley.
Just out of college, Manjot is already chairperson of the Anti-corruption and Human Rights Council, a Jammu-based NGO. The young social activist's willingness to put her body on the line has earned her all-round praise.
"This heartwarming gesture of @manjotsingh_ brings me to tears," National Conference politician Sara Hyat Shah tweeted.
"This brave, beautiful woman from Udhampur (Jammu) has decided to donate a kidney to Samreena (Kashmiri Muslim) who needs a kidney transplant. So proud of her. SALUTE and RESPECT!!"
Manjot, however, faces stiff opposition from her family, who fear she is taking too much of a risk with her own health. This has prompted the Sher-e-Kashmir Institute of Medical Sciences in Srinagar, where Samreen has been admitted, to delay the surgery.
"I'm not scared of anything. My only concern is that humanity should not lose out. My family has got swayed by emotion… but I shall go ahead anyway," Manjot told The Telegraph.
"My strong belief in humanity is motivating me, and you can see the communal harmony my decision is creating…. Had my family supported me, it would have made me very happy."
Manjot said the hospital was cagey because it feared the matter could become a communal issue if her family did not grant consent.
"But I'm an adult and nothing bars me legally from donating my kidney," she said. The law allows "altruistic" donations by non-relatives provided a committee of doctors, legal experts and district officials gives sanction after confirming that no payments would be involved.
Manjot and Samreen had met four years ago when both attended a rights event hosted by an NGO. Over the years, they became friends.
"The moment I got to know (from someone else about Samreen's need for a kidney), I verified whether she was my (friend) Samreen. I called her and said, 'I'm coming to do it'. I told her I needed nothing from her and that I was doing it for her," she said.
An official at the hospital confirmed that the surgery was being delayed because of the opposition from Manjot's family. "The issue has been referred to a committee and we are waiting for its nod," he said.
Samreen, who undergoes regular dialysis at the hospital, thanked her friend for coming to her rescue at a time when things were looking bleak.
"My mother wanted to donate her kidney but she was declared unfit because of a rare medical condition. We hoped some other relatives might come forward but none did," she said. "All I want is that the hospital waste no more time."