Nudge from EU, UK on citizen law
However, some MEPs insisting that there was no clear understanding of CAA in the European Parliament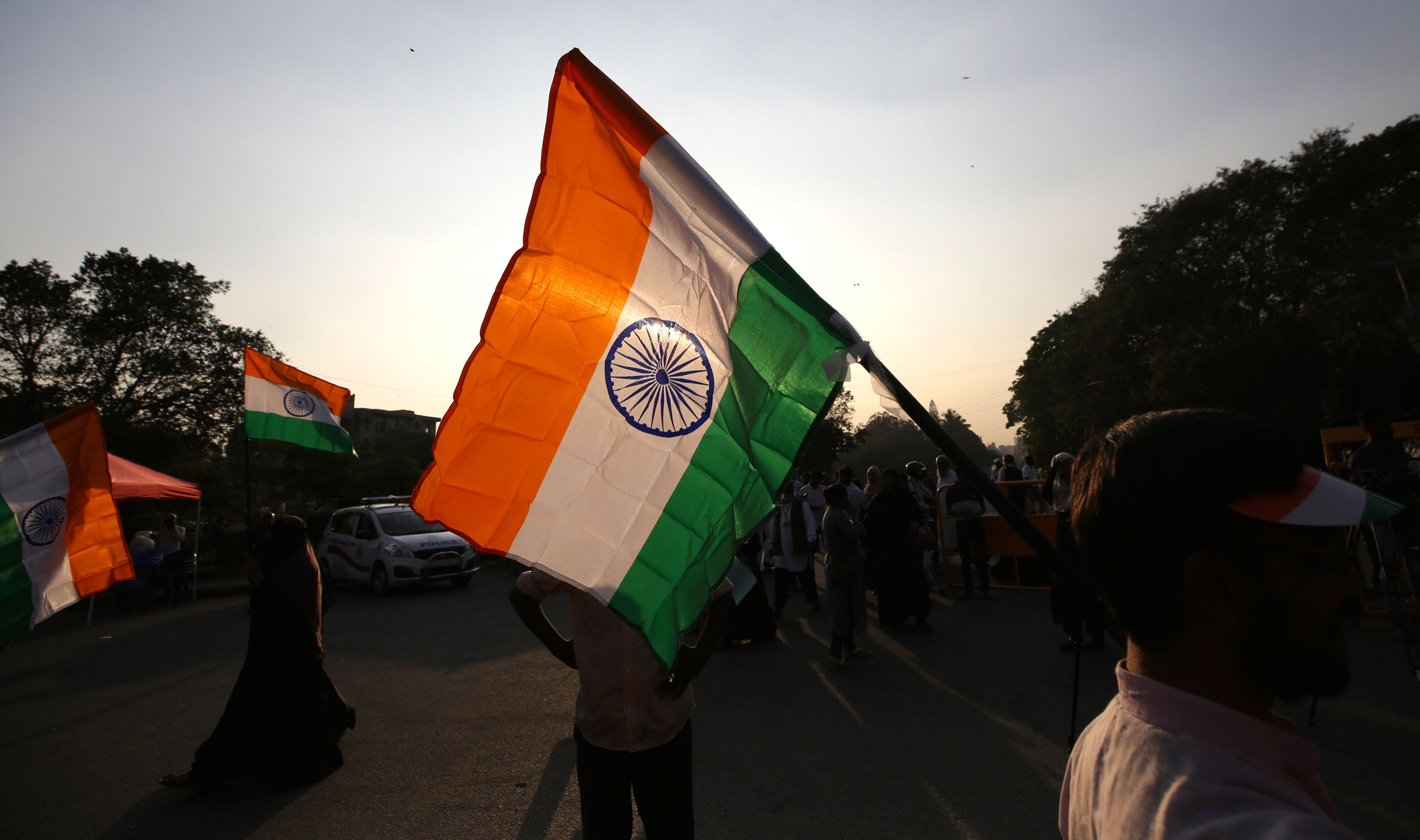 People carry national flags as they walk to join others to form a human chain to mark the death anniversary of Mahatma Gandhi and to protest the new citizenship act in Bangalore on Thursday.
(AP)
---
New Delhi
|
Published 30.01.20, 08:14 PM
|
---
India may have dodged the bullet at the European Parliament on Wednesday with the postponement of the vote on the joint resolution on the Citizenship (Amendment) Act but New Delhi drew flak from some members for the new law and the NRC.
Although members of the European Parliament (MEPs) voted in favour of postponing Thursday's vote on the CAA, they went ahead with the debate which saw a couple of members insisting that India should be held to account for bringing in such a discriminatory law.
India was not without friends either, with some MEPs insisting that there was no clear understanding of the CAA in the European Parliament.
Now that the vote has been deferred, India is hoping to be able to work further with the MEPs over the next month-and-a-half to bring over the critics and soften the blow if any.
In the debate, a couple of the MEPs accused the European Union of capitulating to the India lobby and prioritising yet another trade summit over the European Parliament's commitment to human rights. This was said in reference to the upcoming India-EU Summit in Brussels on March 13 that will be attended by Prime Minister Narendra Modi.
In seeking postponement of the vote, European People's Party member Michael Gahler suggested the MEPs await the Indian government's answers to the Supreme Court in the case. Also, since Indian ministers are expected to be in Brussels in February ahead of the India-EU Summit, he said it would give them a chance to explain.
There were also calls for the EU to send a clear message to India that the relationship would come under serious threat in the absence of respect for human rights.
UK 'trust' reminder
The UK on Thursday said it hoped the Indian government would address the concerns of the people over the CAA.
The outgoing British high commissioner to India, Dominic Asquith, also said his country was "very interested" in a visit to the Kashmir Valley.
Asked by journalists in Delhi about the protests in India over the CAA, he said: "We have noted what the government and Mr Modi say about together with all, development for all, and trust of all (a reference to 'sabka saath, sabka vikas, sabka vishvas) and I believe that is the manifesto commitment of this government."
"There is protest in every democracy.… I refer back to the 'with all, development for all, and trust of all' as the objective set by this government and I am sure that in that 'trust of all' (is) the trust that it will be addressing the concerns that have been expressed about the CAA," Asquith said.