Nuanced view on farm relief
Agriculture continues to feel the impact of demonetisation, while others have overcome it, says Kaushik Basu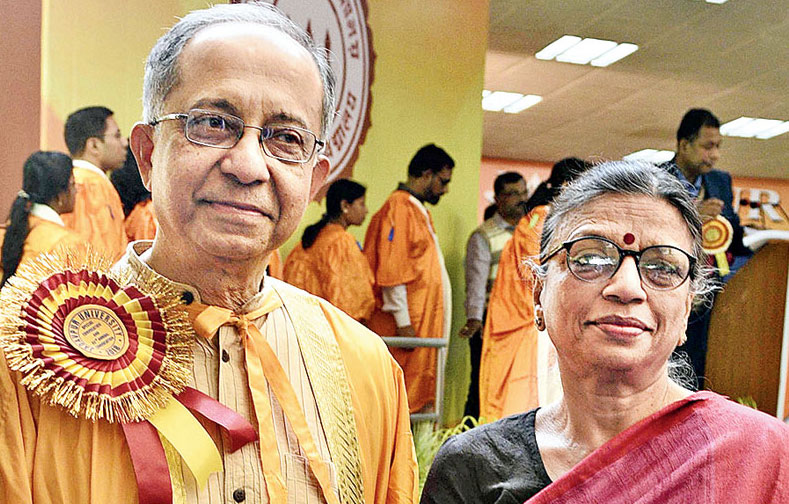 Economist Kaushik Basu with wife Alaka Malwade Basu, a sociologist, at Jadavpur University on Monday.
Picture by Gautam Bose
---
Calcutta
|
Published 24.12.18, 10:08 PM
|
---
Kaushik Basu, former chief economic adviser to the Government of India at the ministry of finance, was on Monday conferred with an honorary DLitt at Jadvpur University.
In his address, the C. Marks Professor of International Studies at Cornell University spoke on a range of issues. Basu also urged the students not to give in to those who "preach hatred" and stressed the importance of tolerance. Excerpts:
Economy: The Indian economy is going through a difficult phase. Our investment rate has declined sharply. Job creation has slowed tremendously. The agriculture sector is suffering and inequality is rising…. We must not forget that a large section of our country is still very poor. It will be sad if, in the name of growth, we only focus on the big players and big corporations. As Gandhiji had so poignantly reminded us: "In evaluating a society we must think of how the poorest and most marginalised segments are faring and judge the nation by their state."
Farm loan waiver: I don't know whether a farm loan waiver is the solution. But I do know that there is a concept called "limited liability". Limited liability is allowed everywhere in extremely distressful situations — be it in the United States, Russia, England…. The farm situation has turned very bad since the time of the demonetisation. So this (a loan waiver) could be a special case where limited liability could apply.
Several economists take the position that a waiver should never be allowed. But that is not true. In all countries, special circumstances do crop up where you allow (a loan waiver). If you allow a waiver repeatedly, the money market would crash. But here, the level of distress has been extremely high. The impact of the demonetisation has remained in the agriculture sector. Other sectors have been able to overcome the impact. Given the conditions prevalent in the agriculture sector, maybe, very rarely should a loan waiver be used. But here it is arguable that this is a time when it was needed that we supported the farmers.
Freedom of speech: This is a nation where we cherished freedom of speech, critical writing and critical thinking. We made an effort to create an inclusive society and nurture the scientific temper. These were the traits encouraged by our founding fathers — Nehru, Gandhi, and our thinkers. If we want to be a major global player, we must not lose this advantage.
Narrow-mindedness: Education is important in itself. The world of research is a place of joy…. While indulging in this joy, we must remember we have a responsibility towards the poor, weak and marginalised. In today's world of narrow-mindedness I urge you to think of other people — people of different religions, different caste groups, different sexual orientation — as your brothers and sisters. We must never give in to those who preach narrow-mindedness and hatred.
Tolerance: It was in Calcutta in high school that I had discovered one major thinker who had a huge influence on me: Bertrand Russell…. I learned from Russell the importance of tolerance, universal love and the rejection of bigotry. But I need not quote Russell only. This was the thought of Swami Vivekananda. This was the thought of a lot of good religious leaders. That is the spirit in which we need to progress. From Russell, I also learned that there is no opinion or idea that is sacred. Everything must be evaluated. You have to use your judgement and then get persuaded.