Economist rues rise of hate
Economist Kaushik Basu on Friday regretted the rise of a "narrow-minded" approach and "hatred" in the country.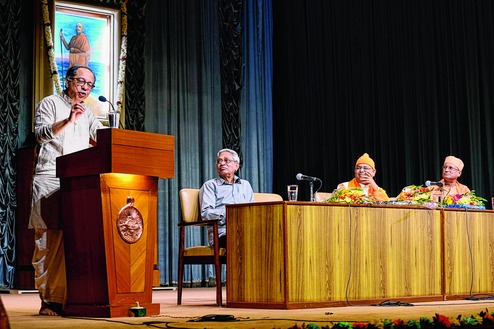 ---
Published 23.12.17, 12:00 AM
|
---
Calcutta: Economist Kaushik Basu on Friday regretted the rise of a "narrow-minded" approach and "hatred" in the country.
Basu, the C. Marks professor of international studies and professor of economics at Cornell University, made the observation while delivering a lecture on"economics and morality" in memory of Swami Lokeswarananda of the Ramakrishna Mission.
"In today's India, we are getting narrow-minded. There is hatred among people," rued the former chief economist of the World Bank and one-time chief economic advisor to the Union finance ministry.
But Basu, who had claimed at the outset that he was not a religious person in the conventional sense, was quick to add that the teachings of Swami Vivekananda and Sri Ramakrishna, with their stress on humanity and inclusiveness, had become more relevant in today's context.
Many other academics, such as economist Amartya Sen and historian Ramachandra Guha, too have expressed concern at the rise in hate-mongering in Indian society over the past few years.
"This worries me.... And I'm sure that there is a possibility of long-term damage for India from it," said Basu, who has earlier been critical of measures like the demonetisation, while talking to reporters after the programme.
He, however, said he was hopeful of a turnaround as ordinary people he had spoken to had told him they disapproved of what was happening.
During the question-and-answer session after his address, Basu said that elections were the "biggest hope" in democracies.
He quoted Václav Havel, writer and dissident who went on to become the first President of the Czech Republic, in this context.
"Havel spoke about the power of the powerless.... He said that a political party is propped up by the people," Basu said, implicitly expressing faith in people's power to bring in change.
Basu had started his half-hour lecture by attacking the popular notion that the central theme of Adam Smith's seminal The Wealth of Nations was the "invisible hand" theorem, often used by theoretical economists to argue that the markets, left to themselves, would result in optimality.
He went on to explain that individual selfishness - regarded as a derivative of the invisible hand theorem - can lead to "collective doom".
"Only profit-making cannot take society forward," said Basu, who also spoke about the rising inequality in America.
He touched upon the theme of global corruption and described how some countries such as Sweden, Britain, Singapore and Hong Kong had brought it down over the years. In India, he said, corruption was a "painful problem".
"For any small job, be it the filing of returns or getting a driving licence, people would ask for a bribe from me. But during the three years I was in the government, no one ever asked me (for a bribe)," he said, breaking into a smile.
But hope defined the theme of his address, and he said that the level of corruption in India could be brought down.