NSUI members hurl eggs at Ajay Mishra Teni in Odisha
They showed him black flags near the airport here to protest against the Lakhimpur Kheri carnage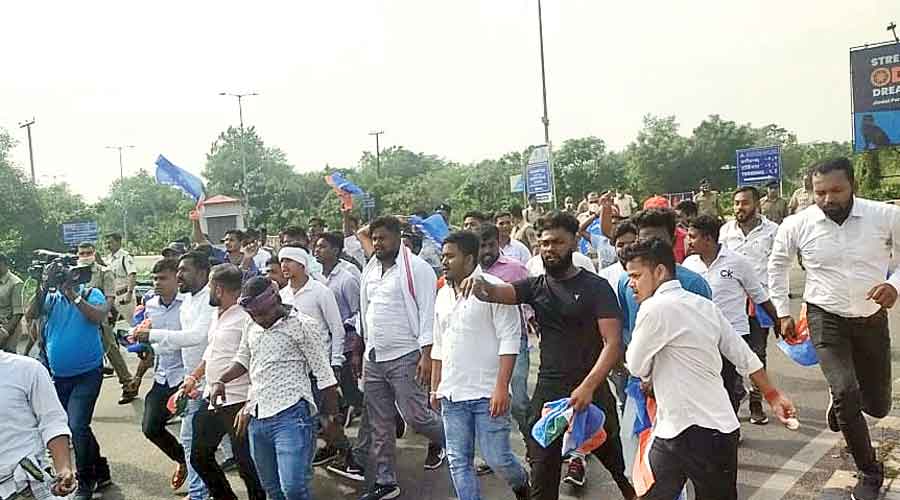 NSUI members protest against Union minister of state for home Ajay Mishra Teni near the airport in Bhubaneswar on Sunday.
Ashwinee Kumar Pati
---
Bhubaneswar
|
Published 01.11.21, 12:25 AM
|
---
Members of the National Students' Union of India (NSUI), the student wing of the Congress, on Sunday hurled eggs at Union minister of state for home Ajay Mishra Teni and showed him black flags near the airport here to protest against the Lakhimpur Kheri carnage.
The vehicle of Mishra's son Ashis had allegedly mowed down four farmers at Lakhimpur Kheri in Uttar Pradesh on October 3 and the minister had been accused of trying to shield his son and his associates.
Mishra was on a one-day tour to the state to attend the Central Industrial Security Force's function at Mundali near Cuttack where he inaugurated two barracks.
When he came out of the Biju Patnaik airport in Bhubaneswar, NSUI members showed him black flags.
At the Biju Patnaik Square near the airport, one of the NSUI workers pelted eggs at the car in which Mishra was travelling. "Two eggs hit the windowpane of the car," police sources said.
Congress youth wing president Dr Smurti Ranjan Lenka said: " The minister should resign immediately. The way he has been trying to shield the crime of his son Ashis is unfortunate. We are opposed to his visit to the state and will also oppose other Union ministers' visit to the state."
State BJP spokesperson Golak Mohapatra said: "Ashis has already been arrested. Congress is doing politics on the issue."