Nitish Kumar has his way with portfolio allocation
The JDU has kept 20 departments with itself while leaving 21 for the BJP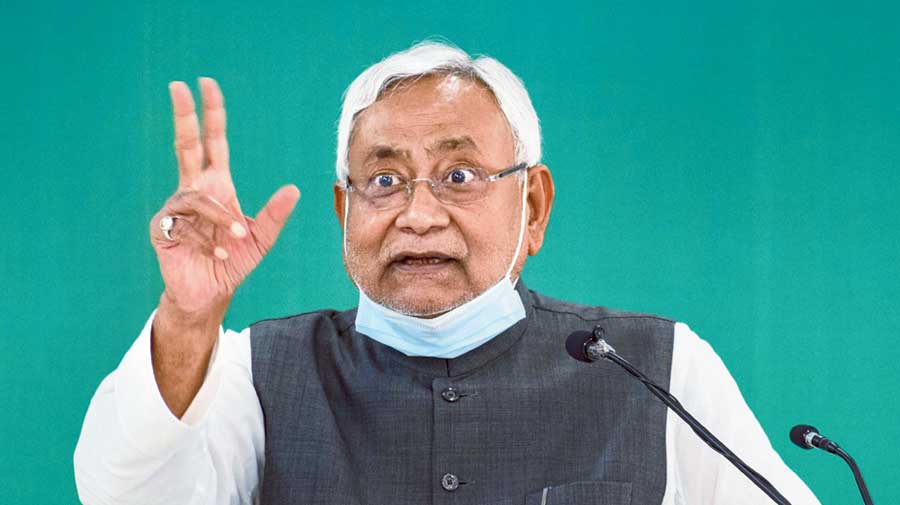 Nitish Kumar
File picture
---
Patna
|
Published 18.11.20, 01:09 AM
|
---
Bihar chief minister and JDU president Nitish Kumar on Tuesday refused to yield further to ally BJP and distributed ministerial portfolios in line with his wishes.
He also struck a deal on "an equal number of departments" with the BJP, signalling that there may not be too much difference in the number of ministers from the two parties when the cabinet is expanded despite a vast gap between the BJP's 74 MLAs and the JDU's 43.
In the portfolio allocation, the JDU has kept 20 departments with itself while leaving 21 for the BJP.
Two departments have been given to minister Santosh Suman from the Hindustani Awam Morcha Secular (HAMS) and one to Vikassheel Insan Party (VIP) chief Mukesh Sahni.
The BJP had been gunning for the home and education departments, but Nitish refused to budge and kept both with his party. Nitish retained the home department. The JDU's Tarapur MLA, Mewalal Chaudhary, who has been vice-chancellor of various agriculture universities, has been made education minister.
The BJP has already clipped the wings of Nitish by sidelining his trusted deputy Sushil Kumar Modi, assigning two deputy chief ministers to breathe down his neck and taking away the post of the Assembly Speaker.
However, the chief minister put his foot down when it came to the allocation of portfolios to his cabinet colleagues — five from the JDU, seven from the BJP and two each from HAMS and VIP.
Nitish retained all the major departments, including home, cabinet secretariat, vigilance, general administration and election.
He just shed the law department in favour of the BJP.
"This ensures that police, law and order, bureaucracy, intelligence agencies, anti-corruption, cabinet and aviation-related institutions remain under him. He will have wide-ranging powers now, and will be able to steer the state as per his decisions. These departments are connected to day-to-day governance as well," a senior JDU leader said.
Several other departments like agriculture, urban development, health and road construction have been left with the BJP like earlier.