Nitish Kumar calls for rethink on costly medical education
We must reconsider the facilities for the studies that could be provided in our own country to check so many students going to other countries: Bihar CM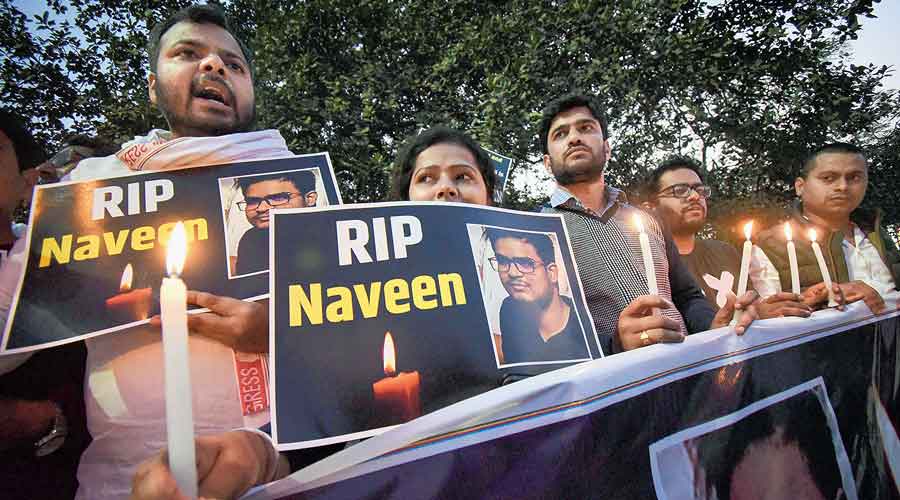 Youth Congress members in Patna hold placards and light candles on Wednesday to pay homage to Naveen Shekharappa, a medical student killed in Russian shelling in Kharkiv.
PTI Photo
---
Patna
|
Published 04.03.22, 02:23 AM
|
---
Bihar chief minister Nitish Kumar on Thursday called for a rethink at the national level on the costly medical education in private colleges in the country and asserted that it was the reason that children from various states were going to Ukraine and other countries because it was cheaper to study there.
Nitish also stressed that it was high time to think what facilities should be provided to the students so that they do not have to go to other countries for medical degrees.
"It is coming to light that students are leaving their states and country to go to Ukraine for medical courses because it costs less there. If this is so, there is a need to do a rethink on it at the national level," Nitish said.
Expressing surprise over the large number of students from different states, including Bihar, who went to Ukraine to study medicine, Nitish pointed out that admission to such courses here was done on the basis of a single competitive examination, while there was no such compulsion there (in Ukraine).
"We should think on all aspects of this issue. We must reconsider the facilities for medical studies that could be provided in our own country to check so many students going to other countries. This is not an issue pertaining only to Bihar," Nitish added.
The chief minister was speaking while participating in a discussion in the legislative Assembly on a "calling attention" motion by MLA Sanjeev Kumar of the Janata Dal United and legislators from other parties on the issue of students from Bihar stranded in Ukraine. He also raised the matter of determining the fees in the private medical colleges.
Nitish stressed that previously only people from the Left-oriented or Communist families used to go to the erstwhile USSR for studies, but the situation has changed now.
However, MLAs from various parties in the Assembly expressed dissatisfaction over the reply of the chief minister on the Ukraine issue and asked for concrete steps by the state government to address it.
Reacting to them, health minister Mangal Pandey pointed out that the Supreme Court has constituted a committee on the issue of high fees being charged by private medical colleges and "the state government will send its recommendations in this regard to it."
Pandey further said that the National Democratic Alliance (NDA) government established six medical colleges in 16 years of its rule in Bihar, while the previous governments had established six medical colleges in 56 years.
"We are going to open four more medical colleges in the state in the next four years," Pandey added.
Parents of children who are studying in private medical colleges said the cost of studying in such courses in Ukraine was just a fraction of what they have to spend in India.
"The private medical colleges in different states in our country charge Rs 7-10 lakh as fee per annum for MBBS courses. Apart from this they charge anywhere between Rs 60 lakh and Rs 1 crore as capitation fee. Parents have to ultimately shell between Rs 1.5 crore and Rs 2 crore for sending one child to MBBS course at any medical college," Ajay Pathak, an advocate in Purnea, whose daughter is studying in a medical college in Nepal, told The Telegraph. 
"On the other hand, the total fee for such courses in Ukraine is just Rs 10-15 lakh. If we add the expenditure on staying there and travelling, it still comes out much cheaper than the private medical colleges in India," Pathak added.
Around 80 medical students from Bihar have returned from Ukraine so far and the more are expected to come back in the coming days. Senior state government officials have information about around 300 students stranded there, though the numbers may increase further. 
Bihar disaster management department officials said that around 1,200 students from Bihar are stranded in Ukraine and efforts are on to evacuate them under Operations Ganga launched by the central government.