NIA charges Kashmir police officer Davinder Singh of being Pakistani agent
2001 Parliament attack question returns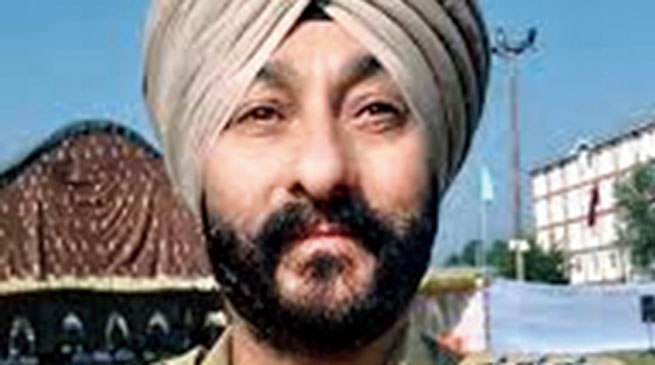 ---
|
Srinagar
|
Published 07.07.20, 04:19 AM
---
The National Investigation Agency on Monday charged decorated Jammu and Kashmir police officer Davinder Singh with being a Pakistani agent, days after he received bail in a terror case in Delhi.
Monday's NIA chargesheet, filed at a special court in Jammu, rekindled the questions who had protected Davinder so far and why his alleged role in the 2001 Parliament attack was never probed.
Davinder, suspended deputy superintendent (anti-hijacking) in Kashmir and a top counter-insurgency hand, was arrested in January while allegedly ferrying top Hizbul Mujahideen commander Naveed Babu and two associates in his car from Srinagar to Jammu.
The arrest of an officer who had won the President's medal last year had left the security establishment red-faced and brought the focus back on the dark secrets of the murky counter-insurgency world.
The chargesheet says the accused were involved in a conspiracy hatched by Hizb and the Pakistani establishment "to commit violent acts" and "wage war against India".
It alleges that Davinder was in touch with certain Pakistani high commission officials in New Delhi through secure social media platforms.
"Investigation revealed that he was being groomed by Pakistani officials for obtaining sensitive information," it says.
"Investigation has also revealed that the accused were obtaining weapons and ammunitions from across the border with the help of arms smugglers and accused Davinder Singh. These weapons were later used for terrorist activities."
On June 19, a Delhi court had granted bail to Davinder in another terror case after Delhi police failed to file a chargesheet against him and co-accused Irfan Shafi Mir, a law school dropout, within the stipulated 90 days.
Davinder and Mir were accused in the case of planning terror strikes in Delhi and elsewhere in India.
However, Davinder remained in prison — at Kathua jail in Jammu — since he had not obtained bail in the NIA case relating to his January arrest.
Monday's chargesheet has deepened the scepticism that many in Kashmir harbour about the official account of the Parliament attack that had led to the hanging of separatist Afzal Guru in 2013.
Guru, who had claimed innocence throughout, had been the first to allege Davinder's involvement in the 2001 terror strike.
Guru had said that Davinder, then a counter-insurgency officer, had shortly before the Parliament attack forced him to take to Delhi one of the five accused militants and arrange his stay there.
The allegations were never investigated and the Supreme Court had ordered Guru's hanging to "satisfy the collective conscience of the nation".
After Davinder's arrest, the police had promised to probe Guru's allegation but the NIA chargesheet makes no mention of it.
Among the others charged on Monday are Mir and Naveed, the Hizb commander.
The NIA claims that Davinder had in February last year arranged a safe house for Naveed in Jammu to shield him from "heightened surveillance of security agencies".
The chargesheet does not specify whether Davinder was involved in any militancy-related violence. But it says that Naveed, a former policeman, "had deserted police along with certain weapons and was responsible for various killings, including incidents of terror in which labourers and truck drivers were killed after the abrogation of Article 370 from J&K".
"Naveed Babu had made efforts to recruit gullible Muslim youths to join cadre of Hizbul Mujahideen. He was also receiving funds from LoC traders. Tanveer Ahmad Wani, who was an ex-president of LoC Traders Association, was providing him funds with the help of other traders based in PoK," the chargesheet says.
"The investigation also revealed that accused Irfan Shafi Mir (alias) Advocate not only met Hizbul leadership in Pakistan but also met Umar Cheema, Ahshan Chaudhary, Sohail Abbas and others of ISI of Pakistan and he was tasked to identify and activate the new hawala channels for transfer of money for sustaining terrorist activities in the Kashmir Valley."
According to the NIA, certain Pakistani high commission officials in Delhi were in constant touch with Mir, who was allegedly provided funds to organise seminars in Jammu and Kashmir to mobilise the masses against the Indian government.
Valley human rights activist Khurram Parvez said the chargesheet had raised a question mark on Guru's guilt, who many in Kashmir believe was framed.
"Those who helped him (Davinder) during that time (when Guru levelled the allegations) should all be accused (in the Parliament attack)," he said. "An investigation should be launched about why they had helped him (Davinder)."
Parvez feared that the current charges could be "another set of lies... perpetuated because the previous lies have to be covered".