NSUI members stage demonstration against Pradhan in Odisha
Upset with the current national education policy, they shouted slogans and tried to show black flags to the minister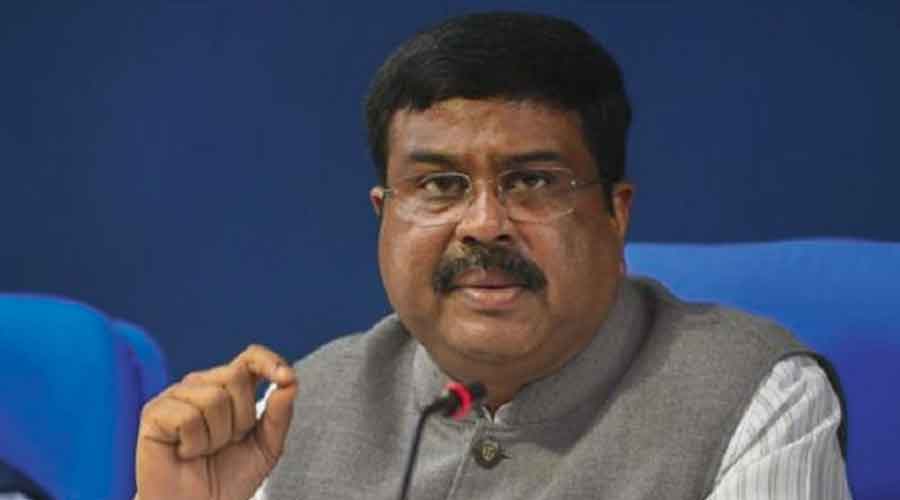 Dharmendra Pradhan.
File photo
---
Bhubaneswar
|
Published 28.11.21, 01:27 AM
|
---
Members of National Students' Union of India (NSUI), the student wing of the Congress, on Saturday staged a demonstration against Union education minister Dharmendra Pradhan's visit to Utkal University.
Upset with the current national education policy, the NSUI members shouted "minister go back" slogans and tried to show black flags to Pradhan. They had a minor clash with the police followed by the arrest of 22 protesters who were released in the evening on personal recognizance bonds.
Pradhan, who is an alumnus of Utkal University, was visiting his alma mater to attend its 79th foundation day ceremony. He had studied here in the 1990s.
"The Centre's education policy is anti-student. The Centre is doing everything to communalise education. We are a secular country. Though we observe Constitution Day every year, we never follow it in spirit. We will continue to protest against the Centre's policy to denigrate our age-old education policy," Yasir Nawaz, president of state NSUI, told The Telegraph.
Yasir added: "An attempt has been made to privatise the education system through the PPT mode.  The new education policy is anti-student. Even efforts are being made to privatise the sainik schools set up by India's first Prime Minister Jawaharlal Nehru."
Akhilesh Yadav, general secretary of NSUI, said: "Universities do not have adequate staff. Even the Central University has acute shortage of teaching and non-teaching staff. Unemployment figures are shooting up. The NEP of the Centre has become a no-employment policy"
The protesters said as an alumnus of the university, Pradhan should give more attention to its development.
"But we have not seen any effort in this direction from his side. We are protesting so that all these issues come to his notice," one of the protesters said.
Addressing the students on the foundation day, Pradhan emphasised on teaching through mother tongue. However, he made it clear that English as a global trade language should be learnt by all.
Lauding the contribution of Utkal University in nation-building, Pradhan said: "The university is a laboratory for building great minds that run the state and nation. I have fond memories of this institution."
He said the national education policy had helped in employment generation besides bringing universities to the international level. He said Utkal University should think about teaching the rich history of Lord Jagannath and the history of the 12th century Jagannath temple. The minister was critical of the state government's efforts to rein in the activities of the university.
Pradhan called upon the Odisha government to reconsider the amendments that restricted the autonomy of the university.
Vice-Chancellor of Utkal University, Prof Sabita Acharya recalled the university's role in nation-building since inception and its contribution to the development of the state.