Modi touts trip success
He said he had been to the US and addressed the UN General Assembly in 2014, too, but this time was different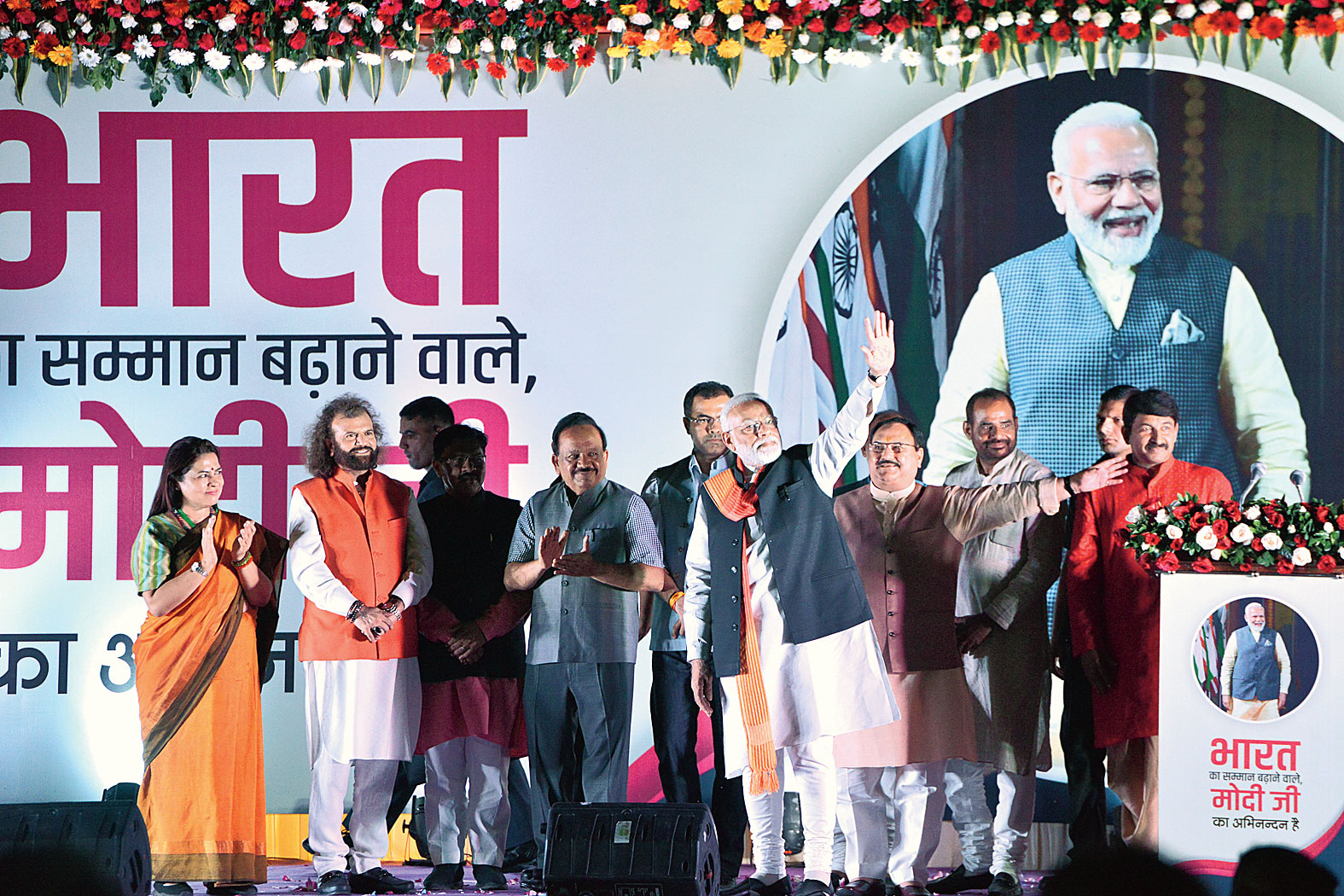 ---
---
Prime Minister Narendra Modi on Saturday recalled the cross-LoC "surgical strikes" from three years ago as he returned from the US, appearing to suggest the military action had raised India's stature and that he had felt its weight during this foreign trip.
As he sought to obliquely tie his US visit to the September 2016 event with the common thread of purported Indian self-assertion under his rule, Modi underscored that Saturday was the anniversary of the military raid.
"Today is 28th September. Three years ago, also on September 28, I couldn't sleep for a moment at night. I was awake all night waiting for the telephone to ring," Modi told a crowd outside the Palam technical airport soon after his arrival.
He then ended the suspense, saying: "On 28th September (2016) our brave soldiers carried out the surgical strikes and displayed India's strength to the world. My greetings to the brave soldiers."
On the night of September 28-29, Indian forces had crossed the Line of Control and "destroyed terror launch pads", retaliating to the September 18 terror strike on an army camp in Uri, Jammu and Kashmir.
Modi was speaking at a "grand welcome" the BJP had organised on his return. Led by party working president J.P. Nadda, all the seven Delhi MPs of the BJP, other party leaders and a huge crowd had gathered outside the airport.
The Prime Minister spoke about how big a success his US visit was, particularly the "Howdy Modi" event in Houston, keeping the punch line on the "surgical strikes" for the last.
He said he had been to the US and addressed the UN General Assembly in 2014, too, but this time was different.
"After winning the elections in 2014, I had gone to the UNGA. I went there in 2019, too, but this time I observed a change in their attitude towards India," he said.
"In the eyes of the world and also the world leaders, the respect for India, the enthusiasm towards India, has increased significantly."
He added: "The credit for the increased (global) respect for India goes to the 130 crore Indians. The gigantic picture of the power of India's democracy could be seen in the US."
Modi said every world leader at the UNGA was talking about the "Howdy Modi" event. He said virtually the entire White House had turned out in Houston, stressing that it was an acknowledgement of India's improved standing in the world.
"Duniya me Bharat ke aan, baan, shaan ki charcha hai. Duniya ka Bharat ko dekhne ka nazariya badla hai (India's majesty, honour and dignity are being discussed across the world. The world's attitude towards India has changed)," he said.