Modi govt focusing for women, poor as well as enhancing India's global issues: BJP
The saffron party members at Rajya Sabha keeps on praising and appreciating the Prime Minister for the country's development and improvement at every stage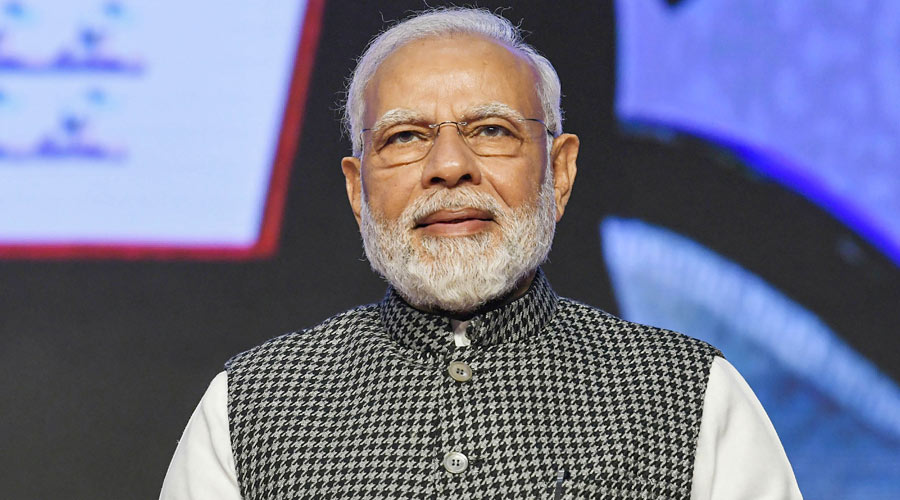 Narendra Modi
File picture
---
New Delhi
|
Published 07.02.23, 07:01 PM
|
---
The NDA government under the leadership of Prime Minister Narendra Modi has worked for the development of women, poor and backward classes while also enhancing the country's leadership role in many global issues, BJP members said on Tuesday in Rajya Sabha.
Moving the motion of thanks on the President's address, K Laxman said it was a historic moment when a woman from a tribal community addressed the joint session of Parliament as the President of the country.
Also, he said, Finance Minister Nirmala Sitharaman presenting the first Union Budget in the 'Amrit Kaal' is also equally significant.
These establish the importance given to women by Prime Minister Modi as a visionary leader, Laxman asserted.
Former Union minister Prakash Javadekar said the country waited for 75 years for a tribal to reach the post of President.
Laxman said President in her address stressed on the significance of the Amrit Kaal and also stated that India would become self-reliant and poverty free with the youth and women playing important roles in the development of the country.
This, he said, would be possible on the back of many positive steps taken by the current government, which has worked to provide basic amenities that a large part of the population of the country had to wait for decades.
He also said under the current government, India's standing in the world has significantly increased.
"There was a time when India looked to the outside world most of the time for help but today the world is looking at India for assistance, be it for combating COVID-19, terrorism or for world peace," Laxman said.
"As far as foreign affairs are concerned, India is now showing the world the solutions to its problems, specially through its presidency of G20 and the role it played in the Ukraine war and being the pharmacy of the world," he said.
Agreeing with him, Javadekar said in the last seven years, India has grown to become the fifth largest economy jumping up from the 10th position, with the "most satisfying fact being that country leaped ahead of Britain which ruled India for 200 years".
Today globally inflation ranges from 10-40 per cent, while in India it is less than 6 percent. Besides, India is also the fastest-growing nation.
How India dealt with COVID-19 has been praised by every other country, Javadekar said, adding India, which was at the margin before, is today leading the world in many sectors.
Earlier in the morning session, the Upper House was adjourned twice as Opposition continued to press for discussion over allegations of fraud against the Adani Group.
Except for the headline, this story has not been edited by The Telegraph Online staff and has been published from a syndicated feed.