Naidu platform for Opposition leaders
Andhra CM asserted that the Opposition joined hands as not just secularism but also democracy was under threat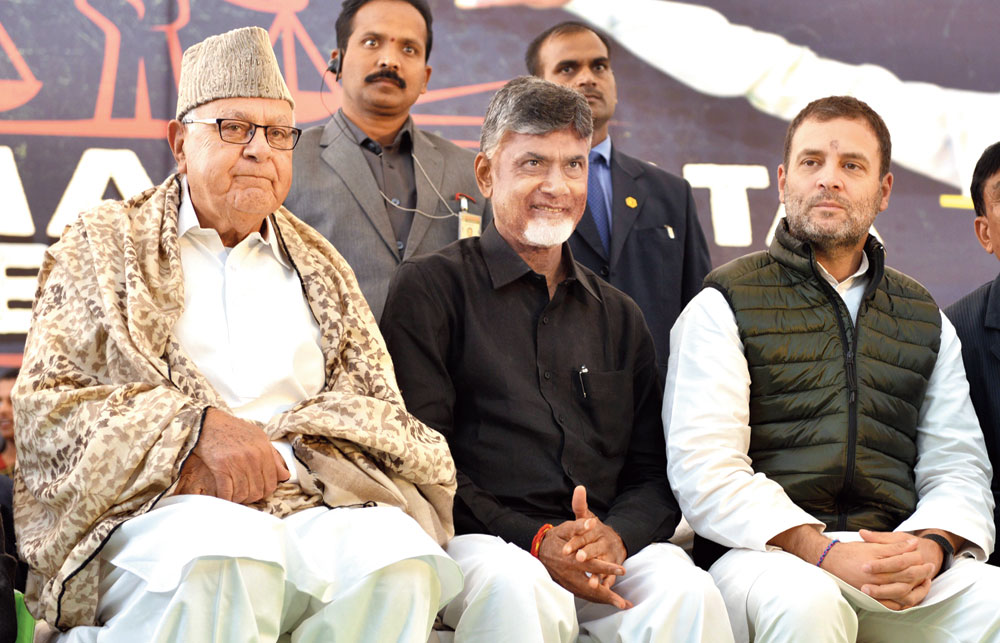 (From left) National Conference president Farooq Abdullah, Chandrababu Naidu and Rahul Gandhi during the Andhra chief minister's daylong fast in New Delhi on Monday.
Picture by Prem Singh
---
New Delhi
|
Published 11.02.19, 10:07 PM
|
---
Andhra Pradesh chief minister N. Chandrababu Naidu brought his fight against the Narendra Modi government to the national capital on Monday and provided another platform for Opposition leaders to find common cause during his daylong fast.
While Naidu's focus was essentially on highlighting the problems faced by Andhra Pradesh owing to the Modi government's refusal to deliver on the BJP's promise of special category status to the state, other party leaders used the platform he provided to express solidarity and also raise other issues.
If Congress president Rahul Gandhi focused on the Rafale scam — armed with yet another disclosure that the Modi government had removed the anti-corruption provisions from the deal — DMK and Trinamul leaders dwelt at length on federalism and how states' rights were allegedly being trampled upon by the Centre.
According to Naidu, it was a democratic compulsion for the Opposition to join hands as not just secularism but also democracy was under threat. Delhi chief minister Arvind Kejriwal said the coming Lok Sabha election was not to decide on the next Prime Minister but to remove the Modi-Shah duopoly.
"We need to save India from this duopoly. If they come back, there will be no Constitution. They will do what Hitler did," he said.
NCP's Sharad Pawar and Praful Patel also visited the site of Naidu's daylong fast at Andhra Bhavan. The NCP, Patel tweeted later, "supports his (Naidu's) demand of special category status for #AndhraPradesh and we stand firm together with him against this unjust government".
Even Mulayam Singh Yadav of the Samajwadi Party — which has been keeping a distance from the Opposition meetings — joined Naidu's agitation.
On Tuesday, Naidu will lead people from Andhra on a protest from Andhra Bhavan to Jantar Mantar. Another dharna is being planned for Wednesday by the Aam Aadmi Party, essentially in solidarity with Bengal chief minister Mamata Banerjee in view of her recent stand-off with the centre over the CBI.