Wife stone hits Modi's glass house
Needled by repeated digs at 'father of N. Lokesh', Chandrababu Naidu brings up home truth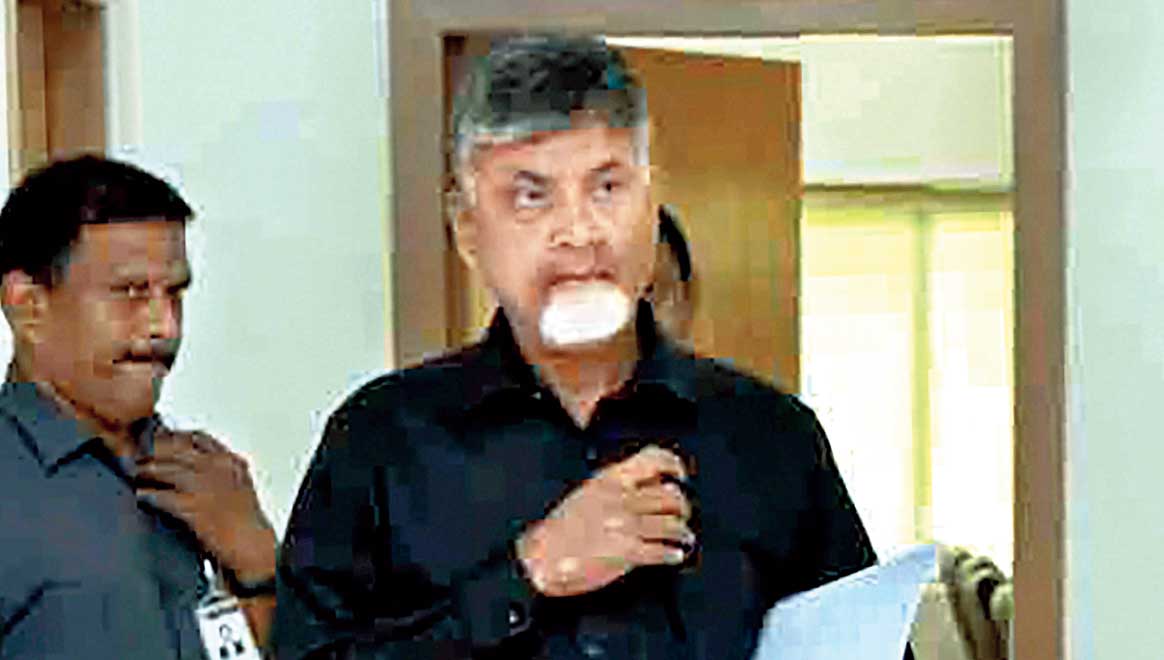 Naidu wears a black shirt as part of a "black day" protest against Modi's visit to Andhra Pradesh .
(PTI)
---
New Delhi
|
Published 10.02.19, 09:01 PM
|
---
Narendra Modi has referred to N. Chandrababu Naidu as the "father of N. Lokesh", provoking the Andhra Pradesh chief minister to cast aside an unwritten code and remind the Prime Minister of how he has left his wife.
Modi taunted Naidu, an erstwhile BJP ally, during a Sunday rally in Guntur that marked the Prime Minister's first visit to Andhra since the NDA partners parted ways.
Modi kept referring to the "father of N. Lokesh" and alleged Naidu had promised Andhra a sunrise but was fixated on a son-rise. "One must admire Chandrababu Naidu garu's honesty. He says he is a wealth creator. He is obviously creating lots of wealth for himself and his son while Andhra suffers," PTI quoted Modi as saying. The Stanford-educated Lokesh is a minister in the Naidu government.
Naidu struck back in Vijayawada, raising a subject that has largely been taboo. Although occasional pot shots had been taken, few had raised it in public as unequivocally as Naidu has now, with Modi himself lighting the fuse.
"Lokesh is my son…. You don't have a family, no relations. I'm one who respects the family… wants to spend time with the family…. I am the father of Lokesh, grandfather of Devansh and husband of Bhuvaneshvari. And I'm proud of it," Naidu said. "Does Modi have any respect for the family system? Has he ever spoken about his family?"
The chief minister then asked his audience: "Do you know he has a wife? They enacted the (instant) triple talaq law to protect women from being divorced by just the word being uttered three times. This is Yashodaben's husband. Yes or no? He hasn't even divorced her. He has just left her."
Naidu said he wouldn't have raised the issue had Modi not launched personal attacks: "I wouldn't have spoken about this but you became personal. I have always respected women. I'm a big brother to all the women in the state."