N.V. Ramana launches Android media app for legal journalists
It will help them to cover SC proceedings live from their homes or offices and not have to risk infection by travelling to the court amid the Covid surge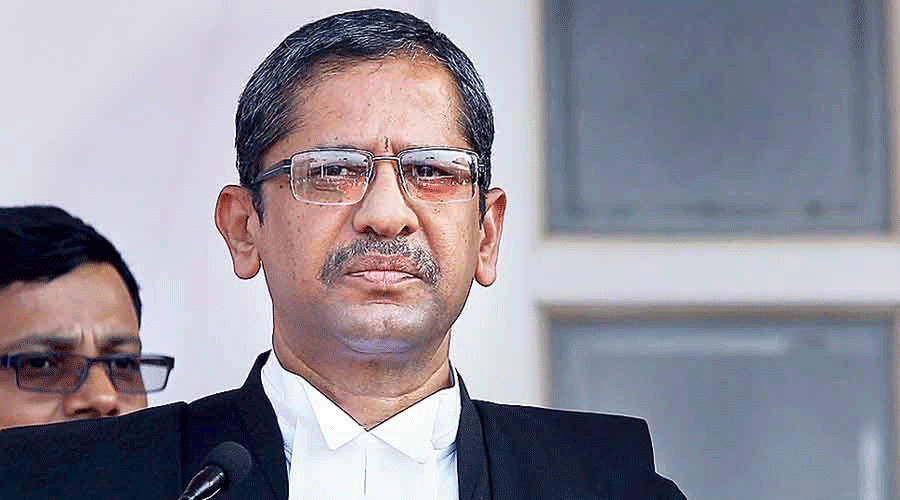 Chief Justice of India N.V. Ramana.
File photo
---
New Delhi
|
Published 14.05.21, 02:17 AM
|
---
Chief Justice of India N.V. Ramana on Thursday launched an Android media app for legal journalists so they can cover Supreme Court proceedings live from their homes or offices and not have to risk infection by travelling to the court amid the Covid surge.
While the higher courts and most lower courts have been conducting proceedings via videoconferencing, Supreme Court reporters have till now had to cover the hearings from three media lounges on the apex court premises.
The app, developed in-house, will now give them exclusive links to the virtual proceedings on their mobile phones, through the official Supreme Court website.
At least half-a-dozen Supreme Court judges — including Justices A.M. Khanwilkar and D.Y. Chandrachud, members of the court's e-committee — have tested Covid-positive. The panel's other member, Justice Hemant Gupta, was present at the launch.
Some 2,768 judicial officers and 106 high court judges too have tested positive — with data from two high courts still to arrive — and 34 judicial officers and 3 high court judges have died of the infection, Justice Ramana said. Scores of legal correspondents too have been infected.
"With great pain and agony, I must state certain facts. The first employee of the Supreme Court registry was reported Covid-positive on 27th April, 2020. Till date, approximately 800 registry staff have tested positive," Justice Ramana said.
"Six of our registrars and 10 additional registrars have tested positive at different times. Unfortunately, we have lost three of our officials to Covid."
He went on: "Despite this demoralising and fear-inducing environment, everyone is rendering service to their best capacity to ensure that justice continues to be rendered."
Justice Ramana said that as a former journalist, he could understand the difficult circumstances under which the media had to work, and so the decision to launch the exclusive media application had been taken. He said many journalists had requested an alternative to the existing system.
On a request from the Chief Justice, the e-committee and technical team had toiled to create the media app, despite secretary-general Sanjeev S. Kalgaonkar, registrar (computer) Rajiv Kalra, senior technical director Manoj Tuli, technical director Pardeep Nanda and programmer Sanjeev being down with Covid.
"Still, the team worked from home and came out with this feature within seven days. Their commitment to their duty deserves special appreciation," Justice Ramana said.
He said media coverage of court rulings and proceedings, particularly those of the Supreme Court, influenced people's lives.
He recalled how in the late 1970s, when he was a journalist for the Eenadu newspaper in undivided Andhra Pradesh, he travelled by public buses to cover assignments and consciously avoided any offers of free travel by those he was covering.
Justice Ramana announced the Supreme Court was introducing a new feature, "Indicative Notes", on its official website and mobile app that would provide concise and lucid summaries of landmark judgments, past and present.
He thanked his predecessor, Justice S.A. Bobde, for coming up with the idea for this feature.