Mumbai drowns in rain — and Twitter jokes
Mumbaikars took to social media to share their angst and poke fun at their own misery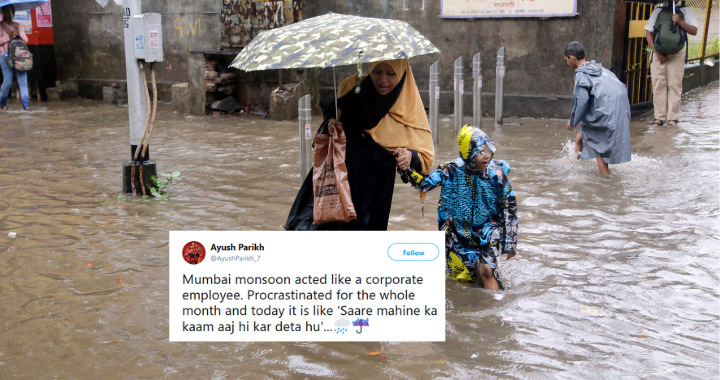 ---
---
Mumbai is under water, again.
Heavy rainfall led to flooding in many parts of the megacity and caused inconvenience for commuters. Traffic congestion was reported in some areas, including Dharavi and the Western Express Highway. However, local train services were unaffected, giving some relief to city residents.
The Indian Meteorological Department said rains were likely to continue throughout the day. It would remain cloudy and parts of Mumbai would receive very heavy rainfall, according to the department.
The Andheri and Santacruz areas of the city received the first spell of monsoon on
Wednesday. The first showers came a day after the arrival of the monsoon in Maharashtra was announced.
Hundreds of commuters were left stranded on roads because of the heavy rain.
Mumbaikars took to social media to share their angst and poke fun at their own misery. They highlighted how the city's infrastructure was tottering on the verge of collapse on the first day of heavy rain.
3000 cr solution to stop flooding in Mumbai. #MumbaiRains pic.twitter.com/fQj4uwJv2X

— DeeSee (@BeingDeeSee) June 28, 2019
Kings come and go.
But when it rains, Mumbai keeps flooding.

— Devdutt Pattanaik (@devduttmyth) June 28, 2019
Some mentioned the problems city residents are facing:

Tree fallen on car at Marol maroshi road..#MumbaiRains pic.twitter.com/Mb1oySLXfA

— Mahesh Khadilkar (@MaheshKhadilkar) June 28, 2019
Bmc to Mumbai people complaining about potholes #MumbaiRains pic.twitter.com/J4YxrhNJAD

— Labdhi Shah (@honey1925) June 28, 2019
Many spoke out on how app cab and autorickshaw drivers were milking the situation:
Ola,uber ,taxi and auto drivers today in Mumbai:
#MumbaiRains #mumbaimonsoon pic.twitter.com/0a3Es8Jpmn

— PRACHI (@MohantoShibani) June 28, 2019
Reaching offices on time became a cause of concern:
[Interview]

Interviewer: What is your greatest strength?

Me: Reaching office on time during #MumbaiRains

Interviewer: pic.twitter.com/E470SynwDc

— Shruti Panhalkar (@panhalkarshruti) June 28, 2019
Pic 1 : Manager to team
Pic 2 : Team to manager#MumbaiRains #MumbaiRain pic.twitter.com/5iGqN3EKT0

— Lakshmi Ranganathan (@LakshmiRangana9) June 28, 2019
Mumbai monsoon acted like a corporate employee. Procrastinated for the whole month and today it is like 'Saare mahine ka kaam aaj hi kar deta hu'...🌧️☔#MumbaiRains #mumbaimonsoon #MumbaiRain

— Ayush Parikh (@AyushParikh_7) June 28, 2019
#MumbaiRain #mumbaimonsoon
Me after waking up, finding a reason to not go to work pic.twitter.com/vEZOcw4VOX

— Sunny (@MemesMakethMan) June 28, 2019
#pakoras and #MumbaiRains maja de life 😍🤗 pic.twitter.com/RhAoUJNMZU

— libna khan (@coldfish28) June 28, 2019
It just takes 30 mins of #MumbaiRains for an average Mumbaikar to go from - Oh Wow! -to- What the Hell!

— Atul Khatri (@one_by_two) June 28, 2019
Standing at the door of a local train during #MumbaiRains. pic.twitter.com/kNevInO9t1

— IMRAN KHAN (@imranmkkhan) June 28, 2019