Moosewala killing: Punjab Police detains 5 persons from Dehradun
They were picked up from the Shimla bypass area and taken to Punjab for interrogation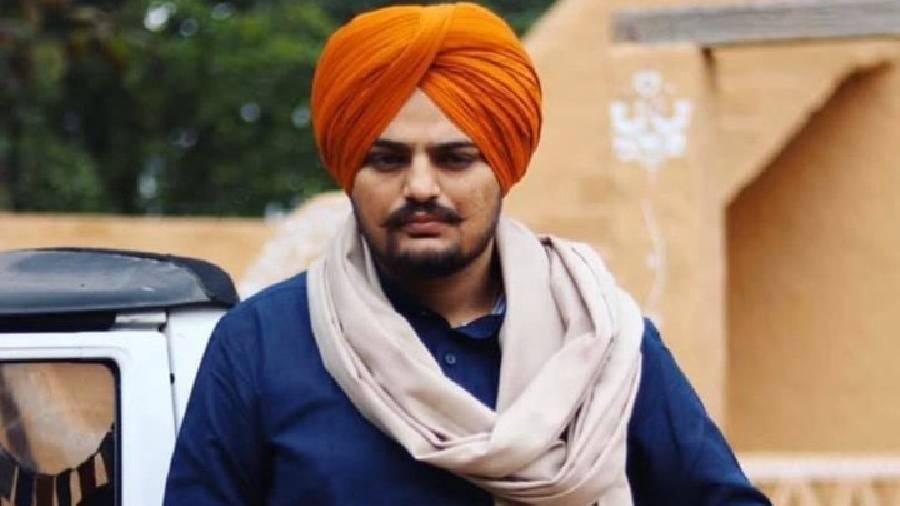 Sidhu Moosewala
File Picture
---
Dehradun
|
Published 30.05.22, 06:26 PM
|
---
The Punjab Police on Monday detained five men here in connection with the killing of Punjabi singer Sidhu Moosewala a day before, officials said.
They were picked up from the Shimla bypass area here and taken to Punjab for interrogation, a police official said on condition of anonymity.
Moosewala was shot dead on Sunday by unidentified assailants in Punjab's Mansa district, a day after his security cover was withdrawn by the state government.
The five persons were picked up over suspicion of having links with the case, the official said.
The five men were returning from Hemkund Sahib, a Himalayan Sikh shrine located in Uttarakhand's Chamoli district, the official said.
The Punjab Police will now ascertain the role played by them in the singer's murder, the official added.
Earlier, had said that fearing a threat to his son's life, slain Punjabi singer Sidhu Moosewala's father followed him with guards when he did not take his security men with him and witnessed the 28-year-old fall to a hail of bullets, according to an FIR.
Balkaur Singh, who took Moosewala and two others to a civil hospital on Sunday after the attack in Mansa district, said in his police complaint that his son would get threats to his life from gangsters for extortion. On Sunday, when he learnt that Moosewala had left home without his security guards or his bullet-proof vehicle, he went after him. The famous singer and Congress leader was shot dead by unidentified assailants on Sunday, a day after the AAP-led state government brought down his security cover from four Punjab Police commandos to two.
When Balkaur Singh reached Jawahar Ke village, he saw a Corolla car with four occupants trailing Moosewala's vehicle.
"After his son took a turn towards village Barnala, a Bolero vehicle with four youths stopped in front of his son's Thar," said the FIR.
The occupants of the Corolla and Bolero started indiscriminate firing at his son, Balkaur Singh said, adding that the assailants later fled.
He said many bullets hit his son. He took Moosewalla and the two other occupants to a civil hospital with the help of some locals but his son died, he added. The two others escaped with injuries.
Police registered a case of murder at the Mansa police station (City-1) after Balkaur Singh's complaint.
Chief Minister Bhagwant Mann on Monday said his government will request the chief justice of the Punjab and Haryana High Court to get the Sidhu Moosewala murder case probed by a sitting high court judge.
The government will leave no stone unturned to bring the perpetrators of this heinous crime to justice, Mann said in a statement on Monday after Moosewala's father demanded a thorough inquiry into the shooting of his son by the CBI or NIA.
Mann also expressed deep shock over the demise of Moosewala. "Punjab Government shall be requesting the Chief Justice of Punjab and Haryana High Court to get the case inquired into by the sitting judge of the high court," he said.
"The state government shall ensure full cooperation in this enquiry commission including that from any central agency like the NIA," he stated. Mann further said he had already ordered an inquiry at the highest level into aspects of security reduction and fix responsibility.
Gangster in jail fears death
Meanwhile, the leader of a criminal gang, claiming responsibility for Moosewala's murder has moved court "in a bid to stop the Punjab Police from taking him with the," according to ndtv.com.
Lawrence Bishnoi, has been serving imprisonment in Delhi's Tihar Jail for an organised crime case under the Maharashtra Control of Organised Crime Act, or MCOCA. 
In his petition to Patiala House Court, Bishnoi said he should not be handed over to Punjab cops because he suspects he could be a victim of encounter killing. 
Bishnoi's gang member, Goldy Brar, staying in Canada, has owned up to killing the singer in a Facebook post.