Modi vaunts vaccine boost
I formulated new strategies and started Mission Indradhanush, which reached 3.4 crore children: Modi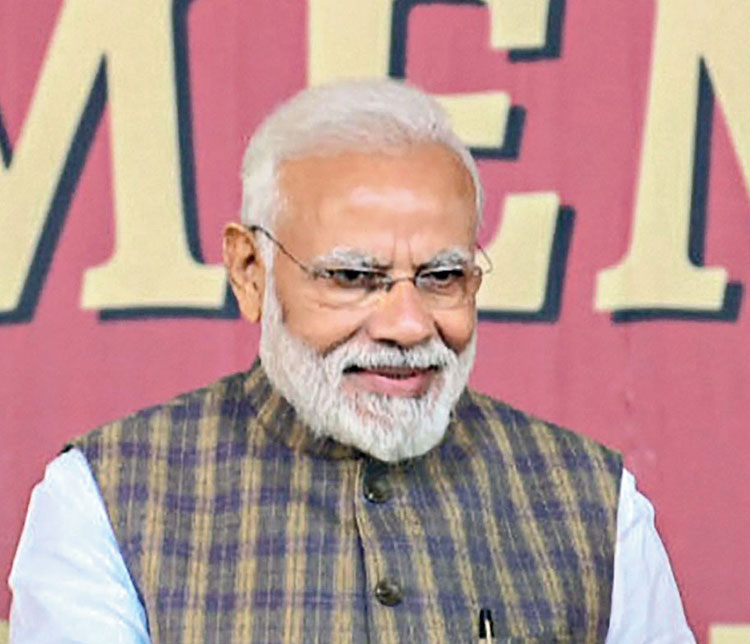 Narendra Modi in Vrindavan on Monday.
(PTI)
---
Lucknow
|
Published 11.02.19, 10:07 PM
|
---
Prime Minister Narendra Modi claimed on Monday that India's universal immunisation programme had been languishing before he arrived on the scene and transformed it in 2014.
"It was not that the immunisation programme was not running…. Many other related programmes were going on too. But they didn't achieve any success," Modi, known for dismissing the achievements of previous governments, said in Mathura, western Uttar Pradesh.
"But despite a resource crunch, many other countries achieved this target. I formulated new strategies in 2014 and started Mission Indradhanush. Since then we have reached 3.4 crore children and 90 lakh pregnant women. We are close to the target of total immunisation."
India's immunisation programme was launched in 1978 by the then Janata Party government of Morarji Desai before being modified by various Congress governments in 1985, 1992 and 2005.
Modi, who had started Mission Indradhanush to strengthen the programme, reminded his audience that his government had added five new vaccines.
"Now we have 12 vaccines, including one for Japanese encephalitis," he said.
Japanese encephalitis is widespread in and around Gorakhpur, the hometown of chief minister Yogi Adityanath. Gorakhpur's Baba Raghav Das Medical College witnesses over 500 child deaths every year from this mosquito-borne viral disease.
Modi also invoked the cow and underlined that Mathura was the birthplace of Krishna.
"I want to mention the mother cow as we are indebted to it. We drink its milk. The cow represents our culture and tradition. It is also an important part of our rural economy. The life of Padma Shri Sudevi Dasiji reflects the power of our traditions," he said.
Friederike Irina Bruning aka Sudevi Dasi, 60, is a German woman who has been living in Mathura since 1978 and runs a shelter, the Surabhi Gauseva Niketan, for sick cows.
Adityanath recently ordered the construction of cow shelters in every district of Uttar Pradesh and asked the police to ensure the animals were not abandoned and allowed to stray.
The monk-turned politician has sanctioned more than Rs 500 crore for the purpose, prompting the Opposition to accuse the government of using the cow as an election plank.
Cow vigilantes have lynched several people in the state in recent years after accusing them of smuggling cattle, slaughtering cows, or possessing beef.
Monday's event in Mathura was organised by Akshay Patra, an NGO that is a partner of the government in the school midday meal scheme.