Modi still the choice, never mind the cracks
Most young and middle-aged Nishads said they were neither angry nor satisfied with the BJP but would vote for the party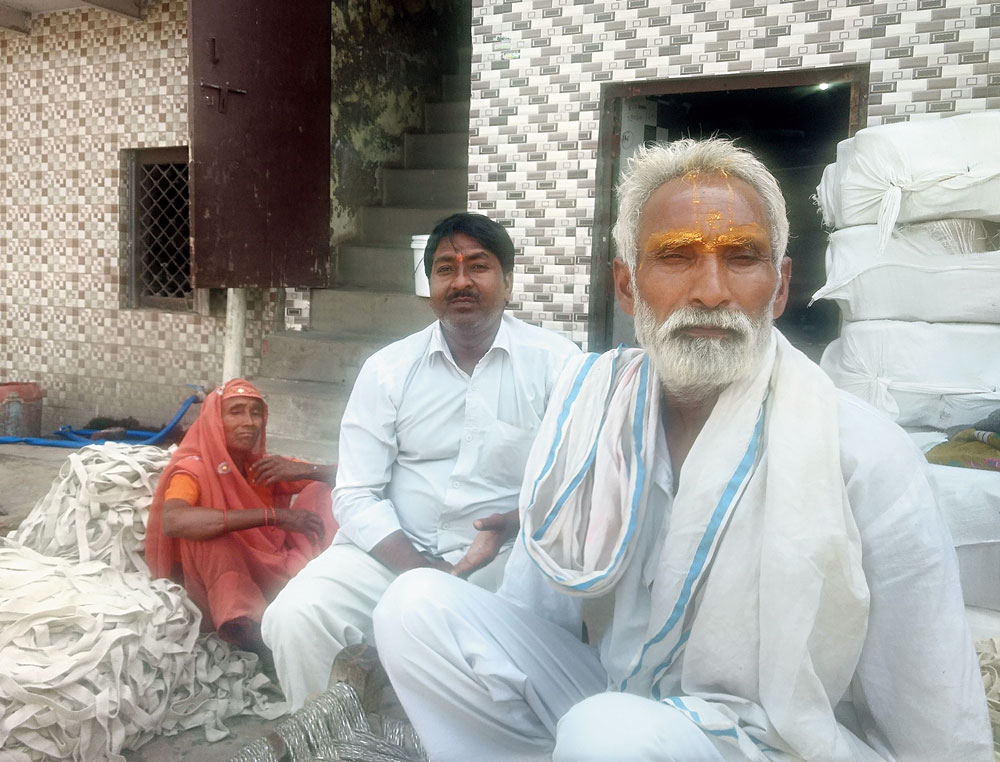 Rambabu Nishad (left) with uncle Girdhari Nishad
Picture by JP Yadav
---
Fatehpur Sikri-Agra-Mathura
|
Published 18.04.19, 02:00 AM
|
---
Rambabu Nishad was firm he would not vote for Narendra Modi this time, unlike in 2014. He accused the Prime Minister of making big promises but delivering nothing on the ground. For him demonetisation was a big blunder that broke the back of his small business of making cotton borders used in tents.
"The Modi government is all about showing off. No work, only spin doctoring, talking, and foreign tours," Rambabu said in Hindi, sitting outside his house on the Mathura-Vrindavan road. "What did we get out of the note ban? The black money in foreign lands did not come but the poor people's money was taken out."
He, however, seemed to be in a minority among fellow Nishads, a minor backward caste community who are seen as backers of the BJP in the non-Yadav OBC category.
Rambabu's choice surprised his uncle Girdhari Nishad. "Modi has done a lot of work. He has given electricity, toilets, Rs 6,000 to farmers. Nobody can stop Modi," Girdhari said.
While Modi continues to be the single most popular leader, cracks like these in his 2014 support base are visible in heartland Uttar Pradesh. Though this may not be enough to emasculate the lotus in the state with the largest share of Lok Sabha seats, this factor appears to be strengthening the BSP-SP-RLD Mahagathbandhan's resolve to prevent a rerun of Modi's sweep in 2014 when the BJP alone had bagged 71 of the state's 80 seats.
Most young and middle-aged Nishads, however, said they were neither angry nor satisfied with the BJP but would vote for the party.
"The Modi government has done nothing for us. We have not received even a hand pump in our locality," said young Jagdish Nishad. "But most people here will vote for Modi. Everybody is saying Modi is coming back."
The broad sentiment is reflected prominently among minor backwards and minor Dalits, who have veered towards the BJP feeling deprived due to the dominance of Yadavs and Muslims in the SP and of Jatavs in the BSP. Most of these communities expressed a sense that they were still waiting to get their due in the BJP, but were reluctant to return to the BSP-SP-RLD combine.
"Look how well off the Jatavs and Yadavs have become. Their party has really taken care of them. We supported the BJP but so far have not got anything," said Bhudev Baghel of Dangoli village. The Baghels are a marginalised backward caste.
The caste angle in the enthusiasm for Modi is prominently visible. The muscular nationalism that he and the BJP have been propagating in this election is used mostly by the upper castes and the economically well-off sections to justify their support. The poor, mostly backwards and the Dalits, talk about basic issues such as house, toilet, jobs, loan waiver.
"Modi bhagwan hai (Modi is God)," said Sanwarlal, a retired army jawan, who runs a dhaba on the Agra-Fatehpur Sikri road.
"Do you think any other government would have been able to secure the return of air force pilot Abhinandan in 24 hours?" asked Kharagjeet Dixit, a Brahmin, in Fatehpur Sikri.
"Only Modi can remove Article 370 from Kashmir and teach a lesson to Mehbooba Mufti," said Ratan Singh in Mathura.
Most landed upper castes hailed demonetisation as a masterstroke in fighting corruption. "The full impact of demonetisation couldn't be felt because the bank officials sabotaged it," felt Rajkishore Pathak in Mathura.
The business community across the region acknowledged their trade was severely hit by the note ban and GST but felt they don't have an option other than the BJP.
"What has the BJP done for the business community? Nothing," said Pradeep Garg, who runs a flour mill in Fatehpur Sikri. "But we can't support the gathbandhan. They promote gunda raj (reign of goons)."
He didn't find the Congress attractive either.
The undercurrent of polarisation also popped up repeatedly, acting as a factor in swaying the minor backwards and Dalits towards the BJP. Even Rambabu Nishad agreed with his uncle about "keeping the Muslims under check". "Muslims climb on our (Hindus') head and dance when the BSP, SP and the Congress are in power but under Modi and Yogi aukat mein rehte hain (remain in check)," Girdhari said.
Nephew Rambabu nodded in agreement: "Ye to sahi hai (That is correct)."
Despite cracks and a dip in enthusiasm, Modi's popularity and the perception that he is set to return seems to be helping the BJP retain most of its 2014 backers.
"Modi ka woh 2014 wala jalwa nahi raha lekin usko koi rok bhi nahi raha (Modi's 2014 aura is gone but nobody is blocking him either)," said an elderly Jat farmer in Mathura.