Mahagathbandhan: An extraordinary coalition of parties and political views
If they can hang together, the BJP will have a fight on its hands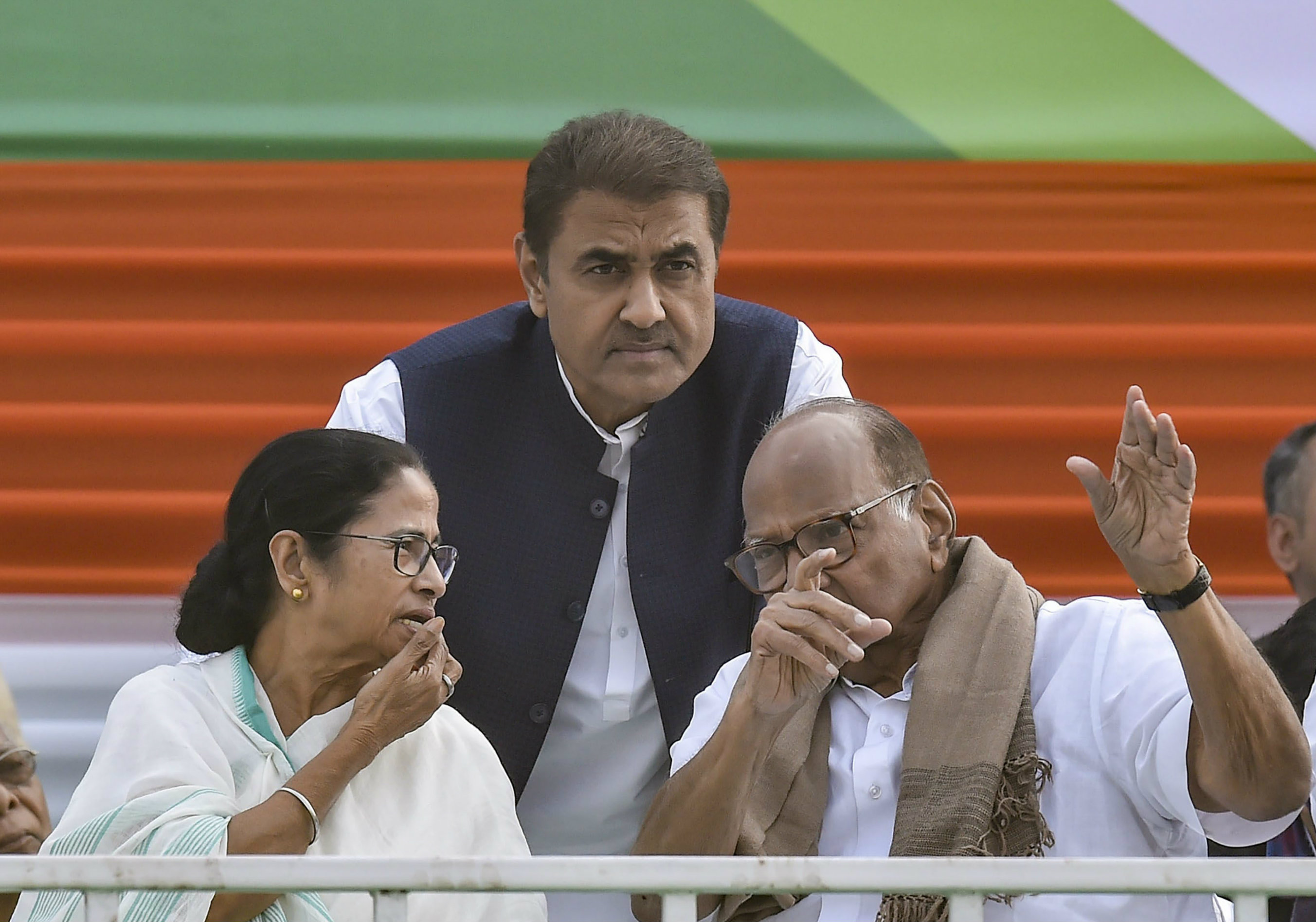 Mamata Banerjee with the NCP's Sharad Pawar (right) and Praful Patel at the rally in Calcutta on Saturday.
PTI
---
Published 19.01.19, 02:15 PM
|
---
It isn't often that English becomes the lingua franca at an Indian political rally. But at the Mahagathbandhan Rally, it became the fallback language for a large part of the afternoon for obvious reasons. English was the only language that could bring together DMK leader Stalin who had flown in from Chennai for the rally with Farooq Abdullah from Kashmir and Mamata Banerjee herself, who switched constantly from English to Hindi with a smattering of Bengali thrown in. Also speaking in English was former Prime Minister H. D. Devegowda, who made a speech of superlative tediousness. Devegowda is a canny political operator but a speaker he is not.
The fact that almost the entire Opposition turned up for the rally is an indication of two things. Firstly, some are terrified of being left in a political wilderness for another five years. But, equally, many of the top Opposition leaders genuinely believe that the BJP government poses a threat to democracy. Andhra Pradesh chief minister N. Chandrababu Naidu sounded a dire warning, saying: 'Democracy is under threat. And a hatred campaign is going on.' Former Jammu and Kashmir chief minister Farooq Abdullah went much further, evoking the rise of the Nazis in pre-World War II Germany and saying: 'I hope we don't have a situation where Hitler rises and Goebbels rises.'
The politicians on the stage in Calcutta represented an extraordinary coalition of parties and political views. From the all-important Uttar Pradesh, came the SP's Akhilesh Yadav. The Bahujan Samaj Party's leader Mayawati didn't come herself but sent her key lieutenant Satish Mishra. From Bihar RJD, there was Lalu Prasad Yadav's son Tejashwi Yadav, who asserted that a mix of investigative agencies were being unleashed against the Opposition as the elections came closer. From the BJP itself, there was former disinvestment minister Arun Shourie and former finance minister Yashwant Sinha. And Shatrughan Sinha made a fiery speech and revived flagging interest after the sleep-inducing Devegowda. These were on top of the AAP's Arvind Kejriwal, Stalin, Farooq, Devegowda, Sharad Pawar, Praful Patel and Naidu. From the Congress, there were Mallikarjun Kharge and Abhishek Singhvi. Rahul Gandhi himself stayed away, reportedly, at the request of the Congress state unit in Bengal which didn't want its leader on the platform at a meeting organised by its arch-rival Mamata.
The BJP was clearly stung by the high-profile rally and that was evident when it rolled out a string of spokesmen — from Ravi Shankar Prasad, to minister for minority affairs Mukhtar Abbas Naqvi and even the controversial Bihar MP and minister of state Giriraj Singh — to hit back at the Opposition charges against it.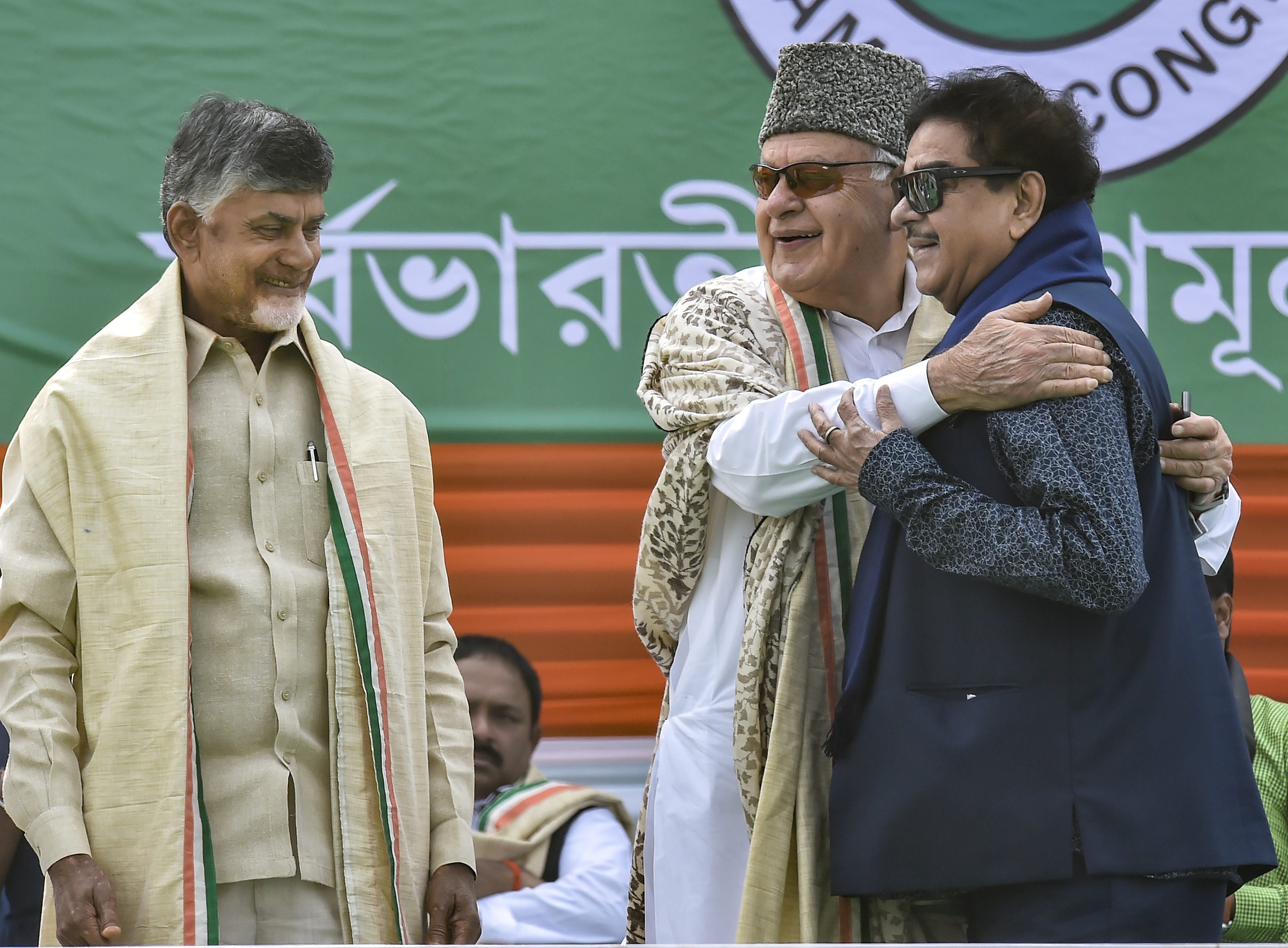 Predictably, the BJP called the Mahagathbandhan a 'khichdi'. And Arun Jaitley in a blog labelled the Opposition leaders the Nabobs of Negativity, a phrase first coined by former US vice-president Spiro Agnew.
Behind the scenes, a great deal of work has been taking place to ensure that the Mahagathbandhan would hang together. Andhra Pradesh chief minister Naidu, for instance, has been flying in and out of New Delhi holding meetings with almost all the Opposition leaders one after another. And the Calcutta rally has been a personal triumph for Mamata, who was clearly the person in charge and ensuring that nothing went wrong on the big day. Interestingly, too, it was clear that the Opposition leaders were being cautious and trying not to outshine all the others.
All the leaders know their political history and are conscious that only once before have India's political leaders united like this. That was in 1977 when the Emergency was lifted and many Opposition leaders had just spent time in jail and were willing to sink their differences to ensure that Indira Gandhi did not return to power. They also know that the Janata government was short-lived and was brought down before its time by the ambitions of leaders like Charan Singh.
This time round, there are even more potential prime ministerial candidates than there were in 1977. Mamata has clearly pitched herself as a contender after today's rally. But there are any number of others, including firstly Rahul Gandhi who will be able to claim the top job for the Congress only if his party emerges as the largest party in the elections. Also, there's Mayawati who would love the top job in Delhi — and Akhilesh would be glad to back her so that he can claim the Uttar Pradesh chief ministership. There's also Naidu and even Devegowda might stake his claim as a former Prime Minister and a compromise candidate.
Can the Mahagathbandhan hold together? As always, the leaders all have conflicting interests. In Delhi, Kejriwal and the Congress are preparing to slug it out and in Uttar Pradesh Akhilesh and Mayawati represent conflicting caste groups and interests. Still it's a measure of their dislike for the Narendra Modi government that they have held together despite all these conflicting interests.
The next stop for the Mahagathbandhan is New Delhi and a rally at the Ram Leela grounds. The BJP will do its level best to break the coalition but if they can hang together till then the BJP will have a fight on its hands.