Sitharaman draws flak for public rebuke of Telangana collector
Her reprimand for absence of PM Modi's posters at a fair price shop evokes criticism from TRS working president and state minister K.T. Rama Rao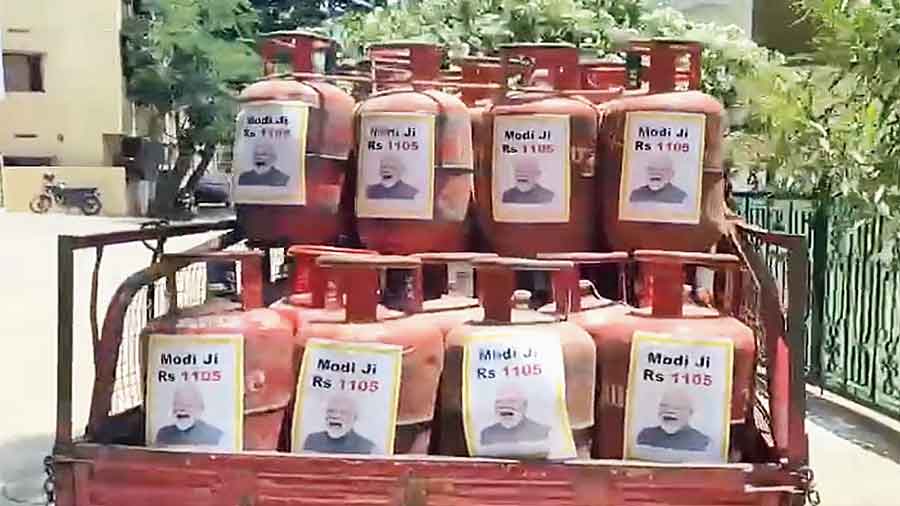 TRS tweeted a video and a message: "You wanted pictures of Modi ji , Here you are @nsitharamanji…." The clip showed posters of the PM stuck on LPG cylinders with "Modi Ji Rs 1105" written on them.
---
New Delhi
|
Published 04.09.22, 03:47 AM
|
---
If you want to please your image-conscious boss, don't throw your weight around like Nirmala Sitharaman, especially if you have a quick-witted colleague like K.T. Rama Rao.
Sitharaman, the Union finance minister, drew flak on Saturday after a video clip tweeted by her office showed her chiding a Telangana district collector on Friday because posters of Prime Minister Narendra Modi were absent from a fair price shop.
She wrapped up the conversation by warning him that she would "return to this place and check".
Rao, the ruling Telangana Rashtra Samithi's working president and state minister, and his colleagues responded by tweeting videos of the Prime Minister's poster stuck on cooking gas cylinders with "Modi Ji Rs 1105" written on them.
Earlier, Sitharaman had pulled up Kamareddy collector Jitesh V. Patil. A translation of the video-clip conversation by The Hindu newspaper quoted Sitharaman as saying: "The Modi government is now giving free rice, including transport, storage, and logistics. The Prime Minister's posters are not put up anywhere when it should be there throughout Telangana…. Whenever our party puts up Mr Modi's photo or banner, it is torn or removed. Can you ensure as a district collector that it does not happen in the future? I will return to this place and check."
Sitharaman's office said: "Under the PMGKAY (food aid for the pandemic that ends next month), the entire cost on the 5kg food grains given free is borne by the Modi government. Under the NFSA (National Food Security Act), more than 80 per cent of the cost of food grains is borne by the Modi government. Is there any objection to poster/ banner of PM Modi being displayed at ration shops?"
Pat came the reply. Rao, sharing a graph of tax collections and receipts from the Centre by Telangana, tweeted: "Since our FM is going around lecturing on how 'Modi Sarkar' is the Giver. Here are the facts & figures. For every rupee that Telangana contributes to the Nation, we only get back 46 paisa! Madam, time to put up a banner: 'Thanks to Telangana' in all BJP states' at PDS shops."
The south Indian states contribute about a quarter of the country's revenue. Last month, Tamil Nadu finance minister Palanival Thiaga Rajan had dismissed suggestions of cutting "freebies", saying: "(For every) one rupee that goes from us, we hardly get 35 paise to 33 paise back."
BJP member and former Union minister Subramanian Swamy tweeted: "Most shameful display of chamchagiri. At most she could have written to the minister in charge of the PDS complaining about the non-display of Modi photo."
Leader of the Opposition in the Rajya Sabha and Congress veteran Mallikarjun Kharge slammed Sitharaman. He tweeted: "It's unfortunate that a Union minister holding one of the most prestigious positions of the country has to work for PR of the PM. Had the PM's focus been on pulling people out of poverty instead of his pictures in ration shop, these petty arguments wouldn't have been required!"
The Trinamul Congress too lent its voice. "Will somebody tell her that our PM is NOT sponsoring the ration but it's the taxpayers' money?" the party tweeted.