Modi blesses, Anil gets windfall: Congress
The Congress holds that there was corruption in the deal and that the Prime Minister insisted on Anil Ambani's firm being made the offsets partner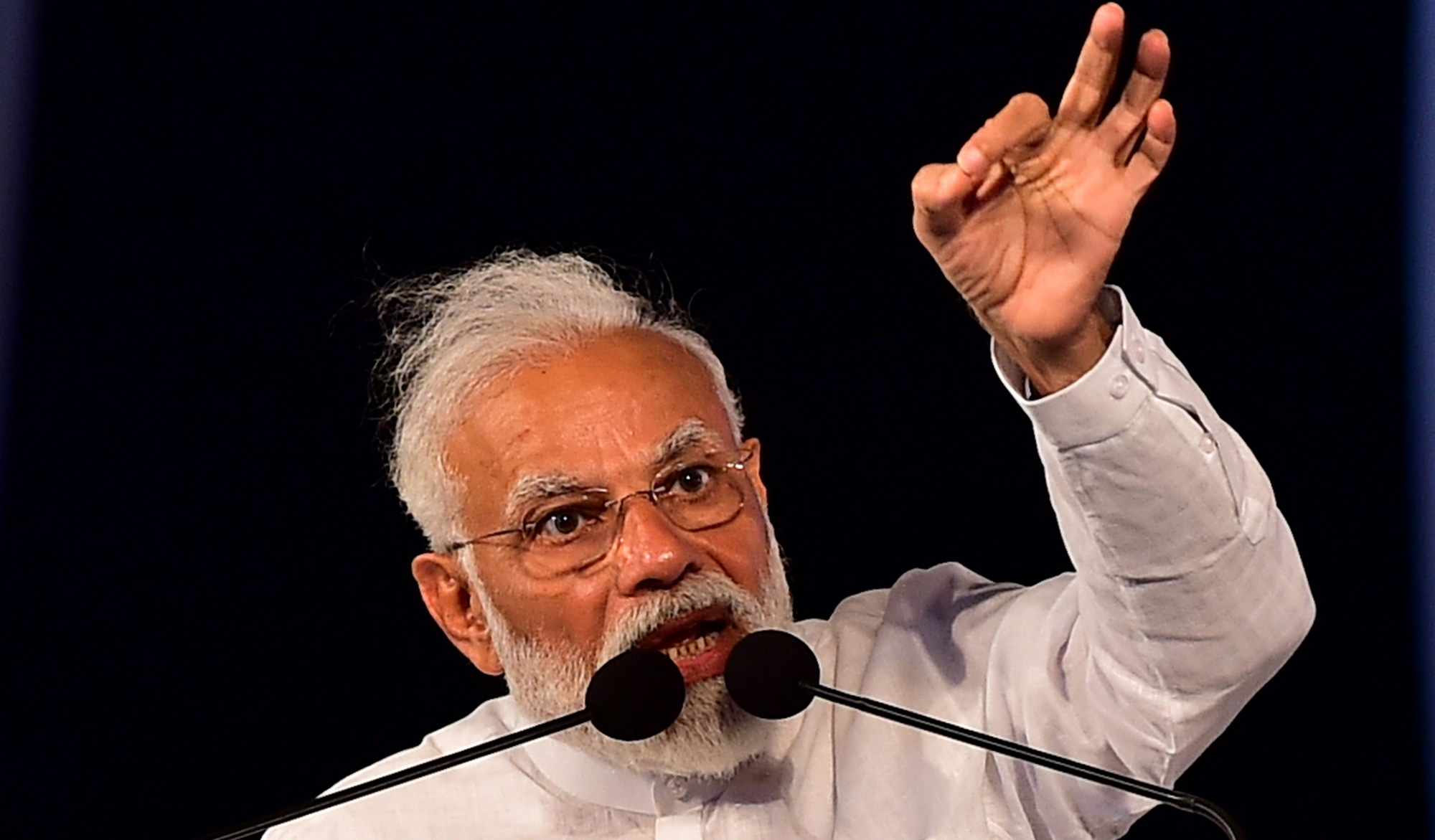 Prime Minister Narendra Modi speaks during a Vijaya Sankalap election rally ahead of the Lok Sabha Election 2019 in Bengaluru on April 13.
PTI
---
New Delhi
|
Published 14.04.19, 02:11 AM
|
---
The Congress on Saturday seized on the expose by leading French newspaper Le Monde about Anil Ambani's company getting a hefty tax waiver in France after the Rafale deal and said this pointed to the money trail in the fighter jet scandal.
Citing the Le Monde report, Congress communications chief Randeep Surjewala said: "Anil Ambani has a telecom company registered in France called 'Reliance Atlantic Flag France'. Shockingly, the parent company is Reliance Globalcom Limited, domiciled in Bermuda, a territory that has been blacklisted as a tax haven in the European Union (EU)."
Surjewala continued: "Reliance Atlantic Flag France was investigated by French tax authorities and found liable to pay 60 million euros in taxes for the period 2007 to 2010. Another investigation for the period 2010 to 2012 asked for an additional tax demand of 91 million euros in taxes. Thus the total tax liability came to 151 million euros. As against this, Reliance Atlantic Flag France wanted to settle the dues for a mere 7.6 million euros, which was rejected by the French."
The French government's stand changed and the Reliance offer of 7.6 million euros was accepted because of Modi's blessings, Surjewala said. "Modi hai to mumkin hai. (With Modi, it's possible)," he mocked, repeating the BJP slogan.
"Modi cancelled the cheaper UPA contract of 126 Rafale aircraft with transfer of technology and bought 36 off the shelf. Dassault invested Rs 284 crore in a zero sum company of Anil Ambani as India started making advance payment to Dassault without receiving a single aircraft. As Modi announced purchase of 36 aircraft at an exorbitantly high price, French waived the tax penalty of 143.7 million euros (Rs 1,120 crore)."
The defence ministry and Reliance Communications denied the charge and said linking the tax waiver to the Rafale deal was "mischievous".
Surjewala asked: "How many companies got this kind of tax relief from the French government? Why only one company is getting all the largesse? Layers of connivance, crony capitalism and corruption are now getting unveiled."
The sudden benevolence of the French government was triggered by Modi's Rafale deal, he said. The Congress holds that there was corruption in the deal and that the Prime Minister insisted on Anil Ambani's firm being made the offsets partner.