Mehbooba 2020 reply to Amit Shah
Jammu and Kashmir's relations with India would end in 2020 if Shah's claim that Article 35A would be repealed by next year is executed, Mehbooba says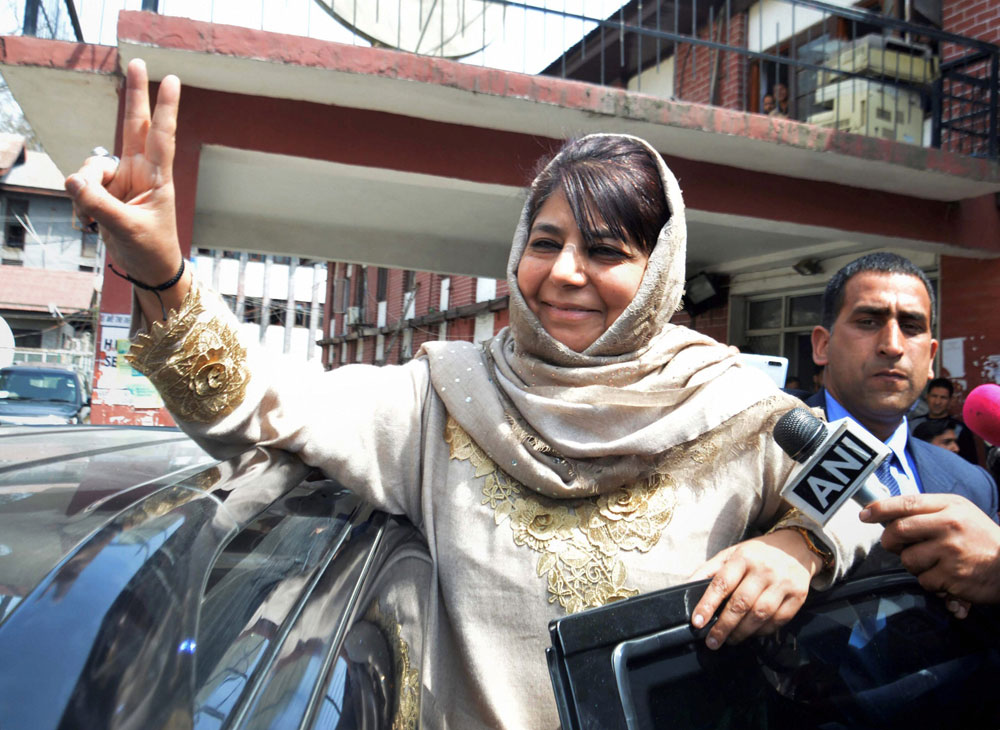 Peoples Democratic Party chief Mehbooba Mufti after filing her nomination papers from Anantnag on Wednesday, April 03, 2019.
(PTI)
---
Srinagar
|
Published 03.04.19, 11:58 PM
|
---
Former chief minister Mehbooba Mufti warned on Wednesday that Jammu and Kashmir's relations with India would end in 2020 if BJP chief Amit Shah's claim that Article 35A would be repealed by next year was executed.
Article 35A allows only permanent residents to purchase immovable property in Jammu and Kashmir.
When reporters asked PDP leader Mehbooba in Anantnag about Shah's claim on Tuesday, she said: "(Then) 2020 will also be a deadline from Jammu and Kashmir to the entire country that if you are abrogating the terms of our accession, Jammu and Kashmir's relation with the country will also end."
Mehbooba had gone to Anantnag in south Kashmir to file her nomination for the Lok Sabha polls.
The Valley's pro-India parties maintain that the state acceded to India on the basis of Articles 35A and 370.
Mehbooba, who had run the government in Jammu and Kashmir in alliance with the BJP before the national party quit last year, made the comments two days after her rival, Omar Abdullah of the National Conference, said the state had acceded with India based on certain pre-conditions and if the Centre wanted to withdraw them, it would have to talk about accession itself.
Omar also vowed to revive posts of Sadr-e-Riyasat (president of the state) and prime minister, which were replaced by governor and chief minister in 1965.
Mehbooba declared that if standing up for the people made her a separatist and an anti-national, she would wear such a "badge with honour".
"Unacceptable is a new India where those who kill and lynch in the name of religion are feted and garlanded. If standing up for my people makes me a separatist and anti-national, then its a badge I will wear with honour," she tweeted.
The PDP president was reacting to Union finance minister Arun Jaitley's remarks that statements of mainstream parties in Kashmir were creating a "separatist psyche" and that it was "not acceptable to new India".
The Congress on Tuesday gave the PDP and the NC reason to smile by pledging in its manifesto to review the Armed Forces (Special Powers) Act if voted to power and assuring that no step would be taken to change the constitutional position of the state.