Mallikarjun Kharge asks government, Jagdeep Dhankhar responds
Congress members were heard asking Rajya Sabha Chairman how he could reply on behalf of the government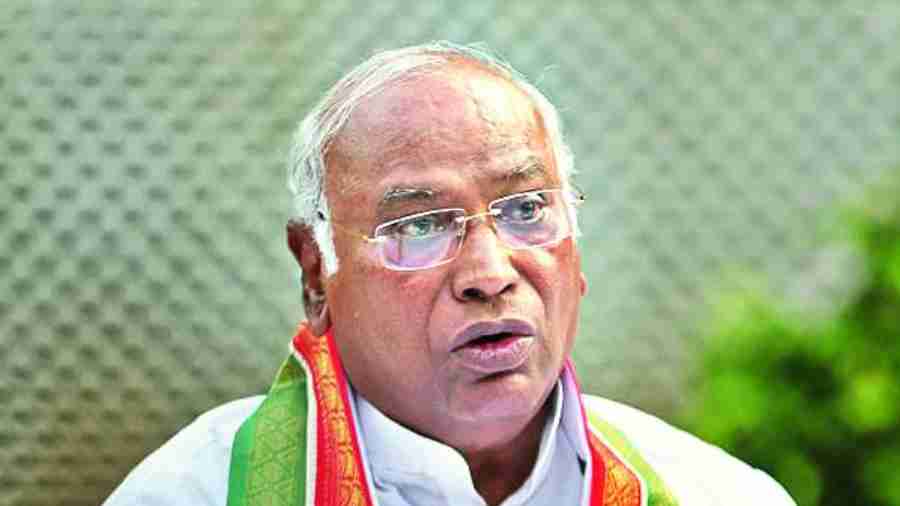 Mallikarjun Kharge
File Photo
---
New Delhi
|
Published 09.02.23, 03:51 AM
|
---
Rajya Sabha Chairman Jagdeep Dhankhar on Wednesday advised the leader of the Opposition, Mallikarjun Kharge, on how he should speak and what he should not speak on in Parliament.
When Kharge asked the Modi government why it was promoting the Adani group, which employs far fewer people than the public sector, Dhankhar responded. He said India had a robust system to check the award of any irregular contracts to any agency.
Congress members were heard asking Dhankhar how he could reply on behalf of the government and demanding that his comments be expunged.
The war of words between the Chairman and the Opposition started as Kharge began to speak.
The Congress president said public sector institutions had 30 lakh vacancies but instead of filling them, the government was promoting the Adani group which employed 30,000 people.
"Assured jobs are being finished. Adani has 30,000 employees and you are promoting it. By privatisation of public sector institutions, you are finishing jobs. Why are you doing this?" Kharge said.
Dhankhar intervened. "We have a transparent, accountable and robust mechanism. I want to caution the leader of the Opposition. He is trying to create an impression that contracts are given like this. Contracts are given on the basis of accountable and robust mechanism," he said.
The Opposition party members stood at their places and protested the Chairman's intervention.
Jairam Ramesh was heard saying: "You cannot reply for the government". According to the rules, the Chairman does not take part in the deliberations of the House except in the discharge of his duties as the presiding officer.
However, on a point of order raised or on his own, he may address the House at any time on a matter under consideration with a view to assisting members in their deliberations. Dhankhar said Parliament could not be used to run down the robust mechanism.
"I have got inputs from senior quarters inside and outside the country that Parliament should not be used to run down our transparent, accountable and robust mechanism," Dhankhar said. When Kharge asked the government to explain the increase in the wealth of Gautam Adani, Dhankhar asked him to present documents to corroborate his points. 
When Kharge referred to US short-seller Hindenburg Research's report on Adani, again it was Dhankhar who responded. He said any report could come from anywhere. "Let us believe in ourselves and our institutions," Dhankhar said.
Dhankhar said the platform of Parliament should be used to raise issues of national interest. "We have to say from this platform only that what is in the national interest."  Kharge hit back. "If I tell the truth, I am anti-national? I am not anti-national. I am more patriotic than anybody else here. I am a bhumiputra (son of the soil). I have not come from Afghanistan. I have not come from Germany. Don't try to suppress me and my feelings. You are calling me anti-national," Kharge said.
During his speech, Kharge accused the NDA government of using investigating agencies to threaten leaders of the Opposition parties and form governments in states despite not having a majority. Dhankhar asked Kharge to authenticate these comments with documents.