Mahant accused of rape-and-murder held in UP
Baba Satya Narayan had been hiding in the house of another disciple not far from the house of the victim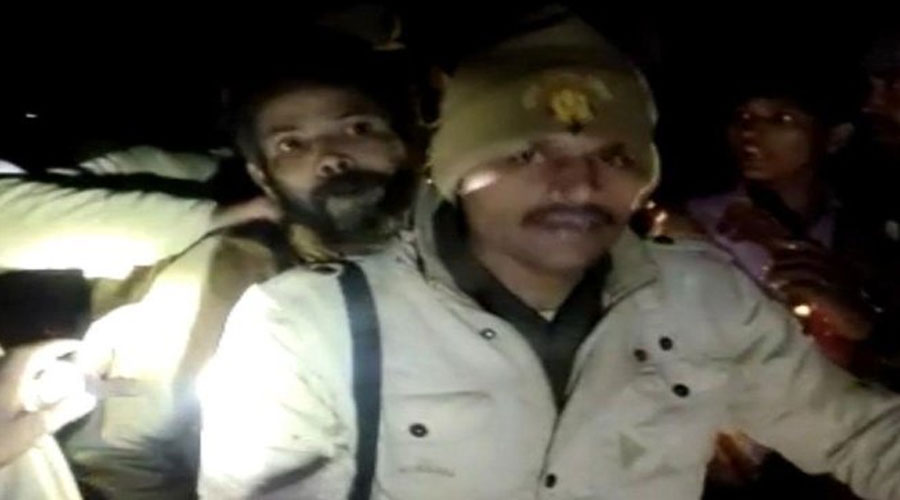 ---
|
Lucknow
|
Published 09.01.21, 03:43 AM
---
A temple mahant accused of raping and murdering a worshipper in Uttar Pradesh's Badaun district was arrested from the victim's village on Thursday night.
Baba Satya Narayan, who had allegedly brutalised the 42-year-old anganwadi worker on Sunday evening along with his driver Jaspal Singh and disciple Ved Ram, had been hiding in the house of another disciple not far from the house of the victim.
Avinash Chandra, additional director-general of police, said a case under IPC Section 166A (public servant disobeying the law) had been registered against Raghvendra Pratap Singh, the local station house officer, and Amarjit Singh, a sub-inspector of Ughaiti police station, for failure to record the crime on time.
The two cops had informed senior officers 17 hours after the incident and sent the body for a post-mortem over 24 hours after the crime had been reported by the victim's family on Sunday night.
The cops have been accused of "delay in informing higher authorities, laxity in taking action, dereliction of duty and failure in taking speedy action", said senior superintendent of police Sankalp Sharma.
The delay allowed the accused trio to escape on Tuesday and also send the police on a wild goose chase. Ved Ram and Jaspal were arrested from Ughaiti on Wednesday night.
The female disciple from whose house Satya Narayan was arrested on Thursday night has been detained for questioning. Satya Narayan was questioned through the night, the police said.
According to the initial inquiry and the statement of the family members of the victim, the crime was committed in or around the temple sometime between 6pm and 9pm on Sunday. Apart from gang-raping her, the trio also allegedly broke her leg and inserted a hard object, possibly an iron rod, into her private parts before dumping her blood-splattered body in front of her house at 11pm and claiming before her relatives that she had fallen into a dry well.
The post-mortem has confirmed gang rape and torture and mentioned the cause of death as shock and excessive bleeding.
According to police sources, the trio had sent their phones through an acquaintance to Chandausi in Sambhal district two hours before dumping her body, creating the impression that they were not in Ughaiti.
The police, tracking the cellphones, kept looking for Satya Narayan in Chandausi, Bareilly and Uttarakhand. A reward of Rs 50,000 was also announced for helping the police to nab him.
According to the police, a villager in Ughaiti tipped them off on Thursday about Satya Narayan's presence in the house of one of his disciples.