Local rivalry motive in murder of Smriti Irani's aide in Amethi
Surendra's family and BJP leaders had linked the murder to Smriti Irani's victory over Congress' Rahul Gandhi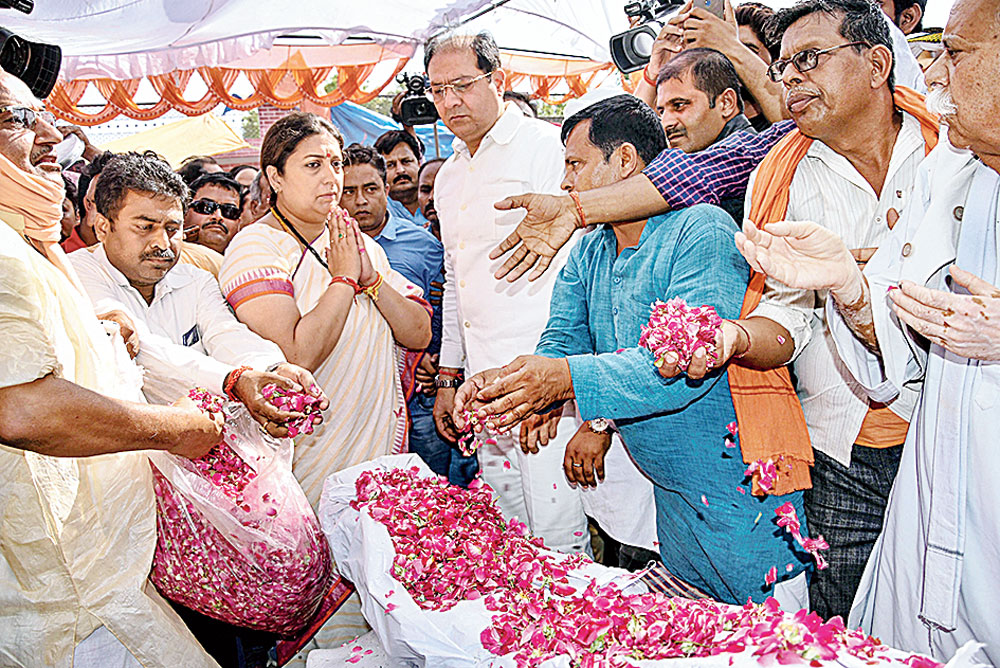 Smriti Irani pays her last respects to Surendra Singh in Amethi on Sunday.
(PTI)
---
Lucknow
|
Published 27.05.19, 08:32 PM
|
---
Three suspects have been arrested in connection with the murder of Smriti Irani's campaign worker Surendra Singh, with police suggesting panchayat-poll rivalry as a possible motive.
Surendra's family and BJP leaders have linked the murder to Irani's victory over Congress president Rahul Gandhi in the Lok Sabha polls, but police officers had on Sunday claimed that personal enmity was the likelier motive.
"We have arrested Mohammad Nasim, a local quack, Dharamnath Gupta, who had unsuccessfully contested the village panchayat election in the past, and Ram Chandra Pasi, a block development council member," Amethi additional superintendent of police Daya Ram said on Monday.
"It appears they decided to kill Surendra because of a village-level political rivalry."
Daya Ram said Dharamnath and Pasi had hired "Nasim, Mohammad Wasim and Golu" to kill Surendra. He said Surendra, Dharamnath and Pasi had fought over some or other local issue the evening of the murder.
"Nasim, Wasim, Golu and one more criminal shot Surendra," the officer said. All of them except Nasim are at large.
Asked about a possible link to the general election, the police said they were probing all angles. "It seems political rivalry was the reason…. A probe is on," state police chief O.P. Singh said.
Irani had on Sunday been one of the pall-bearers for Surendra, who had been shot at his doorstep in Baraulia village on Saturday night, hours after returning from a victory march.
Surendra's wife Rukmani claimed that Pasi was a Congress worker and resented her husband's decision to campaign for Irani.
"Ram (Pasi) is associated with the Congress and wants to contest the village panchayat election, scheduled after a few months. My husband was opposing him and ignoring his suggestion to stop campaigning for the BJP," she told local reporters.
Surendra's son Abhay Pratap had said on Sunday that the previous evening's BJP victory procession had angered his father's killers.
A police officer in Lucknow said: "During dinner at a wedding on Saturday evening, Surendra, Dharamnath and Pasi had argued over who should contest for panchayat chief. They (Dharamnath and Pasi) also asked Surendra not to help a local land-grabber. Common friends intervened and Surendra returned home."