Smriti Irani pall-bearer for murdered Amethi aide
Police officers say personal enmity was the motive behind Surendra Singh, a local BJP activist's murder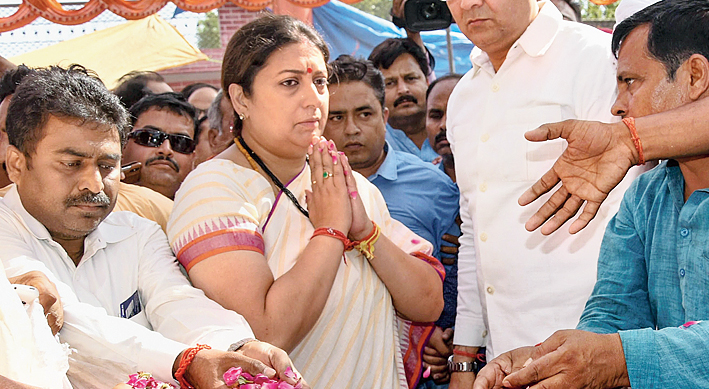 Irani pays her last respects to Surendra Singh in Amethi on Sunday.
(PTI)
---
Lucknow
|
Published 26.05.19, 10:15 PM
|
---
Smriti Irani on Sunday "provided a shoulder" as pall-bearer for an aide murdered in Amethi on Saturday night, continuing her close relationship with the constituency that had picked her over Congress president Rahul Gandhi this Lok Sabha election.
The killing of 58-year-old Surendra Singh, local BJP activist and a key campaign worker for Irani, prompted his party leaders and family to allege a political connection but senior police officers said personal enmity was the likelier motive.
Surendra, former panchayat chief of Baraulia in Amethi's Gauriganj area, had attended a victory procession in the area on Saturday evening. The police said four people arrived at his home in Baraulia late at night on two motorcycles, called him out, shot him in the head and fled. He died on his way to a Lucknow hospital from the district hospital.
Irani, who was in Delhi, arrived in Amethi on Sunday afternoon. With three others, she carried the bamboo cot on which Surendra's body lay for a small part of the way to the cremation ground.
She also touched the dead man's feet in the presence of the media. State minority welfare minister Mohsin Raza too helped carry the body.
Irani asked party workers to exercise restraint but attacked Rahul over his advice to her to "take care of Amethi with love", saying she had got the message "loud and clear", PTI reported. She said Surendra had been killed so that Amethi could be "terrorised, disintegrated and bowed down".
"It might be a political murder as Surendra had played a very important role in Irani's victory," Rajendra Pratap Singh, a cousin, told reporters.
Surendra's son Abhay said: "I think Congress supporters killed my father because he ensured Didi's (Irani's) victory. We had organised an impressive victory procession yesterday, and some people didn't like it."
Amethi superintendent of police Rajesh Kumar, however, said the initial investigations pointed to "personal enmity with some affluent people". He said seven people had been detained for questioning.
Baraulia had received national coverage during the poll campaign when Congress leader Priyanka Gandhi Vadra accused Irani of distributing shoes to its residents in order to insult Rahul, a PTI report said.
Rajesh Agrahari, BJP convener for Amethi, told PTI that Surendra had been "actively involved in the distribution of the shoes" and demanded a "high-level probe" into the murder.
Chief minister Yogi Adityanath said he had asked state police chief Om Prakash Singh to identify the killers and their motive within 12 hours.
PTI quoted Singh as saying the police had unearthed "important evidence through electronic surveillance" and hoped to crack the case in "the next 12 hours".
Surendra's brother Narendra has lodged a complaint saying that after the family heard the gunshots, "we saw Wasim, his brother Nasim and Golu running away" and "across the road, we saw Ramchandra", PTI added.
"There is also a conspiracy by Dharamnath Gupta (related to the panchayat polls). Ramchandra was involved in a scuffle with one of my nephews during the Lok Sabha polls, because of which the incident took place," Narendra added.
PTI quoted a police officer as saying Wasim, Nasim, Golu and Ramchandra had been booked on murder charges and Gupta for alleged conspiracy.
Rajendra, the cousin, said Surendra had been the local panchayat chief three times before 2005.
"Baraulia became a reserved panchayat in 2015. Still, his support was considered necessary for anyone to win the post," he said.
"He had also been the BJP district vice-president for five years. He had joined the Samajwadi Party in 2017 but returned to the BJP recently."
A senior police officer, speaking on the condition of anonymity, told this newspaper in Lucknow the force had "confirmed information" about Surendra's "land-related enmity with some people".
"Although we needn't jump to conclusions, it's better not to create a political sensation without evidence," he said.