Lalu's 'mantra' for Hemant: Spend time among the people
Soren had apparently called to seek "guidance" on how to go about in his mission to overthrow BJP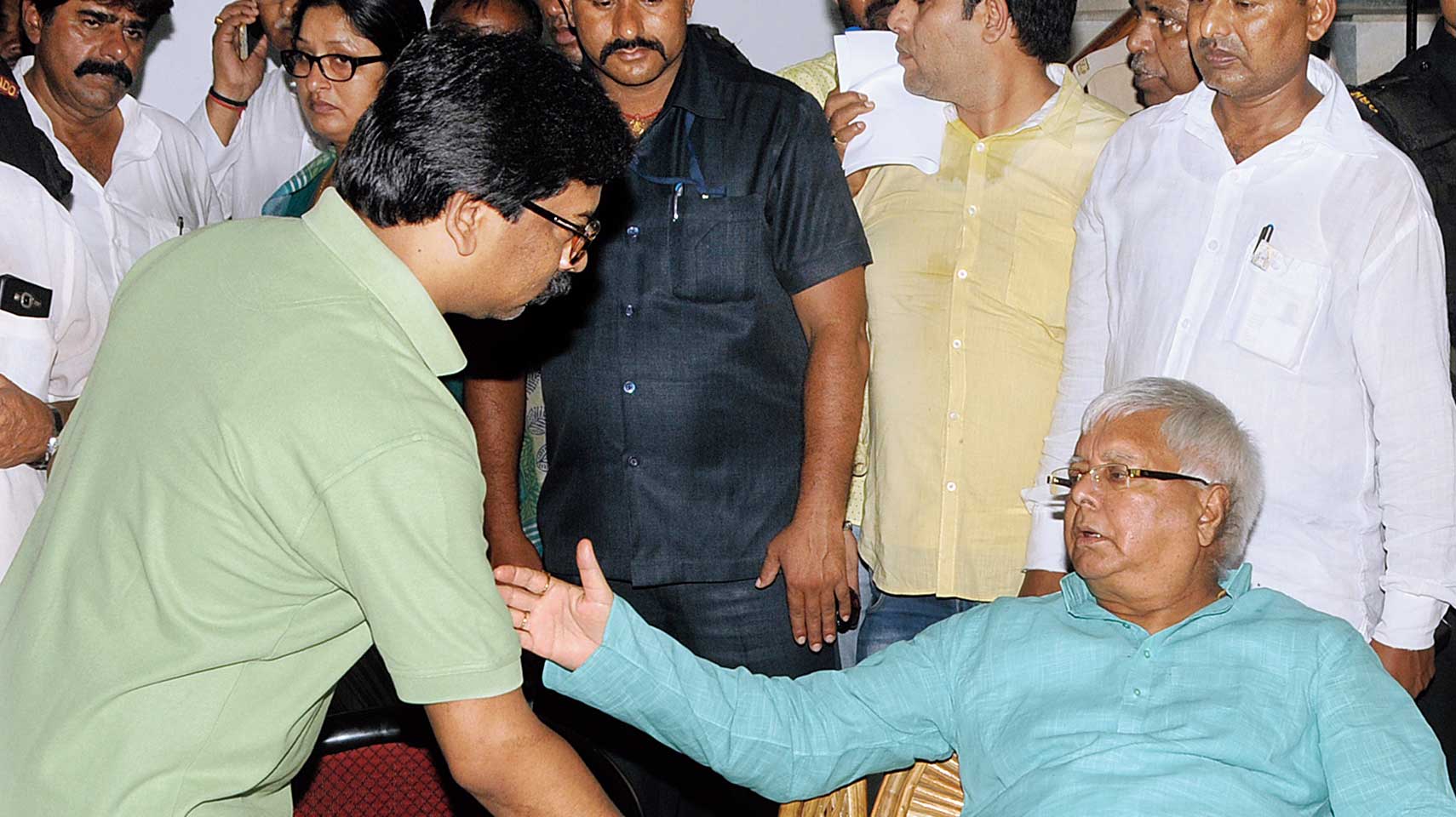 Hemant meets Lalu Prasad at Ranchi .
(Manob Chowdhary)
---
Jharkhand
|
Published 15.02.20, 08:30 PM
|
---
Lalu Prasad was at the Asian Heart Hospital in Mumbai when Jharkhand Mukti Morcha leader Hemant Soren called him over the phone on July 22, 2018.
Hemant, son of tribal leader and former chief minister Shibu Soren, had apparently called to seek "guidance" on how to go about in his mission to overthrow the BJP, then in power in the state.
This was how the Rashtriya Janata Dal chief had counselled Hemant from his hospital bed.
"Don't invest too much of your energy on alliances and equations at this stage. Spend more time among the Adivasis (tribals), Dalits and minorities in Khunti, Lohardaga, Chaibasa, Dumka, Gumla and Latehar districts. It is time to be with the people living on the margins. You can replace the Raghubar Das-led BJP government only by living with the cause and struggle of the people," Lalu Prasad had told Hemant, 44, who has since assumed charge as Jharkhand chief minister.
"Alliances and equations will automatically fall in place when the poor begin trusting you. You have my full backing and blessings but do what I suggest at this stage."
I overheard the conversation as I had gone to meet the ailing RJD chief in connection with writing his autobiography, Gopalganj to Raisina — My Political Journey — that came out in April 2019.
Lalu Prasad continued: "Guruji (Shibu Soren) wandered and lived among Santhal and Munda tribals for years when he was of your age.
He battled hard against the dikus (outsiders) and mahajans (middlemen) exploiting the tribals. The police were after him for years but he never deserted the cause of his people. Learn at your father's feet and live up to his ideals. I am with you and will remain so. I will guide you on alliances and equations when the time comes. Abhi to logon ke beech jakar unke dukh-sukh aur sangharsh ke saath rahne ka samay hai (It's time to live with the grief and struggle of the people)."
After the conversation was over, Lalu Prasad had passed on the phone to an aide, party MLA Bhola Yadav, and turned to me.
"Aaj kal ke bachche shuru se hi setting getting ke phera mein lag jaate hain. Janata ke beech ja kar sangharsh karna chahiye. Hemant achchha ladka hai; Sangharsh se satta milti hai. (The new generation of boys get involved in the politics of setting and getting from the very beginning. They should go and struggle with people. Hemant is a good boy. Power comes from the struggle)," he said.
He then turned philosophical. "Guruji Shibu Soren is the last surviving leader of the tribals. He is a great friend of mine. His JMM strongly supported me when I became the chief minister of Bihar in 1990. We share a very emotional and personal bond for both of us have struggled our whole life for the marginalised sections. I treat Hemant the way I treat my own sons and daughters and will try my best to see Hemant as Jharkhand chief minister. The BJP is perpetrating atrocities on tribals, Christians and Muslims in Jharkhand," the RJD leader said.
Hemant took charge as chief minister in December. A pinned tweet on his official Twitter handle @JharkhandCMO reads: "Har Ghadi, Har Pal, Janata ke Saath, Jharkhand Sarkar (The Jharkhand government is with the people every moment)."
His busy Twitter handles @JharkhandCMO and @HemantSorenJMM are prompt in responding to people's causes, be it employment, health or education.
In fact, the pinned tweet on his official handle @JharkhandCMO appears to be an effective summary of what Lalu Prasad had advised him on the phone a year and a half ago.
On Saturday, a doctor at the Rajendra Institute of Medical Sciences, Ranchi, where Lalu Prasad is admitted, said the RJD chief appeared content.
"Lalu looks eternally happy to see a Hemant Soren-led Jharkhand government in place," the doctor said over the phone after watching the former chief minister interact with visitors who are allowed to meet the RJD leader on Saturdays.
Lalu Prasad, convicted in fodder scam cases, was shifted to judicial custody at the Ranchi institute in September 2018 after the parole, granted by Jharkhand High Court for his treatment, ended.
Sources in the JMM said Hemant trusted Lalu Prasad and worked according to his guidance on alliances with the Congress and the RJD.
The sources also said it was on Lalu Prasad's suggestion that Hemant, even after the JMM-Congress-RJD coalition secured a majority on its own in the Assembly elections, called on Babulal Marandi at the JVM chief's residence and sought his cooperation.
Marandi had initially extended his support but has since withdrawn it and is said to be going back to the BJP, his parent party.
A senior IAS officer said Hemant wanted Lalu Prasad to attend his swearing-in. "He had also discussed with officials to release Lalu Prasad on parole for a brief period to enable him to attend his swearing-in but it was Lalu who avoided it," the official, who asked not to be named, said.
"There is no point in attending the swearing-in when the battle has been won. My attendance could draw a crowd of supporters that our opponents, particularly the BJP, might misinterpret," Lalu Prasad was believed to have communicated to the officials.
"Lalu Prasad even asked us not to meet (him) without official sanction. It might prompt the BJP to misinterpret and create an issue against us in the media," RJD national general secretary Shivanand Tiwary, who had attended the swearing-in, said.
Recently, Lalu Prasad's wife and former chief minister Rabri Devi, and their daughter, Misa Bharati, MP, had met Hemant at the JMM leader's official residence.
Hemant, working on Lalu Prasad's "prescriptions", has succeeded in Jharkhand. It remains to be seen if Lalu Prasad's son and heir apparent, Tejashwi Yadav, does a Hemant in the Bihar Assembly elections, due this year.
The challenge for Tejashwi is, apparently, bigger and more daunting. One of his main adversaries will be Bihar chief minister Nitish Kumar, whom Lalu Prasad refers to as his "chhota bhai (younger brother)" and who belongs to the same school of politics that Lalu Prasad comes from.
Nitish, a contemporary of Lalu Prasad, is far more experienced than Tejashwi. Despite his alliance with the BJP, he continues to have a socialist and secular image because of his political roots and work style.