Lalji Tandon, Vajpayee's 'successor', no more
The Madhya Pradesh governor since July 2019, was 85 and had been in hospital for the past two months due to age-related ailments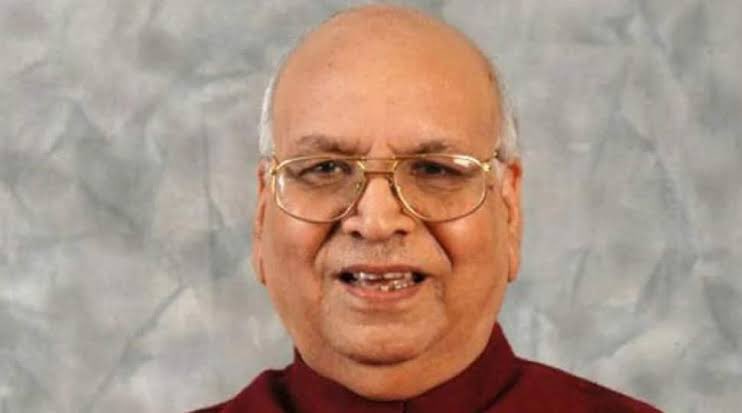 ---
|
Lucknow
|
Published 22.07.20, 02:53 AM
---
Lalji Tandon, a BJP veteran who once projected himself as the "successor of Atal Bihari Vajpayee", held several important ministerial portfolios in Uttar Pradesh but remained restricted to gubernatorial assignments under the party's current leadership, passed away in a Lucknow hospital on Tuesday following prolonged illness.
Tandon, the Madhya Pradesh governor since July 2019, was 85 and had been in hospital for the past two months due to age-related ailments.
Tandon is survived by his wife and three sons. Ashutosh Tandon, son and urban development minister in the Yogi Adityanath government, announced his father's death on Tuesday morning. "Babuji nahin rahe (Babuji is no more)," Ashutosh tweeted at 7.04am. Tandon was called Babuji by his followers.
Known in old Lucknow for giving identity to several thousand Muslim migrants from Bengal by providing them ration cards, Tandon was possibly the last BJP leader in Uttar Pradesh who enjoyed the support of both Hindus and Muslims.
As governor of Madhya Pradesh, Tandon had got embroiled in a tussle with the previous Congress government of Kamal Nath earlier this year when the BJP toppled it to come to power.
When the Nath government got reduced to a minority in March because of a revolt by MLAs loyal to Jyotiraditya Scindia, Tandon had intervened and directed the government to swiftly take a floor test, triggering a war of words with Nath and the battle eventually reached the Supreme Court. The court ruled in favour of Tandon's directive and the 15-month-old Congress government collapsed, paving the way for the BJP to return to power.
Before coming to Madhya Pradesh, Tandon had been the governor of Bihar for 11 months.
After Vajpayee fell ill and could no longer contest the Lucknow Lok Sabha seat in 2009, Tandon had highlighted his closeness to the former Prime Minister, projected himself as a "successor" of the veteran leader and won from the constituency.
Many in Lucknow saw Vajpayee's image in Tandon because both had never appeared to have adhered to the hardcore Hindutva ideology of the BJP and remained equally popular among communities.
Tandon was among the rare BJP leaders who had stayed away from the Ayodhya Ram temple politics and the demolition of the Babri Masjid on December 6, 1992, when he was urban development minister in the then Kalyan Singh government.
Kalyan and many other senior members of his cabinet had been accused in the case, which is still continuing in the CBI court in Lucknow, but not Tandon.
Upon the BJP's ascension to power in Uttar Pradesh, Tandon had served as minister on several occasions. He had been urban development minister under Mayawati who had then been heading a BSP-BJP coalition government. Tandon had been cabinet minister for urban development and poverty alleviation two times, from 1999-2000 and from 2000-2002. From 2002 to 2003, he had been the Uttar Pradesh minister for housing, finance, urban development and tourism.
Tandon became a member of the Uttar Pradesh Legislative Council for the first time in 1978. He served two terms in the Upper House and then went on to be an MLA thrice between 1996 and 2009.
However, after the generational shift in the BJP, Tandon appeared to have lost much of his pre-eminence and was not allowed to contest the 2014 Lok Sabha polls, when Rajnath Singh was nominated for the Lucknow seat.
"He was shattered when the party forced him in 2014 to retire from electoral politics and leave the Lucknow parliamentary seat for Rajnath. However, Tandon accepted it with dignity and campaigned for Rajnath to ensure his victory," a senior BJP leader said.
Prime Minister Narendra Modi tweeted on Tuesday: "Shri Lalji Tandon was well-versed with constitutional matters. He enjoyed a long and close association with beloved Atal Ji."
Rajnath tweeted remembering that Tandon had been popular among party workers.
A Raj Bhavan spokesperson in Madhya Pradesh said Tandon had opened the governor's kitchen for the poor during the Covid crisis. As many as 100 food packets used to be distributed on a daily basis and sometimes even at a short notice, the spokesperson said, adding that Tandon used to personally examine each item packed in the parcels and also tasted them to ensure quality.
A similar humanitarian initiative had ended in tragedy in Lucknow on April 12, 2004, when 21 people, mostly poor women, had died in a stampede when Tandon had been distributing saris on his birthday.
Additional reporting by PTI