Kerala nun launches sit-in outside convent
Congregation accused of denying her basic rights, including food from the common kitchen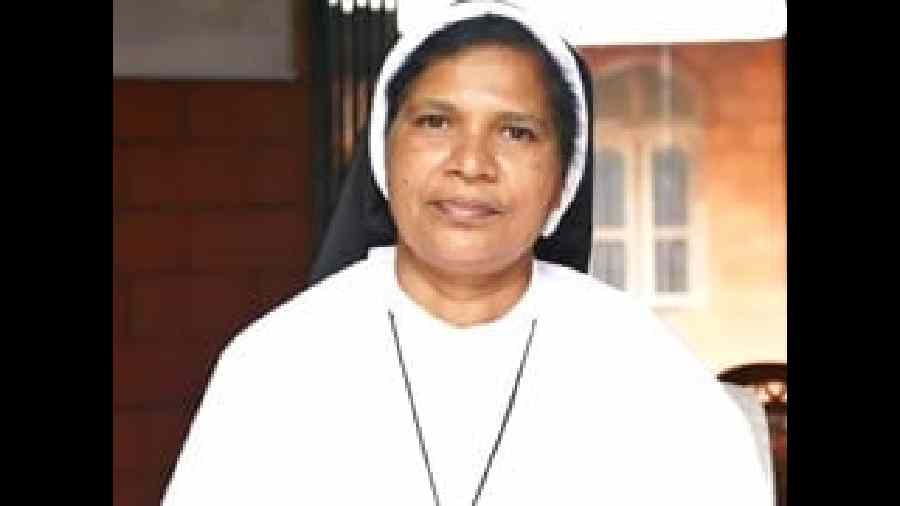 Sister Lucy Kalappura
File Photo
---
Bangalore
|
Published 28.09.22, 02:17 AM
|
---
A nun launched an indefinite sit-in outside her convent in Kerala's Wayanad district on Tuesday, accusing the congregation of denying her basic rights, including food from the common kitchen, and invading her privacy by installing security cameras facing her room and washroom door.
"The congregation drove me into this protest," Sister Lucy Kalappura told The Telegraph from her protest site at the entrance of the convent of the Franciscan Clarist Congregation in Karakkamala, where she has placed a folding cot and a couple of plastic chairs.
Sister Lucy had run into trouble with the congregation in 2018 after she supported a senior nun who had accused the then archbishop of Jalandhar, Franco Mulakkal, of raping her multiple times at a convent in Kottayam.
Sister Lucy had also backed a group of nuns who had staged a public protest in Kochi demanding the archbishop's arrest — another act that the congregation resented.
The congregation expelled her in 2019, a decision supported by the Vatican. It also ordered her to vacate her room, on which she obtained a stay from a local court in 2020. In January this year, the additional sessions court in Kottayam acquitted the archbishop of all charges.
"None of the sisters has been talking to me for the last four years; I am living here like a refugee," she said.
"Whatever they are doing against me is in contempt of the court order (staying her eviction) because they have denied even basic rights like using the common kitchen, dining room and even our prayer hall," she said.
Sister Lucy said the convent authorities had installed five security cameras facing her room. "They fixed the last camera just two weeks ago at a spot facing the entrance to the washroom I use."
At her protest she has displayed a handwritten charter of demands. These include permission to get food from the common kitchen; access to the prayer hall, visitors' room, refrigerator, television and sewing machine; and removal of the security cameras facing her room and washroom.
While her protest is not a hunger strike, on its first day she had had no food till 2.30pm when this newspaper called her. She was unsure whether or when any of her supporters would bring her something to eat.
Local police officers visited her and tried to negotiate a deal with the convent authorities, who insisted that she call off the protest. "I shall continue this protest until they meet all my demands," the nun told this newspaper.
The congregation's officials could not be reached for comments.
Sister Lucy retired last year as mathematics teacher at a government-aided school in Wayanad, run by another Catholic congregation.
Apparently influenced by the congregation's move against her, the nun has been barred by the local parish from teaching the Bible and offering Holy Communion.
Sister Lucy has the support of Christian reform groups and a former judge of the Karnataka and Bombay High Courts, Justice Michael F. Saldanha.
Besides writing to Church authorities at various levels, Justice Saldanha had last year written to the Vatican asking it to withdraw its confirmation of her expulsion from the congregation.