Kerala High Court glare on Sabarimala cops
Implement Supreme Court verdict but avoid excessive intervention, court says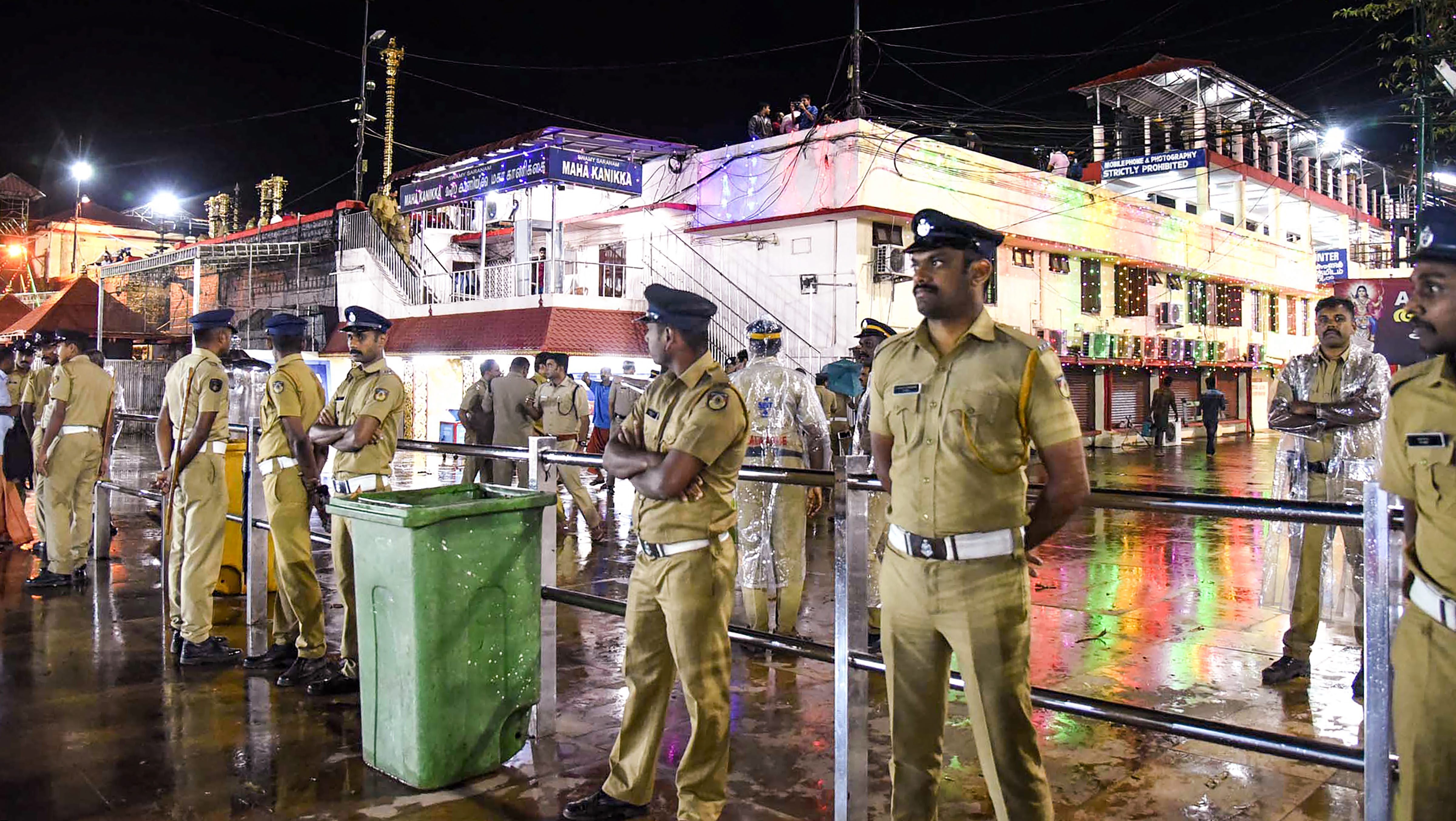 Policemen stand guard outside the Sabarimala temple
PTI
---
Bangalore
|
Published 19.11.18, 11:09 PM
|
---
Women heckled
Three women in their late twenties were mobbed and heckled as they arrived for a media conference at Ernakulam Press Club on Monday.
Reshma Nishant, Shanila Satheesh and V.S. Dhanya wore the mandatory "mala", a chain usually made of tulsi stems or rudraksha beads, that Ayyappa devotees wear till they had completed the Sabarimala pilgrimage. "After I wore the mala, I couldn't step out of home," Reshma said.
Shanila sought help from the government. "We are true believers," she said. All three said they were ready to wait, while stressing that they didn't belong to any organisation or political party. Some friends later escorted them to safety as the heckling increased.
Kerala High Court on Monday questioned the need for the large police presence at Sabarimala and directed the force not to send back devotees who want to stay overnight for morning rituals.
While the Supreme Court's verdict has to be implemented, excess intervention shouldn't happen, the high court said.
The observations came on complaints from some devotees who said they were being asked to leave the "Sannidhanam" — the last stretch before the 18 "hallowed" steps to the temple — when the usual practice has been to let pilgrims camp for the night.
The devotees, who have filed about 20 petitions, have alleged excessive police presence, the force's tight control over everything from transport to working hours of shops and restaurants in the area, and lack of basic amenities for pilgrims.
The high court directed state advocate-general C.P. Sudhakara Prasad to ensure that devotees were allowed to stay overnight at the Sannidhanam for the "neyyabhishekam", a ritual that all worshippers perform.
The court ordered the government to submit the full list of police personnel deployed at the temple and asked whether they had experience in managing crowds.
The court asked who had ordered the police to flood the Sannidhanam with water, which has prevented devotees from camping there for the night ahead of the morning rituals. The police department's order to close all shops and restaurants after 10pm also came up in the court.
Kerala police chief Loknath Behera has been asked to submit an affidavit on Friday detailing the actions taken on all questions raised about his department.