Kerala government yet to withdraw cases against anti-CAA protesters
The LDF government had in February this year decided to withdraw all 'non-serious' cases following a huge uproar by the Opposition and civil society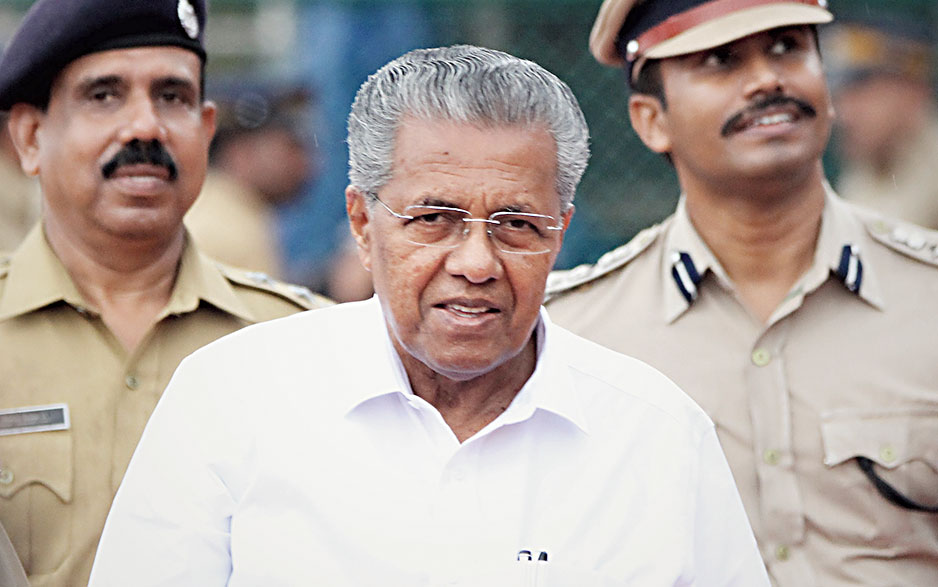 Pinarayi Vijayan
File picture
---
Published 07.10.21, 01:58 AM
|
---
Kerala chief minister Pinarayi Vijayan on Wednesday confirmed that his government had yet to implement its decision to withdraw cases against those who protested against the citizenship matrix and participated in the Sabarimala agitation.
The chief minister informed P.T.A. Rahim, a Left-backed Independent MLA, in a written reply in the Assembly that the cases were still being examined by a committee headed by the inspector-general of police (crime branch) that would take further action.
The LDF government had in February this year, ahead of the state polls, decided to withdraw all "non-serious" cases following a huge uproar by the Opposition and civil society.
The chief minister informed Rahim that 2,636 cases had been booked against those who unleashed violence after the government decided to implement a September 2019 Supreme Court order to permit women of childbearing age to enter the Sabarimala temple.
Another 836 cases were booked against anti-CAA protesters, an act that faced a lot of flak from progressive and secular forces as the LDF government had taken the lead to pass a unanimous resolution against the citizenship matrix and promised never to implement it in the state.
The DMK government in Tamil Nadu had in September withdrawn 5,570 cases registered against the protesters of the citizenship matrix and the farm laws during the tenure of its predecessor AIADMK, a BJP ally.
On Wednesday, proceedings began at a court in Thamarassery in Kozhikode against 11 workers of Youth League, the youth wing of Indian Union Muslim League, who had protested against the citizenship matrix in December 2019.
"We had peacefully protested outside post offices on December 19, 2019. The police arrested and released us on station bail. But today, we had to appear before the court fearing arrest since we did not respond to the previous summons assuming the government was anyway withdrawing the cases," local Youth League leader Mujeeb Rahman, one of the 11 accused, told The Telegraph on Wednesday.
Vijayan's reply triggered widespread condemnation.
"I did sense something was wrong when the local police station sent me a notice to appear last week," Hameed Vaniyambalam, president of the Welfare Party of India, told this newspaper.
He was among those booked for protesting against the citizenship matrix without police permission in Kozhikode. "This is a government that moved a resolution in the Assembly against the CAA," he noted.
Dalit activist K.K. Baburaj, writer T.T. Sreekumar, scholar J. Devika, Sunni Muslim leader Nasar Faizi Koodathayi, rights activists Gro Vasu and C.R. Neelakandan were among the hundreds booked for protesting against the citizenship matrix.
They were booked under IPC Sections 109 (abetment), 143 (unlawful assembly), 147 (rioting), and 283 (obstruction in public way or line of navigation), which can entail a maximum punishment of two years.
Baburaj, who was named in an FIR for protesting against the citizenship matrix in Kannur, said he never trusted the LDF government. "They will withdraw cases only against Leftists," said Baburaj, who subscribes to the Communist ideology but not its politics.
"I am ready to face any consequence for protesting. But that may not be the case with everyone as these cases are like the sword of Damocles that any government would happily use," he said.
Sunni leader Koodathayi voiced similar sentiments. "I had received summons after the case was booked. But I had doubted the sincerity of the government (in withdrawing the cases)," he told this newspaper.
Neelakandan, who faced two cases, accused Vijayan of trying to please Prime Minister Narendra Modi. "Pinarayi (Vijayan) is trying to please Modi with whom he has a good understanding. That's why he is not willing to withdraw these cases," he alleged.
"Such cases are a stumbling block for youths who won't get police clearance for passports or even government jobs that need background checks," Neelakandan added, urging the government to keep its word.