Kashmir: Youth with bag of apples dies in alleged CRPF firing
Incident comes a day after Union home minister Amit Shah had made overtures to Kashmir's youth seeking their help to weed out militancy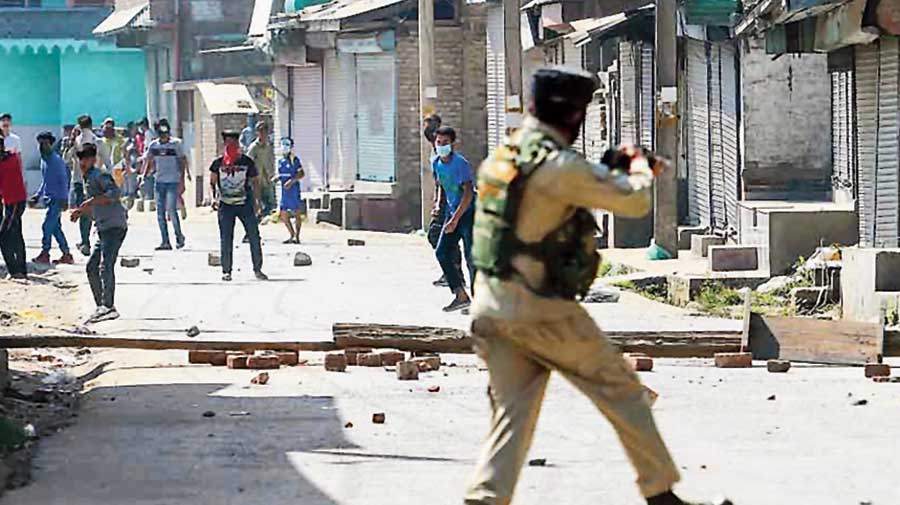 ---
Srinagar
|
Published 25.10.21, 01:14 AM
|
---
A 20-year-old died in alleged CRPF firing in Shopian district on Sunday, a day after Union home minister Amit Shah had made overtures to Kashmir's youth seeking their help to weed out militancy.
Shahid Aijaz Rather, who local people said had dropped out of school to earn a living and support his family, was shot dead at Babapora outside the camp of the CRPF's 178 Battalion.
Police and the CRPF claimed Shahid had died during a gunfight between security forces and militants but local people and politicians accused the forces of killing him in cold blood.
A picture shows Shahid lying on the ground, head propped up against the wheel of what appears a security force vehicle, with a bag of apples lying in front of him. Both his arms are inside the pheran, the long cloak Kashmiris wear in winter.
The killing comes at a time Shah is on a four-day visit to Jammu and Kashmir to review the situation after a surge in militant violence. The home minister was in Jammu on Sunday, laying foundation stones for development projects. He is to return to the Valley on Monday before leaving for Delhi on Tuesday.
Shah had on Saturday told the Valley's youth they could do what his government could not — eradicate militancy from the region.
On Sunday, Shopian district police tweeted: "Around 10:30 hrs unidentified terrorists attacked a Naka party of 178 Bn, CRPF at Babapora, Shopian. CRPF retaliated the fire and during cross-firing, one unidentified person got killed. Further details are being ascertained."
Women in Shahid's village in adjoining Anantnag district staged a protest, accusing the forces of murder and asking them to hand the body over to the family for the last rites.
"For God's sake we urge the tyrants to return the child (his body). At least his mother will see his face," a woman protester is seen shouting in a video.
"They are a very poor family and his mother had sent the child to earn a living for them. Let them (the forces) kill us all. We don't raise our kids for this."
Another woman said Shahid's father was bedridden after having surgery recently. She said the young man was the sole breadwinner of the family.
Some social media users asked the CRPF to release the CCTV footage to prove Shahid had died in a gunfight.
"Another innocent civilian killed allegedly by CRPF in Shopian today," former chief minister Mehbooba Mufti tweeted.
"Its sad that armed forces show little restraint & operate with such impunity. My heartfelt condolences to his family."
This is the second killing at CRPF hands in Kashmir this month.
On October 7, the paramilitary force had fired at the vehicle of a tribal man, Parvaiz Ahmad Bokad, and killed him. The CRPF had claimed that Bokad had jumped a checkpoint but local people accused the forces of deliberately targeting him.
October has witnessed a surge in militant violence with the rebels killing 11 civilians, seven of them non-Muslims, who were allegedly targeted to force religious minorities out of the Valley.