Kashmir mobile network revival pushed to October 14
Only postpaid connections to be revived by Monday noon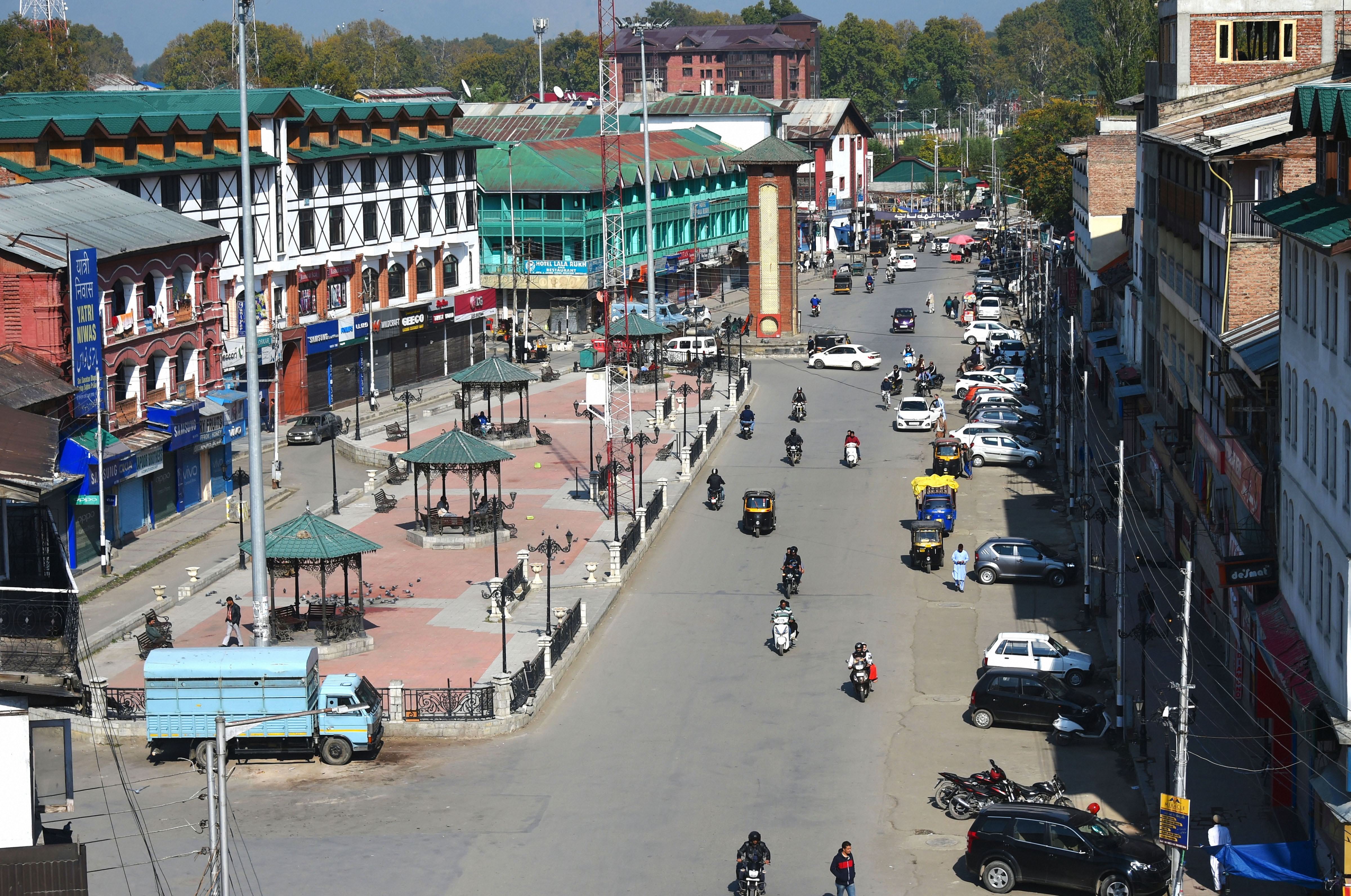 A view of Lal Chowk in Srinagar on October 9.
PTI
---
Srinagar
|
Published 12.10.19, 06:51 AM
|
---
The restoration of postpaid mobile services that was expected on Saturday in the Kashmir Valley will happen on Monday noon, the Jammu and Kashmir chief secretary said today.
Restrictions on cell phone services, internet and movement curbs were imposed a day before the Centre abrogated Jammu and Kashmir's special status on August 5. Today is the 69th day of internet and mobile telephony restrictions Kashmir.
The announcement on mobile connection restoration was made by principal secretary Rohit Kansal.
A statement released by the state administration said that 'having reviewed the situation in Jammu & Kashmir, a decision has been taken to restore mobile phone facilities in all the remaining areas of Jammu & Kashmir. More specifically, all post-paid mobile phones, irrespective of the telecom service provider, will stand restored and be functional from 12 noon on Monday, 14 October 2019. This will cover all 10 districts of Kashmir province.'

The Valley has around 40 lakh postpaid subscribers and about 26 lakh prepaid mobile phone users.
The services were expected to resume on Saturday but a last-minute technical problem led to postponing the resumption of services.
The subscribers will have to, however, wait for some more time for the Internet services to resume in the Valley, officials said.
The move comes days after the Centre issued an advisory opening the Valley to tourists. Travel associations had approached the administration, saying that no tourist would come to the Valley where no mobile phone works.
The administration's statement said that with the restoration of postpaid mobile connections, 'tourists will be able to visit the state without being handicapped by the lack of phone connectivity, students can be in touch with parents while attending schools, businessmen can be in touch with customers, transporters can contact clients, and contractors can be in touch with staff'.
The government urged 'businessmen, industrialists, traders, transporters, shopkeepers, hoteliers and contractors not to be frightened by the threats of terrorists and separatists and go about their normal activities'. Yesterday in several Kashmir dailies, the state administration had put out a full front-page ad that urged people to open shops and send children to schools, and not "let a few posters and threats" prevail. 'Will we let a few posters and threats push us into not resuming our businesses, into not earning our legitimate livelihood, into not securing a rightful education and secure future for our children, into not letting development bloom for our Kashmir,' the ad asked Kashmiris.  
The ad prompted several Kashmiris living outside the state to point out that the governor-led administration had unwittingly admitted the 'normalcy' narrative given out by the state was being tested as communication restrictions remained in place two months after their imposition. 
Partial fixed line telephony resumed in the Valley on August 17, and by September 4 all landlines, numbering nearly 50,000, were declared operational.

In Jammu, the communication system was restored within days of the blockade and mobile Internet was revived around mid-August. However, after its misuse, the Internet facility on cellular phones was snapped on August 18.