Gita in schools part of moral education, says Basavaraj Bommai
Karnataka primary and secondary education minister B.C. Nagesh said he would discuss a similar move with his chief minister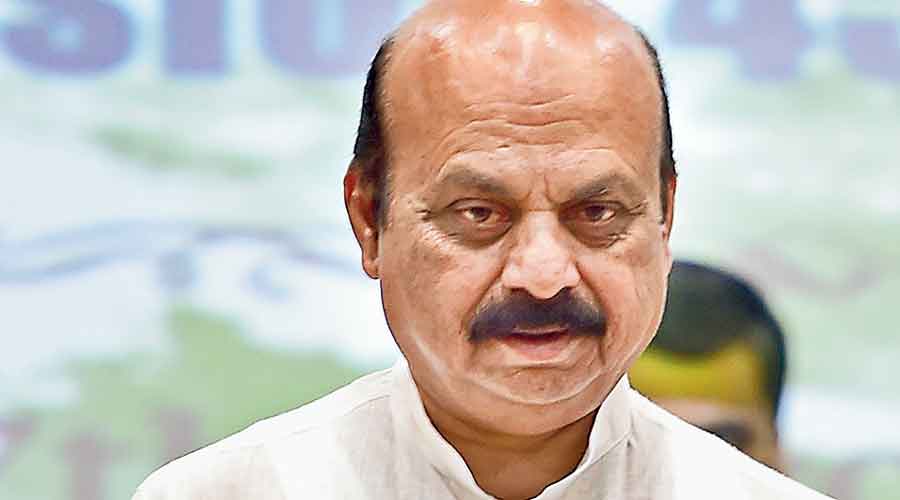 Basavaraj Bommai.
File photo
---
Bangalore
|
Published 20.03.22, 03:17 AM
|
---
Chief minister Basavaraj Bommai on Saturday endorsed a minister's suggestion for the Bhagavad Gita to be taught at schools in BJP-ruled Karnataka, which recently banned the hijab at government educational institutions.
Gujarat had on Thursday announced that the Bhagavad Gita would be taught at its schools. On Friday, Karnataka primary and secondary education minister B.C. Nagesh said he would discuss a similar move with his chief minister.
"Introduction of the Bhagavad Gita will improve the levels of intelligence among the children. What's wrong with it?" Bommai told reporters during a tour of Yadgir on Saturday.
"The education minister is making preparations to introduce it (in schools). We shall take a decision once they (the education department) submit a report on this."
Bommai said the teaching of the Gita would help moral education, and "there is a need for moral education among children in this competitive era".
He did not say whether private schools would have to teach the Gita too.
BJP leaders such as P. Rajeev, M.P. Renukacharya and Murugesh Nirani, minister for large and medium industries, welcomed the move.
But the general secretary of the Associated Managements of English Medium Schools in Karnataka, which represents some 17,000 private schools, criticised the idea.
"This is an impractical and irrational idea since we have students from all religious and social backgrounds," D. Shashi Kumar told The Telegraph.
"Besides, it's not right to force religious texts on any student even if they are Hindus. I am a practising Hindu and regularly read the Bhagavad Gita, but I don't subscribe to the idea of forcing students to learn it."
He added: "Let him (education minister Nagesh) first fill the thousands of vacancies in (teaching posts at) government schools, provide better infrastructure and ensure the timely supply of textbooks."
Kumar said Karnataka's government schools had 37,000 teacher vacancies in 2017.
"The number would have doubled by now since the vacancies created by retirements are not being filled," he said. "Only private schools have been maintaining a decent student-teacher ratio."
Kumar, who runs a private school in Bangalore, added: "We (schools) don't even have the time to cover the regular syllabus, so how can we teach a religious text (in addition)? And where would you get so many teachers who understand the Bhagavad Gita?"
He also highlighted the state education department's failure to supply textbooks to schools on time.
"The schools are yet to receive even last year's stock of textbooks in spite of making advance payments. We have no idea whether this year's stock will be available before May 16 (when the new school session starts)," he said.
An office-bearer of the Karnataka Government Primary School Teachers' Association, who declined to be named, expressed similar views.
"Who is going to teach the Bhagavad Gita when we don't have enough teachers for regular subjects?" he said.
Asked whether teaching elements of all religions would be a better idea, he shot back: "In that case, we will be teaching only religion."
State Congress president D.K. Shivakumar was cautious in his reaction. "People have a right to know about the culture of all religions. But there is no need to introduce the whole of the Bhagavad Gita," he said.
Leader of the Opposition P.C. Siddaramaiah said the Congress was not against the teaching of religious texts in schools.
"We are not against the teaching of the Bhagavad Gita, Quran or the Bible. We only want quality education for the children," he said.