Karnataka: Warning on violence against religious minorities
Chief minister Basavaraj Bommai reminded of pluralism, tolerance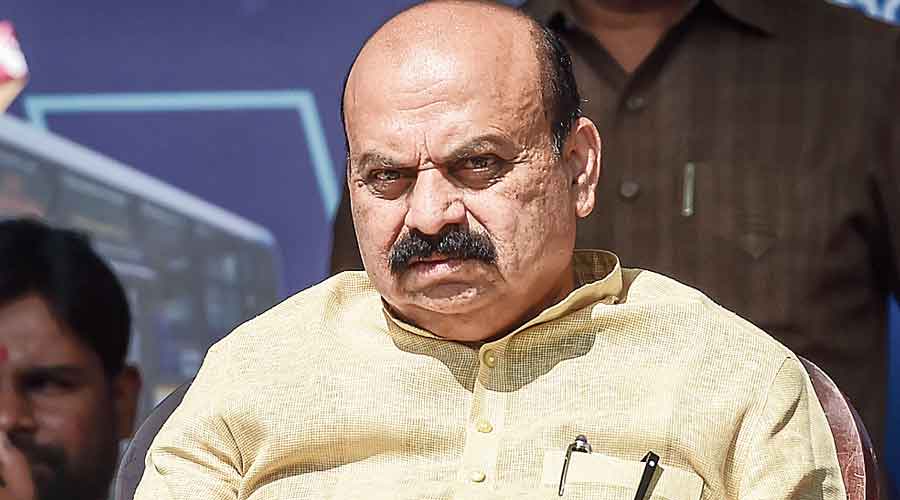 Basavaraj Bommai.
File photo
---
Bangalore
|
Published 28.01.22, 02:43 AM
|
---
A group of writers, academics, lawyers, scientists and rights activists has expressed concern at the "deteriorating governance and the frequent violence against religious minorities" in Karnataka.
In an open letter dated January 26 and addressed to Karnataka's BJP chief minister Basavaraj Bommai and all the state's lawmakers, the 34 signatories have cited recent attacks on minorities and their places of worship.
"We call upon you all to seriously review these negative trends in the state and to ensure that the rule of law, the principles of the Constitution, the rights of all citizens, and the basic norms of humaneness prevail," the letters says.
"Over the past few months, the state has witnessed the brutal killing of youths in several districts, rampant 'hate speeches', public threats and disruptions of worship (conducted) by religious minorities, 'honour killings', 'moral policing', misogynistic statements by legislators, and incidents of hostile and violent encounters between various religious groups."
Among the signatories are geophysicist Vinod Gaur, lawyer and author Flavia Agnes, historians Janaki Nair and Ramachandra Guha, ecologist Sharadchandra Lele, environmentalist Yellappa Reddy, artist Balan Nambiar, Major General (retd) S.G. Vombatkere and rights activist Bezwada Wilson.
The letter says the recent incidents run counter to Karnataka's history as a progressive state and will hurt its investment climate.
"The state's cultural history celebrates the plurality of cultures and religious tolerance and our icons have long been Basavanna, Akkamahadevi, Kanakadasa, Purandaradasa and Shishunala Sharifa," the letter says.
"Our litterateurs, ranging from Bendre to Kuvempu, have celebrated a Karnatakatva that is based on multi-cultural identities that blend together to make a harmonious and rich social fabric.
"We note with both sadness and alarm that these traditions of tolerance and shared well-being are being torn asunder. Instead, the state is losing its identity on multiple fronts. On the fiscal, administrative, and political fronts Karnataka is losing its federal strength."
The letter describes the stringent cow protection law and anti-conversion bill passed by the state's BJP government as "pogroms against the economic and cultural rights of religious minorities".
Karnataka has in recent months witnessed disruptions of prayers at churches and Christian prayer halls by Sangh parivar activists.
Two Muslim youths were killed allegedly by parivar activists recently. One was an "honour killing" over an interfaith relationship in Belgaum, in which 10 people including members of the Sree Ram Sene Hindustan were arrested. Four Bajrang Dal activists have been arrested over the other killing, which took place in Gadag district.
A pre-university college in Udupi has since December 31 refused to let eight girl students enter their classes because they insist on wearing the hijab.
The letter warns: "It also needs to be stressed that if the above issues are not addressed, even Karnataka's reputation as a business destination is bound to be impacted negatively as all types of economic activity depend upon an atmosphere of social peace and harmony."