July monsoon tonic hope
IMD has said the atmospheric conditions were likely to become favourable for the advance of the monsoon between July 1 and July 4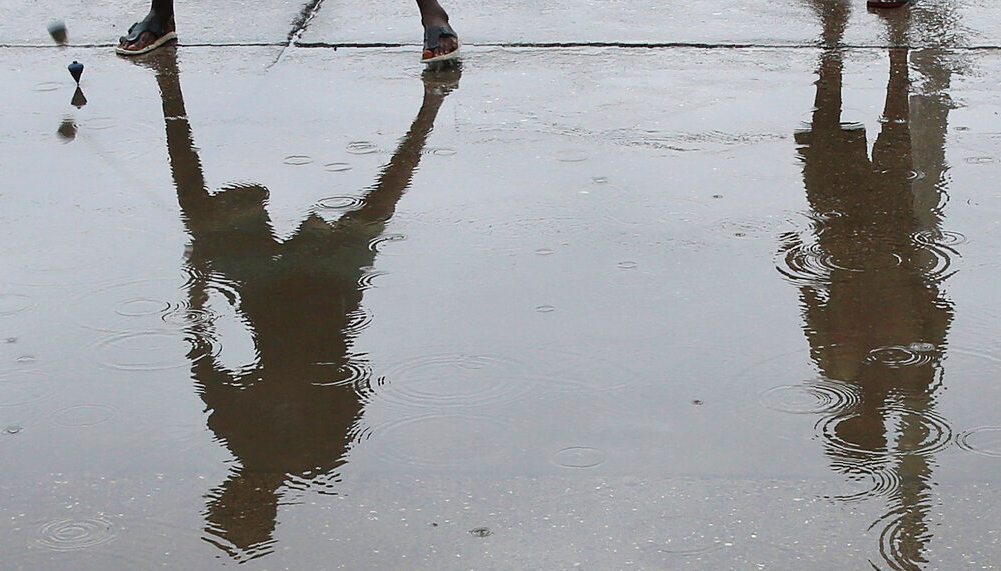 ---
---
A low-pressure zone that formed over northeastern Bay of Bengal on Sunday morning is expected to activate the 2019 monsoon, which remained largely sluggish through June and left 82 per cent of India's expanse parched with deficient rainfall.
The low-pressure system is likely to turn into a depression over the next 48 hours, intensify rainfall along parts of the eastern coastline and drive the monsoon into new areas, the India Meteorological Department (IMD) said on Sunday.
It said the atmospheric conditions were likely to become favourable for the advance of the monsoon between July 1 and July 4 into parts of eastern Rajasthan, Uttar Pradesh, Uttarakhand and Himachal Pradesh, which have seen virtually no rain.
The low-pressure system has begun a westward movement, which is likely to result in heavy rainfall in parts of Odisha, Chhattisgarh, eastern Madhya Pradesh, Telangana, Konkan and Goa too between July 1 and 4.
The IMD has made no specific prediction about rain in Bengal over the next few days.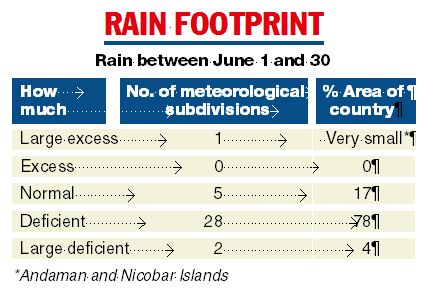 "Such low-pressure systems serve as the monsoon's engines. Through moisture and their wind patterns, the low-pressure systems pull the monsoon over the subcontinent," said Mrutyunjaya Mohapatra, senior meteorologist with the IMD, New Delhi.
Weather scientists say an average of 12 to 13 low-pressure systems form during the June-to-September monsoon season, with each such system accelerating the monsoon and intensifying the rainfall.
The IMD's first-month analysis, released on Sunday, shows that 28 of India's 36 meteorological subdivisions received "deficient" (20 to 59 per cent below normal) rainfall while two subdivisions experienced "large deficient" (60 to 99 per cent below normal) rain.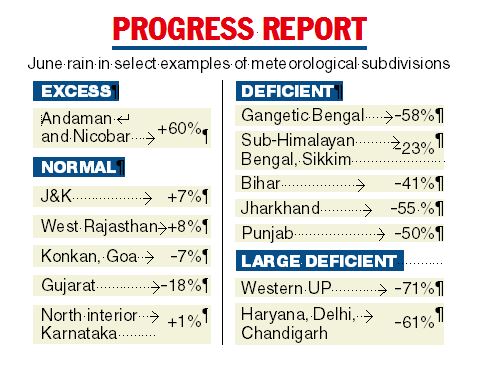 Overall, India's June rainfall was 33 per cent below normal. It was 58 per cent below normal in Bengal and 23 per cent below normal in Sub-Himalayan Bengal and Sikkim.
The meteorological subdivisions with the worst deprivation in rainfall during June have been western Uttar Pradesh (71 per cent below normal), and Haryana, Chandigarh and Delhi (61 per cent below normal).
"This has happened in the past too; we've had significant deficits in June," Mohapatra said.
Weather scientists are attributing this year's poor June rainfall to the delay in the monsoon's onset over Kerala and the emergence of cyclone Vayu over the Arabian Sea within the first week after onset.
"The onset was delayed by about a week and Vayu also contributed to slowing the monsoon's advance," D. Sivanandan Pai, a senior IMD forecaster in Pune, said.
However, weather scientists have stressed that June tends to account for only about 20 per cent of the monsoon rainfall and that heavy rain during July and August could make up for the deficit.
"For crops and sowing, rain during July and August is far more important than rain in June," a weather scientist said.
The IMD had in April this year predicted India would receive "near normal" monsoon rain, about 96 per cent of the long-period average rainfall. With a 33 per cent deficit in June, rainfall would need to exceed the average during the remaining months to reach an overall normal.