JNU review: US 'concern' over Romila Thapar
The American Historical Association expressed "deep concern" at JNU's decision to review historian Romila Thapar's position as professor emerita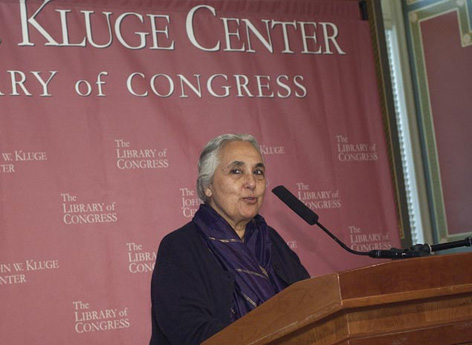 ---
---
The American Historical Association has expressed "deep concern" at Jawaharlal Nehru University's decision to review historian Romila Thapar's position as professor emerita and suggested that she "richly deserved" that status.
AHA president John R. McNeill wrote to JNU vice-chancellor M. Jagadesh Kumar on Monday expressing the association's disapproval of the university's decision to seek Thapar's curriculum vitae for a review of her position.
"The AHA expresses deep concern over JNU's decision to review Romila Thapar's status as emeritus professor. Professor Thapar is a distinguished scholar, deeply respected by historians on many continents," McNeill wrote in the letter, a copy of which has been posted on the AHA website.
"Considering her extraordinary record of scholarly achievement, the association believes that there is no need to review her richly deserved position as emeritus professor."
With more than 12,000 members, the AHA is the largest association of professional historians in the world. Thapar was named an honorary foreign member of the association in 2009 in recognition of her standing as one of India's most distinguished historians.
"We wrote in our award citation, 'Professor Thapar's work is the bedrock of all scholarly study of the early South Asian past'," McNeill wrote in his letter.
JNU nominates many of its retired professors to the honorary position of emeritus professor for the outstanding work they have done. The university now has two dozen emeritus professors.
Last year, JNU amended its rules on emeritus professorship — which till then awarded the position for life — stipulating reviews of the works of professors emeriti who are 75 or older to decide whether the honour should continue. In July this year, 12 professors emeriti including Thapar were asked to submit their CVs for examination by a sub-committee that would suggest whether the honour should continue.
The JNU Teachers Association has said the rule changes were not discussed with faculty members before being taken to the executive council last year. It has further said that the changed rules cannot apply retrospectively.
With controversy erupting, the university and the Union human resource development ministry have defended the decision to review the positions of professors emeriti.
"JNU is following its rules. There is no need for any controversy," a senior ministry official said.
On Monday, the AHA named historian Ramachandra Guha as an honorary foreign member.